From what to do and see to where to stay, eat and drink, this guide to Guanajuato has everything you need to know about visiting Central Mexico's most colorful city.
How to get to Guanajuato
If you haven't picked up on this yet, I prefer bus travel within a region. I find Mexican buses both cost-effective and comfortable. I considered renting a car, but once I got to Guanajuato, I felt relieved to have stuck with my old standby. Perhaps a more confident driver would be up to the challenge, but navigating the city's narrow one-ways and subterranean streets would have been my personal nightmare.
From Querétaro
Primera Plus offers eight daily buses at approximately two-hour intervals. The journey takes around 2 hours and 30 minutes with a brief stop in Irapuato. Round-trip tickets cost $433 MXN ($23 USD). One-way tickets cost $228 MXN ($12 USD). I recommend buying in advance online, especially if you're traveling on the weekend, because it's a popular trip.
From elsewhere in Mexico
From Mexico City, San Miguel de Allende and other destinations in Central Mexico, there is regular first-class bus service to and from Guanajuato. You can also find connecting services from cities all over the country. In addition to Primera Plus, ETN offers a variety of routes. Smaller lines include Group Estrella Blanca and Flecha Amarilla.
Central bus station to city center
Guanajuato's Central de Autobuses is about five miles (eight kilometers) outside the city center. From just outside the terminal, you can take a city bus to the centro histórico for $5 MXN ($o.25 USD). Check the bus's windshield for a list of its stops. When you see one marked "Centro" or "Mercado Hidalgo" you're good to go. If you think the bus is too packed, just wait for the next one. They depart every 15 minutes or so. Buses often let passengers off in the underground tunnels below the city center, so if you're not sure when to get off, ask the driver: ¿Por favor, me avisa cuál parada para el centro histórico?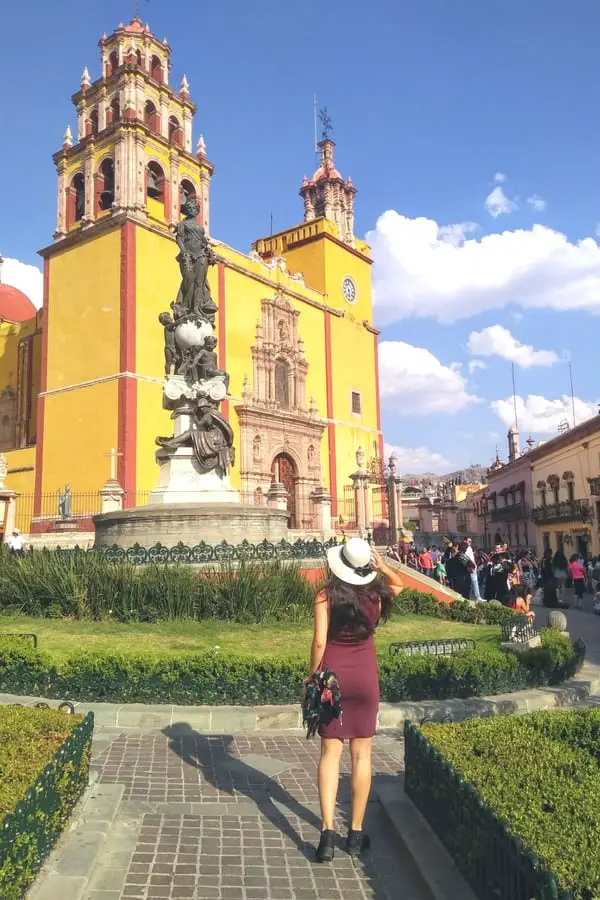 Where to stay in Guanajuato
A short walk from Jardin de la Unión, Corral d Comedias (Callejón Ave Maria 17) couldn't be more centrally located. It's definitely rustic, but the staff really set this hostel apart. They're friendly, knowledgeable and genuinely hospitable. Lots of hostels include breakfast in the price of a night's stay, but you should never expect more than toast and coffee. A banana is groundbreaking! So, imagine my surprise when the staff prepared and served us breakfast (omelettes with a side of fruit). Staying at Corral d Comedias feels like you're crashing with friends.
Dorms cost $240 MXN ($13 USD) per night. Private rooms cost $710 MXN ($38 USD) per night.
What to do in Guanajuato
 Take in the views from La Pípila
Perched on a hill at the edge of the city center, La Pípila, which pays tribute to a hero of the Mexican War of Independence, is visible throughout Guanajuato. Climb up to the foot of the statue for incredible views of the city. A funicular is available, but I recommend walking so as not to miss some colorful street art along the way. 
How to get there:
From behind Jardin de la Unión, take Callejón de Calvario.
Keep straight (or as straight as you can in this winding alley) until you see an abandoned brick building with large arches on your right. It's painted green and red.
After the brick building, turn right on Subida a San Miguel. That will take you to La Pípila via the street art.
Visit at least one museum
Guanajuato is known for its many cultural offerings, including (but definitely not limited to) museums. In the three days I was there, I manged to visit two: Museo Casa Diego Rivera and Museo de las Momias. The former is the childhood home of early-20th-century artist Diego Rivera, and the latter is something a bit more macabre.
In Guanajuato's Santa Paula cemetery, mummification occurred naturally due to the soil's unusual mineral content. The museum displays more than 100 mummified corpses—among them children and babies. While it's definitely not for the squeamish, it's an original way to learn about the city's history.
From anywhere in the city center, the museums are easily reachable on foot (although be prepared to walk uphill to las Momias). Both visits took approximately an hour.
Museo Casa Diego Rivera (Positos 47)

Hours: Open 10 a.m. – 6:30 p.m. Tuesday – Saturday; 10 a.m. – 2:30 p.m. Sunday. Closed Monday.
Price: $25 MXN ($1.30 USD)

Museo de las Momias (Explanada del Panteón Municipal s/n)

Hours: Open 9 a.m. – 6 p.m. Monday – Thursday; 9 a.m. – 6:30 p.m. Friday – Sunday.
Price: $60 MXN ($3.20 USD)
Share an awkward kiss
Of all Guanajuato's narrow alleys, Callejón del Beso is the most famous. According to local legend, two young lovers (à la Romeo and Juliet) lived in houses on opposite sides of the alley. Although their families forbid their relationship, at night, the couple would lean over their balconies for an evening kiss.
Today, you and your sweetheart can climb up to the balconies, stretch across the 70 centimeters and reenact the secret smooch. It's sure to be super romantic in front of an alley full of other tourists. Before I stepped onto the balcony, the woman working in the gift shop asked for $20 MXN ($1 USD). Someone on the other side collected the same from my boyfriend. Professional photography is available, but I just left my phone with the woman in line behind me, and she snapped a picture for me.
If you don't want to pay, just exchange a kiss on the staircase below. Same idea and easier to photograph!
 Challenge yourself on Cero de la Bufa
From La Pípila, you can see rugged peaks surround Guanajuato. One of those peaks is Cero de la Bufa. It's a steep climb with lots of loose rocks and slippery faces. You'll need to watch out for broken beer bottles and barbed wire. From the base, it took us a little over 30 minutes to reach the top, but we were pushing it.
Don't take an unnecessary risks, and give yourself at least 45 minutes for the way up. Maybe even an hour! Bring water and wear sunscreen. Once you've reached the faro (lighthouse), look down for a new set of panoramic views including Presa de la Olla. My guidebook said Cero de la Bufa is a popular day hike, but we had the peak to ourselves.
How to get there: 
From the city center, walk 30 minutes through the posh Presa de la Olla neighborhood. The route is lined with cute cafes and beautiful homes. Signs with arrows will keep you going in the right direction along Paseo la Presa.
The Presa de la Olla, which is a reservoir, is impossible to miss. If it's the weekend, you might see people paddling around in rented boats. Walk around the dam to the back left corner.
Climb the stairs and keep right. Signs mark the start of the trail at the end of the walkway.
Signs with a picture of a lighthouse will guide you through the first portion and lead you to a dirt road.
You're only on the road for a second before a sign reading "Subida al Faro" points you back onto a narrow, rocky trail.
When you've made it back down, catch a city bus to the center from the park you passed through to get to the trailhead.
Where to eat in Guanajuato
La Santurrona Gastropub
For craft brews and tall micheladas, check out La Santurrona. Because I wasn't very hungry, I only had the chicken soup which was served in a miniature vintage cooking pot. Just one of the many details that make this place a fun spot for a meal.
Address: Del Portero 2
La Bohmeia
In order to get an early start on the hike, we left our hostel before breakfast was served and stopped in La Bohemia for some pre-trek fuel. All the breakfast options come with a choice of fruit or juice and coffee. Additional seating is available upstairs.
Address: Allendae 3
Mestizo
Since we were in Guanajuato celebrating our eight-year anniversary, my boyfriend and I decided to treat ourselves to a nice dinner. Located in a former art gallery, Mestizo is a modern-Mexican restaurant. The showroom vibes gave the place an upscale feel, but the meal didn't break the bank. Drinks, a shared salad, two entrees and dessert cost around $800 MXN ($42 USD).
Address: Positos 69
Escarola
Just across the street from Museo Casa Diego Rivera, Escarola offers fresh, healthy meal options. For $50 MXN ($2.70), I ordered a paquete  which included my choice of taco, a salad and agua del día. The taco had nopales (cactus) and black beans. The agua del día (flavored water) was strawberry. Escarola is vegetarian-friendly and also has vegan items on its menu.
Address: Positos 38
Where to drink in Guanajuato
Bar Fly
Guanajuato is a university town, so nightlife options abound. On Saturday night, we headed over to Bar Fly just before 11 p.m. While waiting for a local band to go on, we sipped bottled beer and listened to a reggae mix which included a Pink Floyd cover. By the time the band (screamo-emo something or other) started to play, patrons of a variety of ages had packed in for the show.
Address: Sostenes Rocha 30
Bossa Nova Café
Jardin de la Unión is regarded as the heart of the city and is lined with many places to eat and drink. For something a little more relaxed though, head over to Plazuela de San Fernando. I fell in love with this square, and tipped back cañas at Boss Nova Café twice during my weekend in Guanajuato. You heard me right: cañas! You can order Spain's famous mini beers for just $15 MXN ($0.80 USD).
Address: Cantaritos 44
Have you ever visited Guanajuato? What's the best city in Mexico for backpackers?
---
Psst…Don't forget to pin this post for later