Thinking about becoming an au pair in Spain? You need to understand the requirements for the Spain au pair visa.
This post was originally published Oct. 29, 2014 and was updated Feb. 15, 2020.
In this post, I'll answer the two most commonly asked questions about the Spain au pair visa:
Do I need a visa to au pair in Spain?
Can you be an au pair on a tourist visa in Spain?
To help you decide if the Spain au pair visa is right for you, I'll breakdown the requirements.
When I was an au pair in Spain back in 2014, the au pair visa process cause me a lot of headaches and heartache. Hopefully, this easy to follow guide will save you from the same.
Related Reading:
My (Horrible) Spain Au Pair Visa Experience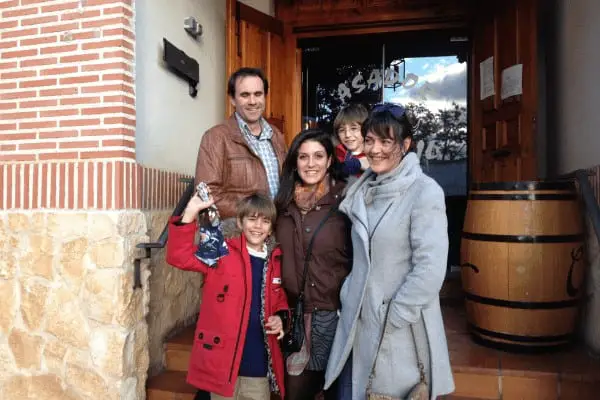 In Oct. 2014, I was living in a small town outside of Madrid, Spain. Prior to arriving in Spain, I'd tried to get an au pair visa—even going as far as to make and go to an appointment at the Spainish Consulate in Chicago.
But, when it was clear I didn't have the necessary paperwork to apply for the Spain au pair visa (and wouldn't be able to gather it before I actually needed to be in Spain), I decided to just go for the three months my American passport allowed.
After six weeks with my truly amazing host family in Spain, we decided to try to get the au pair visa and extend my stay. My host parents and I spent hours researching visa requirement and visiting government offices for more information.
At the time, there was little information about the Spain au pair visa online. My repeated calls and emails to the Spanish Consulate in Chicago went unanswered.
Fortunately, in 2020, the Spain au pair visa requirements are much clearer.
Do I need a visa to be an au pair in Spain?
If you want to be an au pair in Spain for LONGER THAN three months, you need a visa.
I've heard stories au pairs staying longer without a visa, but technically, that's illegal. Personally, I didn't want to run the risk of being banned from entering the European Union in the future.
Spain Au Pair Visa Requirements
The real kicker for the Spain au pair visa requirements is that, in order to qualify, you need to enroll in Spanish classes at an official language school.
An official language school is one accredited by the Cervantes Institute. The Spain au pair visa requirements mandate that you're enrolled as a full-time student which means 20 hours/week.
In the end, this did me in. I researched the prices of classes at official language schools in Madrid and learned it would cost more than $3,000 USD to meet the Spain au pair visa requirements.
Even if I could have afforded the classes, being a full-time student wouldn't have worked with my au pair responsibilities. It's not like my host family asked a lot of me, but I did need to get the kids to school in the morning and pick them up in the afternoon.
That wouldn't have been possible if I was taking 20 hours of classes/week.
Everything You Need for the Spain Au Pair Visa
Applying for the au pair visa is a lot like applying for a student visa, which makes sense since you need to prove you're taking classes for both.
There are multiple Spanish Consulates located throughout the United States. You need to find the one your state of residence is assigned to and make an appointment there.
Each consulate has a slightly different way of handling the au pair visa process, but you'll likely need all of the following documents:
National visa application form

Don't forget to use the international date when filling this out (Day/Month/Year).

Original passport and student ID or state drivers license

Valid passport for a minimum of one year

One recent passport-size photo
Official letter of admission as a student of Spanish from a school in Spain

You must be registered as a full-time student in a Cervantes Institute-accredited school.

Proof of health insurance

Full coverage private medical insurance

Proof of means of support

Most likely this will be a notified letter from your parents stating they assume full financial responsibility to cover your living expenses and fly you back to the U.S.
Suggested wording: "I hereby certify that I, the (father, mother, other), of (full name), will support her/him with a monthly allowance of €537,84 (or its equivalent in USD) while she/he is in Spain and that I am financially responsible for any emergency."

Au pair contract

Signed by both the host family and au pair
Notarized in Spain

Medical certificate

Recent doctor's statement saying you're healthy and free of contagious diseases
No older than three months

Recent conviction information request form (only if you plan on staying longer than six months)

This is an FBI background check issued in the last three months and verified with fingerprints.
Spain Au Pair Visa Tips
To help make the process a little smoother, here are some tips for applying for the Spain au pair visa.
Make your consulate appointment 90 days prior to when you're supposed to start your au pair duties in Spain
Bring all the original documents PLUS a copy
Bring a MONEY ORDER for $160 USD
Can you be an au pair on a tourist visa in Spain?
If the visa process sounds too complicated or too expensive, you can be an au pair on a tourist visa in Spain.
I know because that's what I did!
American passport holders are allowed to stay in Europe (specifically, Schengen Zone countries) for up to 90 days out of every 180 days. That agreement is often referred to as a tourist visa, but unlike many other visas, you don't actually have to apply for it.
Just book your ticket and arrive in Spain as if you're there for vacation.
But even if you don't pursue the official visa, I still recommend signing an au pair contract with your host family in Spain.
Not sure if the Spain au pair visa is right for you?
Feel free to leave a comment below with any questions or send me a DM on Instagram (@alexnotemily). I'm always happy to chat with people curious about living abroad.
If once your three months in Spain are up you decide you want to live in Spain longer, consider applying for the North American Language and Culture Assistans program. It's the perfect way to live in Spain legally AND earn money.
---
Psst…Don't forget to pin this post for later! For the best au pair tips and advice, follow my Pinterest board dedicated to all things au pair!