For many young people, backpacking Europe is a right of passage. You've heard the stories. You've seen the pictures. It's only natural you want to travel Europe yourself. But, how do you plan a trip to Europe on a budget?
The answer? Backpacking Europe.
As a recent college graduate (or, let's face it, pretty much every millennial out there) you probably don't have a lot of money. You might not have any at all. I certainly didn't when I decided to backpack Europe for the first time in May 2014.
In addition to being broke AF, I didn't have any experience trip planning. But, I didn't let either of those things deter me and neither should you.
Planning a trip to Europe doesn't need to be overwhelming. Actually, it can be quite easy and—alright, I'm going to sound like a total nerd here—fun.
To get you started and give you the confidence to just do the damn thing, this guide has everything you need to know about backpacking Europe on a budget.
This post may contain affiliate links. That means if you click and buy, I may receive a small commission (at no cost to you). Please see my full disclosure policy for details.
How do I travel to Europe for the first time?
Well, if you're coming for outside the continent, you'll need to get on a plane and…oh my gosh, I'm kidding! But, seriously, traveling to Europe for the first time doesn't need to be complicated. In fact, if you're reading this post, you've probably already done the hardest part: you said you want to go.
Taking that first step and committing to trip planning is no small thing. Because I admire your adventurous spirit and want to make your life a little easier, I put together this step-by-step guide for backpacking Europe. Mixed in, you'll also find answers to the most frequently asked questions about backpacking Europe for the first time.
How do I start planning a trip to Europe?
Before we even dive into the step-by-step backpacking Europe guide, there are three pieces of advice I wish someone would have shared with me when I was planning my first trip to Europe.
#1 Stay organized
When planning a trip to Europe (or anywhere, for that matter), there are a lot of moving parts. You'll save yourself some serious headaches down the road if you make an effort to stay organized from the start.
Create a "Euro Trip" folder in your inbox. You'll know exactly where all your reservations and confirmations are when you need them.
Make a budget tracker in Google Sheets (and actually update it). Keep tabs on how much you're spending.
#2 Have an open mind
The exciting thing about planning a trip to Europe for the first time is you've never been to Europe! Even if you managed to stay awake in your world geography class, there's still a lot about the continent you don't know. Europe is so much more than smoking weed in Amsterdam and pretending to not take pictures in the Sistine Chapel.
When I planned my first trip to Europe, the places I ended up loving the most were the ones I'd known the least about. To me, backpacking is an opportunity to get off the beaten path. Take a chance on a place you've never heard of! If not now, then when?
Similarly, consider visiting Europe during the off season. Popular Europe destinations still have a lot to offer during the winter months & there will be fewer crowds and better deals. If you're worried about being cold, this packing list for Europe in winter has you covered.
#3 Never forget whose trip it is
You're obviously receptive to other people's advice or you wouldn't have bothered googling "backpacking Europe." Even though it's way WAY valuable to take other people's experiences and opinions into consideration, never forget whose trip it is: yours.
As you're planning your trip to Europe, you're going to—at one point or another—need to prioritize. Trip planning is all about making choices. Especially when you're traveling Europe on a budget, you're not going to be able to do everything. So as you make your decisions, block out the people (as well-intentioned as they may be) telling you the "must-see" places.
If you have no other reason for wanting to go to Berlin than you've always wanted to go to Berlin, then freaking go to Berlin! It's a simple equation really: Your time + your money = your trip. So, in case you need it, here's permission to tell family, friends, guidebooks and travel bloggers to STFU and let you live.
>> I won't tell you where to go, but if you are so inclined to visit Spain, check out these INCREDIBLE cities in Spain, you might want to add to your backpacking Europe route! <<
A step-by-step guide to backpacking Europe
Now that we've laid the groundwork, let's get to the good stuff. Behold the ultimate step-by-step guide to backpacking Europe!
If you have any questions about planning your first trip to Europe, feel free to leave them in the comments or shoot me a DM on Instagram (@alexnotemily). I'm always down to talk travel, so hit me up and let's nerd out over trip planning ?
#1 Start planning a trip to Europe
Thanks to the internet, there's a wealth of information out there about planning a trip to Europe. Here are my top travel tips for making planning your first trip to Europe more manageable.
Get your hands on a physical map
For trip planning, paper maps are my secret weapon. Unless you're a total geography whiz, it's a heck of a lot easier to organize a Europe trip itinerary with a map of Europe spread out in front of you.
To start planning a trip to Europe, write out all the places you think you want to visit. Go wild! List everywhere that piques your interest. Then, with a map in front of you, your backpacking Europe route will start to come together right before your eyes.
Check out Pinterest for inspiration AND information
A lot of people don't realize this, but Pinterest is actual a search engine. In addition to enough wanderlust quotes to last a lifetime, you can find basically every blog post ever about a destination on Pinterest.
Guidebooks are classic, and I still use them from time to time. But, I prefer Pinterest because you can see the published date and know how recent the information is.
>> Check out my Pinterest here! I have boards about backpacking Europe, best Europe travel destinations and budget travel tips! <<
Put some actual thought into your travel buddy
I definitely wouldn't ask just anyone to join you backpacking through Europe. Travel, especially long-term, can be stressful. Make sure your friendship or romantic relationship is up to it.
>> But, if you do decide to backpack Europe with your significant other, click here to learn all the ways travel can change your relationship. <<
If you can't find someone to go with you, backpacking Europe solo is always an option! Solo travel is severely underrated. Not only do you get to do everything you want exactly how and when you want to do it, but it's also incredibly empowering. And, don't worry about feeling lonely. There are lots of opportunities to be social and meet new people while backpacking Europe.
How much should I budget for a trip to Europe?
Now, this question is a tricky one. Because everyone travels differently, there are lots of different answers. On top of that, your Europe trip itinerary will greatly influence how much your trip to Europe costs. A city like London is very expensive while a city like Krakow is very budget-friendly.
When I backpack around Europe, I tend to stay in hostels, cook for myself a few times a week, utilize public transportation, take advantage of free activities and visit lesser-known destinations.
But, I'm not always pinching pennies. From time to time, I splurge on nights out, private accommodation or spontaneous flights to Ibiza with Australians I met in my hostel.
How much does a trip to Europe cost for six weeks?
As someone who's just as comfortable using Couchsurfing as she is booking a night in a budget hotel, I'd say I'm a fairly typical backpacker. I spend money when I want to and save money when I can.
If that sounds like you, I wouldn't budget any less than €50/day or €2,100 total for a six-week trip to Europe (not including the price of the flight to/from Europe). In USD, that's approximately $57/day or $2,384 total.
Some days you'll spend less, but some days you might spend more. I'm sure people have backpacked Europe for a lot less, but for first-timers backpacking Europe, it's better to have a bit of a cushion. Running out of money SUCKS!
#2 Perfect your backpacking Europe packing list
This shouldn't really come as a surprise, but the most important piece of gear you need for backpacking Europe is a backpack! That piece of luggage is what's going to make you a backpacker, so choose wisely.
How to choose the best travel backpack for backpacking Europe
I spent a lot of time researching travel backpacks before backpacking Europe for the first time in May 2014. But, it all paid off because— 14 countries and two international move later—I'm still using the same backpack.
So, what backpack does Backpacking Brunette use? I would trust my life to the Osprey Porter 46. Here's why I love it.
It's the perfect size.
Even if I was planning on doing a round the world trip, I would still stick with the Osprey Porter 46. Anything bigger than 46 liters seems unmanageable to me, and you end up bringing a lot of shit you don't need. You're going to Europe, not the moon. If you get there and decide there's something you really need, you can always buy it.
Plus, this travel backpack is carry-on size! I prefer to carry on my bag because nothing can ruin a trip faster than lost luggage.
It's front loading.
While many traditional backpacks are top loading, the Osprey Porter 46 is front loading. Instead of shoving everything in at the top, this backpack zips open like a suitcase, making it a lot easier to stay organized.
It's sturdy.
This spring, my Osprey Porter 46 will turn five years old, and it's barely showing its age. I've shoved it into tiny hostel lockers, kicked it along in front of me in airport lines, thrown it into the backs of pickup trucks and, once, ran through the rain with it as I sprinted to catch a train.
Despite everything I've put it through, it doesn't have any rips, all the zippers work and still fits me like a charm.
What should I bring on a trip to Europe?
First, backpacking Europe is not a fashion show. Embrace being a grungy backpacker! Pack clothes you can mix and match and that won't look totally disgusting after wearing them a few times.
When it is time to wash your clothes, check if your hostel has a laundry service or ask where the nearest laundromat is.
If you do get to Europe and realize you're missing something, buy it! When it was unseasonably hot in Amsterdam, I sprung for a pair of shorts at H&M. Now, whenever I wear them, I think of that trip. Clothes make a good, practical souvenir.
Aside from your backpack and clothes, here are a few other items I consider must-haves for backpacking Europe:
Quick-dry towel
Shower flip flops
Combination lock
Ear plugs and a sleeping mask
European adapter
#3 Find cheap places to stay in Europe
For most travelers, accommodation eats up a significant part of their travel budget. In order to make your euros stretch as far as possible, you need to familiarize yourself with cheap accommodation in Europe.
>> To learn more about cheap places to stay in Europe, check out this guide to budget accommodation in Europe! <<
If you're feeling adventurous, it is possible to find free places to stay in Europe.
>> This beginner's guide to Couchsurfing has everything you need to know about sleeping on strangers' couches. It's actually really cool! <<
Are hostels in Europe safe?
Yes. Yes, yes, yes! Hostels in Europe are most definitely safe.
Not only are hostels a great option for travelers on a budget, but I think they're quintessential to the backpacking Europe experience.
If you're hesitant or nervous about staying in a hostel, make sure to read the reviews before you book. Backpackers on Hostelworld (the #1 hostel booking site) are generally honest and fair about about their experiences. I always check to see what people say about location (is it in a good neighborhood?) and cleanliness (will I get ringworm from the showers?).
>> Check out THIS POST to find out what it's really like to stay in a hostel. <<
#4 Decide the cheapest way to travel in Europe
Once you're in Europe, you'll need to get from city to city. After accommodation, transportation will be your most significant cost. It's worth taking the time to research different options since it could save you a lot of time and money in the end.
Traveling in Europe by train
My first time backpacking Europe in May 2014, I purchased a Eurail Youth Pass. Traveling in Europe by train just seemed like the cool thing to do.
But, in reality, it was kind of a mess. I committed to the Eurail Pass without really understanding the distances and rail connections between the cities I was visiting. That lack of forethought resulted in some long train rides with really wacky connections.
A lot of people love traveling by train in Europe, but it can be expensive and isn't always the most convenient option.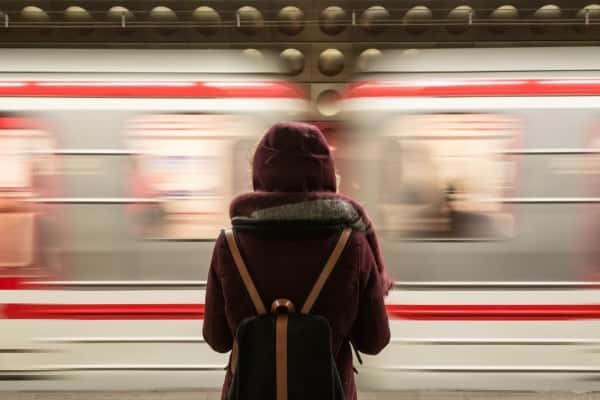 Flying between countries in Europe
Budget airlines like Easyjet and Ryanair have surged in popularity over the last few years. A €20-flight sounds pretty amazing until you factor in the €30-cab ride it took to get to the airport at 4 a.m. Then, on top of that, they want to charge you to check a bag you could have sworn fit carry-on guidelines.
>> To be a responsible traveler, understand the impact of air travel on the environment. Click here to learn more about sustainable travel! <<
Sometimes flying in Europe is the only reasonable option, but I prefer to avoid it whenever I can. Remember this:
Budget airlines often fly in and out of secondary airports that are super far from the city center.
It might say €20 when you find the flight online, but budget airlines will hit you with whatever fees and surcharges they can.
Always factor in the time getting to the airport and going through security to your total travel time. Does that one hour-flight still make sense?
Bus travel in Europe
The best-kept secret for backpacking Europe on a budget is traveling by bus. Seriously, it's a gamechanger.
Americans, especially, tend to overlook or discount bus travel. But, in my experience, the majority of the time traveling by bus is the most convenient and cheapest way to travel in Europe. Here's why I love bus travel in Europe:
No liquid restrictions.

Security, in general, is a breeze compared to air travel. Just show up a half hour before your scheduled departure and you're good to go.

Bus stations are usually located in the city center.

No wasting time and money trekking out to the airport. When you get to your destination, it's an easy walk to your hostel.

Significant comfort for your money.

Buses are often the cheapest way to travel in Europe, but they're still just as comfortable (if not more so) than budget airlines and, sometimes even, trains. Many buses have WiFi and bathrooms onboard.
My go-to bus operators in Europe are FlixBus and Eurolines.
#5 Make a plan for how to save money while backpacking Europe
As you're planning your trip to Europe, money is (and should be) on your mind. We've already talked about how much to budget per day in Europe, but what about sticking to that budget once you actually start backpacking Europe?
Veteran backpackers know your ability to adhere to your budget can make or break your trip. Personally, it's a lot easier for me to relax and have a good time if I know I'm not going broke.
That's why it's vital you have a plan for how to stick to your backpacking Europe budget.
How can I travel Europe cheap?
When you start planning a trip to Europe, track your expenses from the get-go. I know that might go against the ~*free-spirited*~ nature of some backpackers, but trust me, you'll thank me later.
To help you track your travel expenses, break them down into these categories: transportation, accommodation, food, activities and miscellaneous. For most budget travelers, transportation and accommodation are the most costly expenses.
Now that you understand your expenses, take some time to prioritize.
This is vital! As a backpacker, you're not going to be able to go every place and see everything. On a budget (and factoring in time as well), it's just not feasible. So, you've got to make choices.
What cities or countries do you really REALLY want to visit?
Would you prefer private accommodation, or is dorm-style sleeping just fine?
Are you okay with cooking dinner at the hostel so you can have money for a night out on the town?
Is it possible to narrow down the museums or monuments you really want to see in order to not pay entrance fees left and right?
The best piece of advice I read while planning my first backpacking trip around Europe was this:
Plan your trip with the idea you'll go back someday.
Yes, I know there are no guarantees or whatever. But, don't run yourself ragged trying to see and do absolutely everything. The whole "once in a lifetime trip" fallacy puts way to much pressure on you to have THE BEST TIME EVER. 
Relax. Enjoy yourself. Breathe. Prioritize the things you want to do (lists are awesome), and go from there. With a little luck, you will be back someday. 
Budget travel tips for Europe
Once you've established your priorities, you'll better understand the areas you can save money in while backpacking Europe. To help, I've put together a list of my top 10 budget travel tips for Europe.
Don't miss these super helpful, super practical tips for how to travel Europe cheap!
Got questions about backpacking Europe? Leave them in the comments, or shoot me a DM on Instagram (@alexnotemily)! I'm always down to nerd out over trip planning with a fellow backpacker.
---
Psst…Don't forget to pin this post for later!