Do you dream about a life abroad but have a bank account that says you should probably stick to your own backyard? Learn how to become an au pair in Spain!
This post was originally published Sept. 10, 2014, and was updated Feb. 14, 2020.
From the au pair salary in Spain and what to know BEFORE you sign your au pair contract in Spain to tips for navigating the process to get an au pair visa in Spain, this guide (updated for 2020) has everything you need to know about being an au pair in Spain.
Related Reading:
When I graduated from college in Sept. 2017, I knew I wanted to travel—maybe even live abroad if I could. But being a new grad and all, I hardly had any money to my name. I needed to find a way to travel and live abroad even though I was dead broke.
The answer? Being an au pair in Spain!
What is an au pair?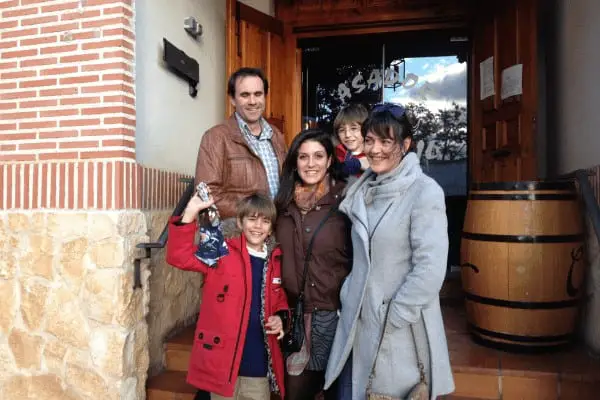 An au pair is a young person, usually a woman, from a foreign country who lives with a family and helps to care for the children in return for room and board as well as the opportunity to learn the family's language.
If you want to get an au pair visa for Spain (more on that below), here's who the Chicago Spanish Consulate says can become an au pair in Spain:
Must be between 17 and 30 years of age
In my experience, the majority of host families in Spain want an au pair who is:
Between 18-25 years old
College educated
An English speaker (not necessarily native)
Female
How to Become an Au Pair in Spain
If you want to become an au pair in Spain, the first step is finding your host family. I, along with the majority of au pairs I met, used Au Pair World to find my host family.
I loved my host family in Spain and am still in contact with them today! Here are my top tips for finding the perfect au pair host family:
How to Find an Au Pair Host Family Tip #1: Take Time with "About Me"
On Au Pair World, au pair hopefuls and potential host families both set up profiles. I filled out an "About Me" section in which I wrote about my age, hometown, education, hobbies, history working with children and why I wanted to be an au pair.
In the preferences, it asked what kind of families I'd be willing to work with and what kind of household chores I'd be willing to do. I opted for nonsmoking, dual-parent households with a maximum of three children between the ages of six and 16. I also didn't want a family with a cat (I'm allergic) or any family that would require me to do more than light housework (I hate cleaning).
How to Find an Au Pair Host Family Tip #2: Be Honest
You're going to be moving to a foreign country and relying on your host family to fulfill your basic needs (food and shelter). Your host family is entrusting you with the care of their beloved children. For both parties, it's vital that the relationship is built on trust.
If you don't want to do housework, say so! If you've never worked with kids, say so! Don't be afraid of not finding a host family if you tell the truth. In my experience, there are no deal breakers.
How to Find an Au Pair Host Family Tip #3: Set Preferences with an Open Mind
In another section of the profile, it asks your city-size preferences. Personally, I loved living in a small town just outside of Madrid. Have an open mind! Good host families are everywhere.
How to Find an Au Pair Host Family Tip #4: Upload Photos of Just You
Before my profile went live, I uploaded a few pictures of myself.  Host families want to put a face with a name. If possible, post pictures where you're the only person in them.
It's more likely that they'll skip over your profile rather than messaging you to ask which girl you are. I just cropped my friends out of the pictures I uploaded.
Before You Sign Your Au Pair Contract in Spain
An hour after I created and finished filling out my profile on Au Pair World, I had a handful of messages from people who wanted me to be their au pair. Within 24 hours, I had over 30 different families trying to convince me to be their au pair.
But before you sign your au pair contract in Spain, there are a few questions to ask yourself before au pairing.
If you're a good fit to be an au pair and find a family you think would be a good fit for you, setup a Skype session. Even if you need to use Google Translate to get through the conversation, it's worth it to meet (as best you can) your host family.
Prior to your Skype session with your au pair host family, it's a good idea to write down some questions to ask them. Before you move to another country and live with a family you've never met (in person), you don't want to leave any stone unturned!
Here are some questions to questions to ask your au pair host family:
What do you expect from me as an au pair?
What will my daily schedule as an au pair look like?
Why do you want to host an au pair?
If the host family has had au pairs before, ask for their contact information. It's always nice to hear from someone who has done the job before you.  
How much do au pairs in Spain make?
Compared to other countries in Europe, au pairs in Spain don't make much money. In 2014, when I was living with my host family, my au pair salary was €50 per week. 
Officially, according to the Spanish Consulate in Chicago's website, au pairs will not receive a salary for their services. Instead, they receive "pocket money." 
In talking with other au pairs, I found that my €50 per week seemed to be about normal for how much au pairs in Spain are paid.
Keep in mind, I only really worked two hours per day (one hour in the morning getting the kids ready for school and one hours in the afternoon helping them with their homework). I didn't cook or clean.
Can you be an au pair on a tourist visa in Spain?
Yes, you can be an au pair on a tourist visa in Spain.
I know because that's what I did! Securing an au pair visa in Spain is a costly and, depending on your consulate, confusing process (more on that below). Since I decided to become an au pair in Spain for the cost-effectiveness, I opted against pursuing an au pair visa.
American passport holders are allowed to stay in Europe (specifically, Schengen Zone countries) for up to 90 days out of every 180 days. That agreement is often referred to as a tourist visa, but unlike many other visas, you don't actually have to apply for it.
Personally, I found three months of being an au pair in Spain sufficient. There are other ways to live in Spain for longer and earn more money such as teaching English with the auxiliares program.
Do you need a visa to au pair in Spain?
If you decide you want to au pair in Spain for longer than three months, you need a visa.
To qualify for an au pair visa in Spain, you will need to enroll in language classes at an official language school. Tuition will come out of your own pocket as, unlike other European countries, host families in Spain aren't required to pay for an au pair's language classes.
Anyone choosing to apply for an au pair visa needs to make an appointment at the Spanish consulate. Each state is assigned to a specific consulate that they must go through when applying for a visa. For example, Michigan is assigned to the Spanish consulate in Chicago.
Don't think you can just show up with your paperwork! You'll need to make an appointment online—the earlier the better since they do tend to fill up.
Necessary Document for Au Pair Visa in Spain
Applying for an au pair visa is very much like applying for a student visa. Every consulate does things a little bit differently, but most require the following documents:
National visa application form

Don't forget to use the international date when filling this out (Day/Month/Year).

Original passport and student ID or state drivers license

Valid passport for a minimum of one year

One recent passport-size photo

Official letter of admission as a student of Spanish from a school in Spain

You must be registered as a full-time student in a Cervantes Institute-accredited school.

Proof of health insurance

Full coverage private medical insurance

Proof of means of support

Most likely this will be a notified letter from your parents stating they assume full financial responsibility to cover your living expenses and fly you back to the U.S.

Suggested wording: "I hereby certify that I, the (father, mother, other), of (full name), will support her/him with a monthly allowance of €537,84 (or its equivalent in USD) while she/he is in Spain and that I am financially responsible for any emergency."

Au pair contract

Signed by both the host family and au pair

Notarized in Spain

Medical certificate

Recent doctor's statement saying you're healthy and free of contagious diseases

No older than three months

Recent conviction information request form (only if you plan on staying longer than six months)

This is an FBI background check issued in the last three months and verified with fingerprints.
Make sure you have both the original AND a copy of each of these documents when you show up for your appointment. 
For more information, visit the Chicago Spanish Consulate's website to see what they have to say about the au pair visa. 
Cost of Au Pair Visa in Spain
An au pair visa for Spain costs $160 USD. 
The consulate only accepts money orders. If your visa application is rejected, the consulate keeps the $160 USD.
How long does an au pair visa take to process?
According to the Spanish Consulate in Chicago, the au pair visa process takes two to four weeks from the day the application is submitted. But, during the high visa season (December-April), the process could take three to four weeks.
They recommend scheduling your au pair visa appointment 90 days prior to when you're supposed to start your au pair job in Spain.
Thinking of Being an Au Pair in Spain?
Are you considering being an au pair in Spain?
Deciding to become an au pair in Spain was one of the best decisions I ever made. It opened my eyes to other ways of life and really sparked my passion for travel. Being an au pair in Spain forced me out of my comfort zone and set me on the path to where I am today.
If you have any questions about how to become an au pair in Spain, leave a comment. You can also send me a DM on Instagram (@alexnotemily). I'm always happy to chat with anyone thinking about becoming an au pair!
---
Psst…Don't forget to pin this post for later!