Everything you need to know about pilgrim hostels on the Camino de Santiago!
Wondering what to do if the municipal albergue is full? Unsure of proper pilgrim hostel etiquette? Dying to know the truth about bedbugs on the Camino?!
At the end of this post, you'll be equipped with everything you need to know about Camino de Santiago albergues (including how to pronounce "albergue").
This post may contain affiliate links. That means if you click and buy, I may receive a small commission (at no cost to you). Please see my full disclosure policy for details.
Where do you stay on the Camino?
While there's no shortage of accommodation options along the Camino, the majority of pilgrims (people walking the Camino) stay in albergues.
After this post, you'll know everything about albergues on the Camino de Santiago including:
The difference between municipal and private albergues
Whether or not you need to book accommodation on the Camino
Proper pilgrim hostel etiquette
Knowing exactly what to expect from albergues will help you prepare for the Camino.
What is an albergue?
Basically, an albergue is a hostel specifically for pilgrims.
For English speakers, it's pronounced: al-BEAR-gay.
In order to stay in an albergue, you need to have a pilgrim's passport (find more info on Wikipedia). You can purchase the credential online or at numerous places along the Camino.
Because you need a pilgrim's passport to stay in an albergue, you should buy one either before starting your Camino or on the first day. You'll also need it to get your compostela (certificate of completion).
Albergue vs. Hostel
If you've ever stayed in a hostel, then you already have an idea of what an albergue is like.
It's shared dormitory-style accommodation. There is a room (sometimes more than one) for sleeping, often with bunk beds.
Albergues along the Camino also have a kitchen, bathrooms, showers and a common area for hanging out.
Some albergues also have washers and dryers.
Camino de Santiago Municipal Albergues
When people talk about pilgrim accommodation on the Camino, they're usually referring to municipal albergues.
The local government owns and operates municipal albergues. The majority of towns and cities on, at least, the most popular Camino de Santiago routes have municipal albergues.
You can also think of them as public pilgrim hostels.
Municipal albergues are the cheapest accommodation on the Camino.
On the French Way, municipal albergues cost as little as $5 USD per night. On the Portuguese Way, pilgrims hostels cost between $5-9 USD per night.
Municipal albergues vary in size. I've stayed in ones with 20 beds and others with 80 beds.
There are separate bathrooms for men and women, but the sleeping accommodation is mixed.
Municipal albergues rarely have sheets on the bed, which is why if you plan on staying in them you need to include a sleeping bag on your Camino packing list.
Other essentials for making your albergue experience as comfortable as possible are a compression pillow, waterproof sandals, ear plugs and an eye mask.
Many pilgrims, myself included, think staying in a municipal albergue is an essential Camino experience. It's the best environment to meet other pilgrims.
However, it's not the only type of Camino de Santiago albergues.
Camino de Santiago Private Albergues
In addition to government-run albergues, there are private albergues along the Camino de Santiago.
You guessed it, private albergues are privately-owned. They usually cost $5-10 USD more than municipal albergues.
For a few extra bucks, you get a significant upgrade in comfort.
Amenities at a private albergue can include a private room, private bathroom and, my personal favorite, actual sheets on your bed.
Often, private albergues are cleaner and quieter than municipal albergues.
Anywhere there is a municipal albergue, private albergues are nearby. You can also find them on websites like Booking.com.
Personally, I think one of the keys to an enjoyable Camino is staying in a mix of public and private albergues.
The Truth About Bedbugs on the Camino
Many pilgrims are scared to stay in Camino de Santiago albergues for the fear of getting bedbugs.
I wish I could say it's not an issue, but it is. Bedbugs are a problem on the Camino.
However, just because you avoid staying in albergues doesn't mean you won't get them.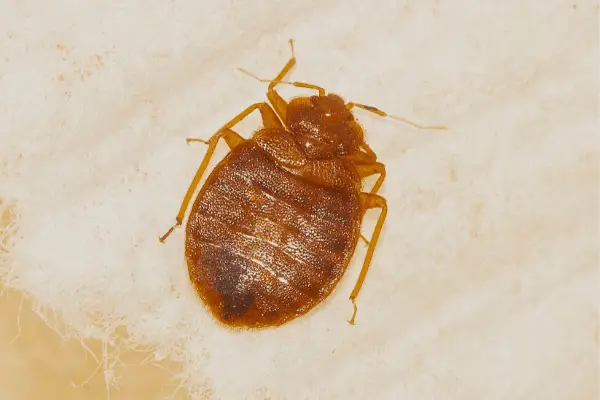 You could stay in 5-star hotels and still get bedbugs, so rather than forgoing the essential pilgrim experience that is staying in an albergue, there are a few precautions you can follow to protect yourself.
Knowing how to identify a bedbug infestation is one of the things you must know before walking the Camino.
Check your bed.

Feel along the seams of your mattress. That's where bedbugs tend to hide out during the day.
Look for rusty red/black residue aka bedbug poop.

Never put your backpack on your bed.

This is the number one way bedbugs are spread.

Think you have bedbugs?

Wash everything that can be washed in hot HOT water.
After your Camino, put everything in a garbage bag and leave it for 30 days (the longer the better).
Even if I don't think I have bedbugs, I quarantine all my stuff just as a precaution.
Some pilgrims swear by bedbug spray, but personally, I don't think it works. Rather than trusting a spray, you're better off learning how to identify a bedbug infestation with the tips above.
How to Book Albergues on the Camino de Santiago
It's important to note that municipal albergues do NOT accept reservations. You can call ahead to see how many beds are still available, but you won't be able to claim one until you yourself are physically there.
On the other hand, private albergues do accept reservations. When I walked the Portuguese Camino, I booked several nights of accommodation through Booking.com.
Do you need to book accommodation on the Camino?
As I said, if you plan on staying in municipal albergues, you CAN'T book accommodation since they don't accept reservations.
For private albergues, you don't need to book accommodation more than a day ahead of time — although, I know doing so often makes first-time pilgrims feel more comfortable.
When I walked the Portuguese Camino Coastal route, if I booked accommodation online, it was always done the same day. For the most part, I just showed up at the albergue and asked what they had available.
Of course, whether or not you have success just showing up depends on what time of year you're walking the Camino and what route you're taking.
For example, if you're walking the last 100 km of the French Way in August, you might want to book accommodation ahead of time to guarantee you have a bed at a place of your own choosing.
In my experience, you'll always be able to find a place to stay on the Camino, but I understand that it puts some people at ease to know exactly where they're going to hang their hat each night.
Booking accommodation at a private albergue ahead of time can ease your anxiety, especially if you think you'll arrive at an albergue after 4 p.m.
What do you do if you get to the municipal albergue and it's already full?
For your best chance of scoring a bed in a municipal albergue, it's a good idea to show up early.
The closer you get to Santiago de Compostela, the more crowded albergues (both municipal and private) will be.
Most public pilgrim hostels are open by 4 p.m. Plan your day to be there by then, especially if you're walking during peak season.
During peak season, pilgrims often line up outside an albergue and wait for it open.
If you get to the municipal albergue and it's already full, ask the person working the desk if they recommend a nearby private albergue.
The one time I arrived at an already-full municipal albergue, one of the volunteers walked me over to a private albergue where I got a room for just a few euros more than I would have paid at the government-run hostel.
It's also a good idea to keep your eyes open for private albergues on your way to the muncipal albergue. That way you have a back-up plan if the latter is full.
How long can you stay at an albergue?
You can only stay at a muncipal albergue for one night.
Sometimes, the albergue may make an exception if you have an injury, but it's best to plan on only being able to stay a single night.
If you want to take a rest day and stay in the same accommodation for two nights, you should book a private albergue.
Camino de Santiago Albergues: What to Expect
Now that you understand the basics, let's dive into what to expect at albergues on the Camino.
After this section, you'll know the ins and outs of albergue etiquette.
Check-In Process
When you arrive at an albergue, the first thing you need to do is check-in.
The check-in process varies from albergue to albergue, but in general, you'll need to:
Show your pilgrim's passport
Show your actual passport
Listen to an explanation of the rules
Sign something that says you understand the rules
Pay (cash is best)
If you're staying at a municipal albergue, the person checking you in is likely a hospitalero (a Camino de Santiago volunteer). The majority speak at least some English.
Once you've paid up, you'll receive your mattress/pillow protector (remember: no sheets at municipal albergues).
You may also get a specific bed assignment. If that's the case, do not switch beds without asking as this throws everyone off.
As you're getting situated, refrain from sitting, standing or hanging things on other people's beds. I know it can be difficult with bunk beds, but do your best.
Since very few municipal albergues have lockers, I don't bother to carry a padlock and, instead, keep all my valuables (phone, passport and money) on me at all times.
I leave my other gear out and trust no one will want to steal my stinky socks. It hasn't happened yet.
Bathrooms
After you set your stuff down, it's every pilgrim's favorite part of the day: shower time.
Some municipal albergues along the Camino have communal showers. Even though I'm a notoriously prudish American, this didn't bother me.
You get in. You wash your stuff. You get out. No one is looking at anyone else.
Whether the shower is communal or not, be quick. Don't use up all the hot water.
Also, remember to bring your clothes to change in the shower/bathroom unless you want to walk through the albergue in a towel.
Cooking
To keep costs down, many pilgrims cook in the albergue kitchens.
While walking the Portuguese Way, I tried to start cooking as soon as possible after getting out of the shower in order to beat the dinner rush.
If you can, it's a good idea to check what's in the kitchen before you go to the store or start preparing food.
Some albergues will have staple ingredients for anyone to use such as olive oil and spices. In others, you'll be lucky to find a knife that isn't dull.
What should you cook? It's hard to go wrong with pasta or some type of rice dish. My go-to Camino meal was sauteed veggies and kidney beans in tomato sauce over rice.
While I definitely preferred hot meals (especially after a long rainy day on the Portuguese Camino), you can also make a satisfying meal out of meat, cheese, olives and bread. Don't forget the wine!
Whatever you decide to prepare, be sure to wash your pots, pans, cutting board, etc. as soon as you're done using them NOT after you finish eating. Other people will need to use them.
Bedtime
At most municipal albergues, lights out is between 10 and 11 p.m.
Most pilgrims are in bed even before that though. In case you want to go to sleep before official lights out, I recommend having earplugs and a sleeping mask.
Before you turn in for the night, have all your stuff packed up and laid out for the next morning.
This is particularly important if you plan on getting an early start (before 7 a.m.).
Rise and shine
If you take anything away from this albergue etiquette section, let it be this:
When your alarm goes off, DO NOT HIT SNOOZE.
If you're one of the first pilgrims to get up, you should take all your stuff and change/get ready in the common area rather than the dormitory.
In the morning, all pilgrims will need to be out by 8-8:30 a.m.
Other Places to Stay on the Camino de Santiago
In addition to municipal and private albergues, other places to stay on the Camino de Santiago include pensiónes, hostales, casas rurales and hotels.
These options cost more than albergues, but you'll get more privacy and comfort for your extra euros.
When I walked the Portuguese Camino Coastal route, I stayed in several budget hotels and split the cost of a private room with another pilgrim.
Pilgrim Accommodation Santiago de Compostela
The only place I definitely recommend booking accommodation in advance is Santiago de Compostela.
There isn't a municipal albergue in the city center, so if you want to be near the action (better for celebrating), you'll need to book something private.
There's lots of reasonably-priced pilgrim accommodation available in Santiago de Compostela. Here's where I have stayed:
Can you camp on the Camino?
Backcountry camping is illegal in Spain, which means you can't just pitch a tent on the side of the Camino.
I won't say I've never heard of anyone camping on the Camino, but you should know that, strictly speaking, it isn't allowed.
Since sections of each Camino route pass through people's private property, deciding to camp could mean you're trespassing. Just think how you'd feel if some stranger was sleeping in your yard.
Final Thoughts on Camino de Santiago Albergues
For a balanced Camino experience, I like to stay in a mix of municipal and private albergues.
You get the classic pilgrim experience while also getting a few decent nights of sleep. It's more than possible to afford a mix on a standard Camino budget.
Even if I could afford to stay in hotels for my entire Camino, I'd still want to spend a few nights in municipal albergues. They're the best place for camaraderie, and if you want to find your Camino family, staying in public pilgrim hostels is a must.
Help Me Walk the Camino del Norte ?: If you found this post helpful, please consider making a donation via PayPal to support future content creation. Your contribution will help me reach Santiago de Compostela.
More Posts About Camino de Santiago Albergues:
Camino de Santiago Albergues (2023): Where Do You Sleep on the Camino?
---
Psst…Don't forget to PIN this post for later!