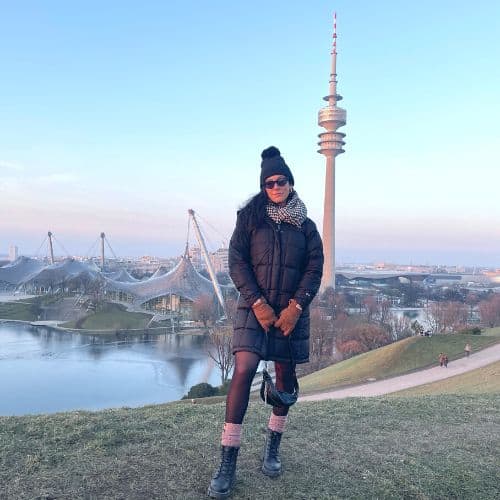 Find out the most important items for your European winter trip! Packing for cold weather is simple with this packing list for Europe in winter.
While the summer months in Europe get a lot of fanfare, a winter trip to Europe is tragically underrated.
From the magical Christmas markets to the fun-filled ski resorts, all European countries have something special to offer during the winter season.
However, if you're going to enjoy your winter vacation in Europe, the most important thing is to pack properly for the weather conditions. If packing for cold weather feels intimidating, you're in the right place 🤓
After reading this post, you will know:
Best way to pack for winter travel in Europe (even if you don't have a lot of space in your luggage)
The best things to pack for popular European winter destinations like Christmas markets & ski resorts 
What to expect from the winter season in Europe (average temperature & weather conditions)
Exactly what you need to include in your Europe winter packing list
Regardless of your itinerary, this Europe packing list will ensure you're prepared for colder weather travel in Europe! Plus, this ultimate guide to includes tips to pack light so you can travel with less hassle–bring everything you need and nothing that you don't.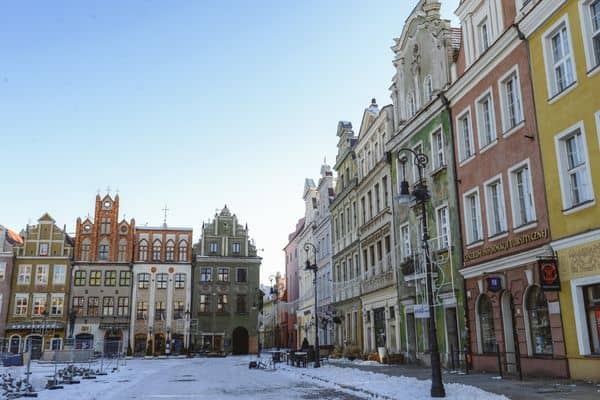 This post may contain affiliate links. That means if you click and buy, I may receive a small commission (at no cost to you). Please see my full disclosure policy for details.
Packing List for Europe Winter & Packing Tips
Before we dive into the winter packing list itself, let's go over some must-know tips to make sure you have all the warm winter clothes you need while still prioritizing pack light principles.
This section is especially important if you're backpacking Europe during the winter or plan on visiting several destinations during your trip.
Many people avoid visiting destinations during the winter months because packing can feel overwhelming and they hate the idea of dragging around lots of luggage.
That need not be the case if you follow these packing tips for winter travel in Europe:
1. Pack clothes that you can layer.
The key to staying warm during your European winter travels is packing clothes that you can layer. Rather than taking up too much space with bulky sweaters and puffy pants, focus on packing items that you can layer.
Warm layers start with a breathable base layer for maintaining body heat without causing you to sweat. It's a good idea to pay special attention to the type of material. Long-sleeve shirts like these are always great choices.
In colder weather, don't forget your bottom base layer. Thermal long underwear is your warmest option, but in a pinch, I've layered up with running tights or regular tights.
For an extra layer on top, my preference is a zip-up hoodie. It's perfect for layering under your winter coat outer layer. Additionally, warm accessories like a hat, gloves & scarf will make all the difference—plus, they'll look festive in any photos you snap at the Christmas markets!
It's a great idea to stick to a neutral color palette so you don't have to think twice about whether or not something goes together. 
2. Research the weather conditions for your destination(s).
Just like North America, Europe is a big place!
Please don't make the mistake of thinking the weather will be the same in northern Europe AND southern Europe. There might be a lot of snow in eastern Europe while western Europe is having a wet winter.
The bottom line is you need to check (and keep checking) the weather forecast for the European countries on your travel itinerary. 
It's tempting to rely on a guidebook for average temperature and weather conditions, but thanks to climate change, the actual weather could be much different. Check the real time weather forecast for the most up-to-date information.
Still deciding on your itinerary? Here are some of the best places to visit in Europe in winter:
Tromsø, Norway – Located in the north of Norway, Tromsø is one of the best places in Europe to see the Northern Lights. Plan your trip between the end of November and mid-January to see what a true polar night is all about.
Dresden, Germany – Experience the oldest Christmas market in the world. The Striezelmarkt has been delighting visitors for more than 600 years. It's open from late November until Christmas.
Ischgl, Austria – For a bucket list ski trip, plan a visit to Ischgl. This ski resort village boasts some of the best slopes in Europe & the lively après-ski scene is legendary.
Lapland, Finland – From glass igloos for watching the Aurora Borealis to reindeer rides and steamy sauanas, Lapland is one of the best places in Europe to enjoy winter weather.
Berlin, Germany – The party doesn't stop when the temperature drops. Winter is actually the perfect choice for a visit to Berlin since there will be fewer tourists to compete with when trying to get into the city's legendary clubs.
For even more inspo, check out this roundup by Fodor's of 12 European cities that are even better in winter!
3. If you're on the fence about an item, err on the side of not packing it.
Unless you're planning a remote winter backpacking trip, you're going to have access to stores and shops where you can buy anything you forgot or realized that you really do need. 
Even when I'm traveling for an extended period of time, I prefer to only have travel sized toiletries (more on this in the toiletries section later on). When I run out of shampoo or toothpaste, I'll pop into a local drugstore wherever I am and buy a replacement. 
You might not find the same brand, but it can be a fun travel experience to discover and try new products.
If I need to upgrade my wardrobe (like I did in Berlin when I realized I needed a black tank top for clubbing), I set out on a mini shopping trip. Clothes make great souvenirs.
4. Stay organized with packing cubes.
I know what you're thinking: Packing cubes? Really, Alex?
Trust me, I was right there with ya until the first time I had to pack for a winter trip to Europe. Determined to make the most of the space in my 30L Osprey Travel Backpack, I hit "add to cart" on these packing cubes.
The results blew my mind! Not only are you able to fit way more in your bag (hello, compression), but you're so much more organized.
Prior to packing cubes, I was basically dumping out my whole backpack each and every time I needed to find something. Now, I dedicate each cube to a type of clothing–it's so much easier to find stuff.
Regardless of what season I'm traveling (yup, even the summer months), I don't think I'll ever go without packing cubes again.
The Best Travel Backpack for Your Europe Trip
Here at Backpacking Brunette, we love–yep, you guessed it: BACKPACKS.
A backpack is the perfect luggage for year round travel but especially for winter in Europe. Who wants to drag a rolling suitcase through the slush?
The most important thing when choosing your travel backpack is buying the right size.
For my six-week Europe winter trip, I managed (with the help of packing cubes) to fit everything I needed into my 30L Osprey Travel Backpack.
If you're packing for very different destinations (think city breaks AND ski resorts), you might want to upgrade to the 46L Osprey Travel Backpack.
Personally, the 46L Osprey is my max because anything bigger is too easy to overpack and gets too darn heavy. 
Staying small forces you to think strategically about your packing list, but you've got this handy packing list to make sure you have everything you need and nothing you don't!
The Ultimate Europe Winter Packing List
It's the moment you've been waiting for: Let's get to the Europe winter packing list.
To make things easier, I've divided up the packing list into essential clothing, must-have travel items and important toiletries. 
The only way this list could be more organized is if I zipped it up into packing cubes! 
Essential Clothing to Pack for Winter in Europe
Having grown up in Michigan, I thought I knew everything about winter clothes… 
But, there's an art to packing winter clothes–especially if you're trying to pack light. 
The key is focusing on quality materials that you can layer. 
Even if this means spending money on some new items just for your trip, you will be so glad you opted to upgrade your winter wardrobe rather than trying to stuff a bunch of bulky sweatshirts into your backpack.
Winter boots – We're starting from the bottom and working our way up! Comfortable footwear is vital for a successful Europe trip since (if your travel style is anything like mine) you're going to be logging a lot of steps. For comfort, versatility & fashion points, I'm a big fan of chunky combat boots or for something slightly less military check out this pair with more than 10,000 reviews.
Warm socks – Not all thick socks are created equal. Avoid cold feet and opt for warm socks made out of a high quality material like merino wool (like these). Quality wool socks will keep your feet warm, not sweaty. Pro tip: Try your socks on with your winter boots in case you need to size up.
Regular socks – This is a good place to mention that you should try to avoid packing brand spanking new items. Whatever you plan on packing, give it a trial run first to ensure it's comfy and functional. I generally pack 5-7 pairs of socks for a long trip. 
Sneakers – A good quality pair of tennis shoes is a must for European travel regardless of the time of year. My go-to pair that I've worn for several trips now are the Nike Air Max. They're a little pricy for sneakers, but the extra cost is worth it. These are the most supportive tennis shoes I've ever owned & they're cute to boot.
Pair of jeans – Since they take up a lot of space, I only bring one pair of jeans when I'm backpacking Europe & they always end up being my most-worn clothing item. To make the most of your one pair, I recommend dark denim and a slightly looser fit. 
Pairs of pants – When it comes to choosing pairs of pants to wear in Europe in winter, look for thicker materials that the wind won't totally cut through. If you want to play it safe, stick to dark colors. Or, you can mix things up like I did on my recent Europe winter trip with some fun patterns: camouflage cargo pants and plaid bell bottoms. 
Long sleeve shirts – If you skipped the section about packing clothes that you can layer, scroll back up–it's important! A solid base layer is a long sleeve shirt made out of a breathable material like merino wool.
Tank tops and/or tshirts – These wardrobe essentials don't take up a lot of space & in a pinch, they make a decent extra layer. I like an oversized graphic tee that I can also use as pajamas plus a simple black tank top for a night out.
Underwear – The max number of underwear I bring on even a long trip is seven pairs. Know that you'll need to find a washing machine at some point, but if you're ever in a pinch, you can wash a pair in the sink of your hotel or Airbnb.
Workout set – Given how heavy the winter cuisine is in some European countries, I like to tuck a sports bra, leggings and running shoes into my backpack. You're on vacation, so by all means, enjoy yourself! And if you feel the urge to get a quick sweat sesh in, you have everything you need to do so.
Pajamas – If possible, try to pack items that you can wear both during the day and also to sleep. A solid option is a slightly oversized t-shirt and (unless you sleep really hot) a comfy pair of yoga pants that you can also wear during long travel days.
Light jacket – When I visited Ireland in early March, I was grateful to have this lightweight waterproof rain jacket. Depending on where you're visiting Europe in winter, you might be able to get away with a jean jacket + hoodie combo.
Warm coat – When it comes to a warm coat, go for functional before fashionable. I was so grateful for my North Face parka during my Europe winter trip. Trust me when I tell you that you're going to want a warm coat that covers your booty! If you're planning on partaking in winter activities that involve snow, it's best if you have a waterproof jacket.
Extra Winter Clothes You Might Want to Consider
Your packing list will, of course, vary depending on which European countries you're visiting, your planned activities and the weather conditions. 
Here are a few additional winter clothing suggestions that you might to consider when traveling to Europe during this time of year:
Snow boots – If you're headed to northern Europe to enjoy outdoor activities like seeing the northern lights, snow boots are likely a must. In case you're new to winter footwear, the most important thing when choosing a pair of snow boots is that they are waterproof boots. Uggs (or other casual winter footwear) won't cut it for long hours in the snow and slush.
Long underwear – For colder temperatures, invest in long underwear to serve as your base layer. Although ultimately I didn't need it, when I was researching what to pack for ski resorts, many people suggested this long underwear to stay warm on the slopes.
Thermal shirt – Planning on spending a lot of time outside in a particularly cold destination? At minimum, pack a thermal shirt. I prefer ones with some compression if you're planning on being active.
Bathing suit – Hear me out! If your travel itinerary includes destinations like Budapest with its famous thermal baths (an absolute MUST if you're traveling in central Europe), you'll want to have a swimsuit so you can take part in this beloved winter activity. Many ski resorts have saunas where you may want a bathing suit as well–although you'll find many Europeans (especially Germans) prefer to go nude.
When in doubt about extra winter clothes for a specific destination, the best option is to wait until you're there to buy anything additional.
For example, instead of carrying bulky winter gloves around with me, I waited until just before my ski trip to pick up a pair (not to mention, I was able to find a much more quality pair than anything that was available to me in my present home country: Mexico).
Non-Clothing Travel Essentials for Your Europe Packing List
When my Youtube subscribers and Instagram followers ask me for packing tips, I find that this is the section of their Europe packing list that they're most likely to struggle with: non-clothing travel essentials.
While your non-clothing travel essentials are certainly some of the most important items to packs, people have a tendency to get bogged down…
It's easy to go overboard with things that travel influencers and random TikTokers tell you that you need, but remember, you don't want anything that will take up too much space in your travel backpack.
Travel backpack – My go-to travel backpack is the Osprey Porter 30L. It's a manageable size for trekking up the stairs at train stations and storing in the small overhead bins on cheap Ryanair flights. If you need a bit more space, opt for the Osprey Porter 46L. Additionally, I suggest a small backpack for daily use. I like this one that folds up and you can hook to your main travel backpack when you're not using it.
Packing cubes – I could kick myself for how long it took me to start using packing cubes. Seriously, just order these now and thank me later. I have the pink flamingo print!
Travel insurance – Especially if your Europe winter trip includes visiting ski resorts or taking part in other adventure activities, make sure you're covered. I use World Nomads travel insurance.
Cell phone – These days this one is kind of a no brainer. You can use your cell phone in Europe (more on that in a second). Don't forget a European adaptor to stay charged.
SIM card – You can purchase a local SIM card when you arrive OR (and this option is much easier) use the Airalo app to buy an eSIM. The code "EMILY9681" will get you $3 off your first purchase. Airalo is safe to use, and with data packs for 200+ countries and regions, it's a total game changer.
Power bank – My fellow backpackers know the struggle of having to fight for an outlet at the hostel. It's why I always travel with this power bank plus the lightning USB cord to charge my iPhone.
Credit cards – Remember to let your bank and credit card company know that you're traveling. For withdrawing money while abroad, the Charles Schwab debit card is the perfect solution for avoiding ATM fees (get reimbursed each month). The checking account is free to open and doesn't require a minimum balance. 
First aid kit – We learned this one the hard way when my husband sliced his finger during our ski trip and the chalet had a fondue pot, 17 different board games and more fresh robes than we could have ever used but no first aid kit to speak of. At minimum, a ziplock baggie with different-sized bandaids and antibiotic ointment should get you by until you can visit a pharmacy.
Water bottle – In many European countries, if you order water at a restaurant, the waiter is going to bring you a bottle and they're going to charge you. Often it's more expensive than a glass of wine or beer! Fill this collapsible water bottle up with tap water which is perfectly safe to drink.
Do I need a money belt?
Almost everyone I know packed a money belt for their first trip to Europe, and not one of them ended up using it (myself included).
It doesn't take up much space, but why bother? Instead, to keep your money safe:
Bring a purse with a zipper (I like to wear a fanny pack crossbody-style)
Keep your wallet in your front pocket
Maintain situational awareness (this tip goes beyond keeping your $ safe)
Toiletries to Pack for Europe
This section of the Europe winter packing list is the most personal…I don't know what all you need to look and feel your best! 
I do, however, have a few must-have toiletries that you may not have thought of plus a few suggestions for how to pack light since that family sized shampoo you bought at Costco will take up entirely too much space. 
Lip balm – A few days of European winter is enough time to chap the heck out of your lips. I love Lypsyl–a silky lip balm that's apparently Swedish?
Face wash – This facial cleanser from Cerave is perfect to use both in the morning and at night . The bar form makes it great for travel & it can double as body soap. It's super gentle which is ideal for dry European winters (harsh cleanser will leave your skin feeling tight).
Moisturizer – Speaking of dry European winters, this affordable moisturizer from Cerave contains ceramides, niacinamide and hyaluronic acid. It will keep your skin soft on even the most blustery day. Even though it says "PM" on the bottle, it's so lightweight that you can layer it under your sunscreen in the morning.
Sunscreen – Just because you're traveling to Europe during winter doesn't mean you still can't get a sunburn! I wear this La Roche-Posay sunscreen every day & it kept me sunburn-free while skiing in Austria plus it looks great under makeup or on its own.
Makeup remover – I like to keep my liquids at a minimum when I'm traveling since they're heavy, prone to spillage and not carry-on friendly. My packing hack is to put a bunch of cotton rounds in a ziplock bag & squirt makeup remover into the same bag for them to soak up.
Shampoo and conditioner – These silicone portable travel bottles are leakproof and TSA-approved. Plus, they're super easy to fill and refill.
Dry shampoo – Traveling in Europe during the winter months means you're less likely to get super sweaty while out sightseeing. Embrace fewer hair washes and lean into dry shampoo life! My go-to is the classic Batiste which is available in a baby aerosol can that you can pack in your carry-on.
Makeup – For my makeup girlies and boys, take the time to really pare down your cosmetics. I only bring essential brushes and choose one palette for everyday wear.
A note about toiletries to pack for Europe
Especially if you're traveling to a new-to-you country, you might feel stressed about running out of your usual products and having to replace toiletries on the road. 
I'm here to tell you that shopping in another country is one of the most underrated experiences you can have while traveling. It's a great way to see a city like the locals do and experience the culture.
Sure, mistakes might happen–in Germany, I accidentally purchased what I thought was lotion only to get it back to my Airbnb and slather it on my thigh to realize that it was, in fact, body wash.  
But, it's all part of the fun! Take your time, use Google Translate and think of it as part of the adventure.
Related Articles
Final Thoughts on Your Packing List for Europe Winter
Packing for a trip to Europe during the winter can feel like a monumental task. 
It's not something you want to leave until the last minute, and the more thought you put into what you're putting in your suitcase the better.
You're well on your way to thoughtfully-prepared luggage after reading this post. Bookmark this ultimate packing list for future reference, and don't forget to share it with your travel buddy.
If you have any questions about the items on this packing list for Europe winter, please feel free to leave them in the comments below. 
Or, if you have your own suggestions for items to include on your Europe winter packing list, let me know!
The winter months is one of the best times to visit Europe! Pack light & pack smart for your winter trip with this ultimate packing list for Europe in winter.