Images & Text Overlay: Backpacking Brunette
For the final leg of my sister's trip to Mexico, we braved the twists and turns of the highway from Querétaro to Jalpan de Serra. The four-hour bus ride took us into the heart of Mexico's Sierra Gorda. During our three days exploring the Sierra Gorda, we fell hard for the region's breathtaking natural beauty. For travelers interested in seeing a part of Mexico well off the beaten trail, this remote mountain range is worth the extra effort it takes to get there. 
How to get there
From Querétaro
Buses depart daily from Querétaro's Terminal de Autobuses (8:10 a.m.; 12 p.m.; 3:10 p.m.). The journey takes anywhere from three hours and 15 minutes to four hours and 15 minutes. A round-trip ticket on Primera Plus costs $719 MXN ($36 USD). A one-way ticket costs $326 MXN ($16 USD). If purchased online, you'll receive an e-ticket via email but will still need to go to the counter for a physical ticket the day of your trip. At that time, the attendant will print your return ticket as well.
From Jalpan's Central de Autobuses, buses leave daily for Querétaro (5 a.m.; 2 p.m.; 5 p.m.). According to Primera Plus the return journey takes three hours and 30 minutes.
>> Planning a trip to Mexico? Don't forget Oaxaca! Check out this Puerto Escondido guide for everything you need to know about Mexico's best Pacific Coast beaches! <<
The bus ride to and from Jalpan is not for the faint of heart. Usually, I sleep on long bus journeys, but this particular trip had me peering out the window over the edge of the steep mountainsides almost the entire way. The winding two-lane highway doesn't really allow for speeding or passing, but locals (and crazy Mexican bus drivers) find a way. My sister, who is prone to motion sickness, experienced some nausea. Roaming livestock and stray dogs add to the peril. Personally, this isn't a trip I would feel comfortable making at night.
From the bus station to the center
Jalpan's Central de Autobuses isn't far from the center, but the route isn't particularly pedestrian-friendly. The 10-minute cab ride costs $30 MXN ($1.50 USD).
Where to stay
Hotel Misión Jalpan
For my recent trip to the Sierra Gorda, I chose this hotel for its central location. Hotel Misión Jalpan (Av. Fray Junípero Serra s/n) is directly across the street from the town's 18th-century Franciscan mission. Rooms are clean and comfortable. The second-floor room I shared with my sister had two queen beds, a ceiling fan and air conditioning. We ate most of our meals in the hotel's restaurant, which is something I'd normally feel bad about, but it's one of the most popular joints in town.
Price per night: $884 MXN ($44 USD)
Hotel Maria del Carmen
When I started planning this trip to do with my sister, Colby, during her time in Mexico, I initially planned on staying at the Hotel Maria del Carmen (Independencia 8) since it's among the town's most budget-friendly options. However, when immediate online booking wasn't available, I went with different accommodation. Our first night in Jalpan, we ended up checking out this hotel's restaurant in order to use the WiFi (my cell phone had zero service and our hotel's WiFi was on the fritz). Their WiFi is fast, and their beer was cold. The hotel is big and seemed pretty empty. If you decide to visit the Sierra Gorda last minute, you may be able to just show up at Hotel Maria del Carmen and get a room.
Price per night: Contact hotel for promotions
Rustic cabins and camping
Both in the town center and along the highway, I saw multiple signs advertising cabañas rusticas (rustic cabins) in the area surrounding Jalpan. Our tour guide mentioned they are popular among couples and groups exploring the Sierra Gorda by car. If you're looking for something different, this option might be up your alley. Traditional campsites are also available near Cuatro Palos, Cascada El Chuveje and Río Escanela.
Getting around
The easiest and most efficient way to get around the Sierra Gorda is by car. Just be sure the driver is comfortable on mountain roads and has the necessary patience for long, slow ascents and descents. When you leave the highway, the secondary roads taking you to the region's most popular spots are unpaved and rocky. Go too fast, and you're just asking for a flat tire. The next time I visit the Sierra Gorda, I plan on first renting a car in Querétaro. One local told me travel by bus and taxi is possible, but since I'll be with my boyfriend who I trust driving, I prefer the freedom of our own set of wheels.
If you don't want to rent a car but still wish to visit the Sierra Gorda, I suggest finding a private tour operator that provides transportation. With the help of Soy Sierra Gorda, we were able to make the most of our three days in the Sierra Gorda sans car.
What to do
Take an adventure tour
Wanting to make the most of our time in the Sierra Gorda, I researched tour operators and, ultimately, went with a recommendation from my neighbor: Soy Sierra Gorda. A month before the trip, I contacted the company via the What's App number on their website. Originally, I wanted to do the cañonismo (canyoning) tour, but since it required a group of at least four people, I decided on the "Mirador 4 Palos, Río Escanela" tour.
For $900 MXN ($45 USD) per person, the price included transportation for the day, a guide, entrance fees, lunch and insurance. In order to reserve my spot, Soy Sierra Gorda asked for a 50% deposit sent via bank transfer. All communication was done through What's App.
On the day of the tour, my sister and I met our guide in the town center. We arrived 15 minutes prior to the 9 a.m. start time in order to fill out some paperwork and pay the remaining balance. Our guide, Vicky, was friendly and easy-going. She had recently joined the company but has lived in the Sierra Gorda her entire life. A former paramedic and ambulance driver, Vicky had no trouble navigating the bumpy back roads. The three of us communicated in Spanish (I did the translating), but Vicky told me some of the other guides speak English.
The tour took us to two gems of the Sierra Gorda: Puente de Dios and Mirador Cuatro Palos. The highlight for my sister was swimming in the crystal clear Río Escanela while I enjoyed the steep climb up to Mirador Cuatro Palos. We both loved stuffing our faces with gorditas and quesadillas at the roadside restaurant we stopped at for lunch. In all, the tour lasted approximately seven hours. It's a great value for the money, and I relished exploring the Sierra Gorda without having to worry about driving.
Note: I received no compensation for this short review of my tour with Soy Sierra Gorda. 
Eat soup
Okay, this one is a bit of a joke between me and my sister. Despite hot temperatures, we found ourselves eating soup almost every night for dinner. Perhaps we were dehydrated and craving sodium?! It could have just been that Misión Jalpan's restaurant had really good soup. I recommend the consomé de pollo (chicken soup with rice) and sopa azteca (tortilla soup). Not crazy enough for soup when it's 90 degrees outside? Order the guacamole or sopes (thick corn tortillas topped with beans, chicken and veggies).
Splash around in Presa de Jalpan
On our last day in Jalpan, we had a few hours to kill before catching the bus and decided to check out the town's reservoir.  It's an approximately 30-minute walk from the center, and if you set out midday like we did, bring your swimsuit! The dam gets water from Río Escanela, and we saw several people swimming. Others were out in canoes and kayaks. On one shore, there's a little campground with what looked like a public boat launch, grills, picnic tables and a concession stand. Since we had to catch our bus, we weren't able to spend much time there, but Presa de Jalpan seems like a nice place for an afternoon picnic and swim.
How to get there 
From Hotel Misión Jalpan, walk through the plaza keeping the mission of Santiago de Jalpan on your right.
When you exit the plaza, continue straight.

The street will take you downhill then up a flight of stairs.

At the top of the stairs, continue in the same direction for two blocks. Then, take a right.

Hope you're ready for some uphill walking!

As you near the top of the hill, the road will start to curve.

Keep an eye out for a cabaña-type restaurant with a thatched roof. Take a left.

At this point, you should start to see signs with arrows indicating which way to go.
During my visit, crews were busy paving the dirt road. In case the job is still underway, I recommend closed-toe shoes for walking.
When you see the campground, turn left and walk through the parking lot. It's a straight shot to the water.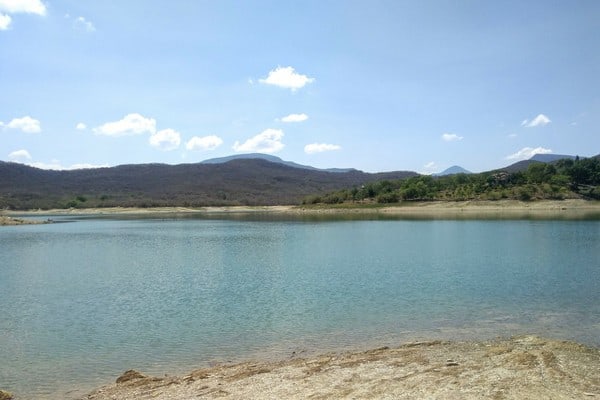 Additional information
Packing tips
Footwear
For the short treks I did, hiking boots weren't necessary. I managed just fine with tennis shoes. You may also want water shoes since the river bottom is quite rocky.
Clothing
Many parts of the trails we hiked were shaded, and it was quite windy on the mountaintop. Even though I was sweating my butt off in Jalpan, I wish I would have had a sweatshirt or light jacket for exploring the Sierra Gorda.
Cell service
I have service through AT&T, and it stopped working on the bus ride from Querétaro. The tour guide told me Movistar and Telcel work in the mountains.
Money exchange
Bring what you think you need or be ready to withdraw cash from an ATM because the only place in town that exchanges money, according to our hotel, is a jewelry store in the main plaza. Dólar wasn't open on Saturday morning, so we didn't get to test that out.
Interested in exploring the Sierra Gorda? What do you look for in an off the beaten path destination?
---
Psst…Don't forget to Pin this post for later!