Image Credit and Text Overlay: Backpacking Brunette
Today marks two weeks in Mexico! I've hardly had time to breathe let alone blog. Setting up life in a new country is, in fact, rather time consuming!
On Oct. 18, Taylor and I flew from Detroit to Mexico City. The four-hour flight seemed like nothing compared to the trans-Atlantic trips we almost got used to during our time in Spain.
Once in Mexico City, we collected our bags (just one suitcase and two backpacks each) and hopped on a bus to Querétaro. The journey took three hours, and we checked into our Airbnb around 5 p.m.
At dinner that night, we toasted finally being in Mexico. I'll never forget that feeling. Mexico, Mexico, Mexico. We've been talking about it since January. Then, it just seemed like a far off idea. Now, it's here. We're here.
Highlights
Everyone is so nice. Our second day here, I told Taylor that more people had been nice to me already than had been during our entire two years in Spain. It was a joke then, but after two weeks in Mexico, it could quite possibly be true. From our Airbnb hosts to the waitstaff at restaurants to the dude who sold us chicken at the market, people have been open and kind. Many have not only welcomed us but offered help.I'm not sure if it's cultural or simply the difference between living in a country's capital versus a "smaller" city. Whatever it is, it's reaffirmed our decision to move here.
>> Curious about expat life in Querétaro, Mexico? THIS POST has everything you need to know about living in Querétaro! <<
Shopping at markets. I'll admit that I kind of freaked out when I found out the closest grocery store is nearly a mile walk from our apartment. However, I'm quickly adjusting thanks to the country's fantastic market culture. At first, the markets can be a bit overwhelming. But once you get the general lay of the land, you can find everything you need—and so much more. Our purchases have ranged from chicken and fruit to desks and glassware.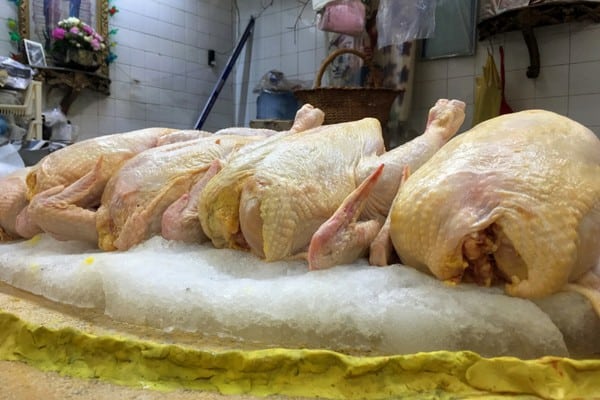 The food. Tacos, enchiladas, tamales, pozole, ceviche, mole, quesadillas, frijoles, tortillas, huevos rancheros. On more than one occasion during my first two weeks in Mexico, a dish has been placed in front of me, and upon tasting it, I wondered if I had died and gone to heaven. Oh, and the prices! Just this week, Taylor and I had a delicious breakfast and fantastic service for $8 USD. That's including the tip!
Challenges
Delayed contract signing. Just three days into apartment hunting, we found an amazing place. Location, size, price: It ticked nearly all our boxes. We saw it on Saturday afternoon and called the owners Saturday night to tell them we wanted it. I was eager to share the news with family and friends but wanted to hold off on doing so until we signed the contract. So, I waited. And waited. And waited. Despite having met with the owners on several occasions, we still have yet to sign anything. In fact, we won't be signing the contract until Nov. 1—which also happens to be the day we're supposed to move in! At first, I was nervous that the deal would fall through, but I now understand that this is simply how things are done in Mexico: lentamente (slowly).
Furnishing an apartment. I said the apartment ticked nearly all our boxes. It didn't tick the "furnished" box. When planning our move to Querétaro, we hoped to find a furnished apartment during our first two weeks in Mexico. In Madrid, many apartments (if not the majority) are furnished. It makes life easier for expats trying to relocate. However, this just isn't the case in Querétaro. Even if an apartment is "furnished", that generally doesn't include a refrigerator, washing machine or microwave. Additionally, the furnished apartments we saw had really beat up furniture which we would have most likely wanted to replace.
After spending an afternoon checking prices of appliances and other household necessities, we decided to take the plunge and furnish a place ourselves. It's been a challenge in the sense that it's not something we were expecting to do, but since we decided to take it on, we've been enjoying it. Although we've lived together for several years, it's the first home Taylor and I will furnish together. Who knew buying a fridge could be so much fun?!
Have you ever moved abroad? What were the highlights and challenges of the first two weeks in your new country?