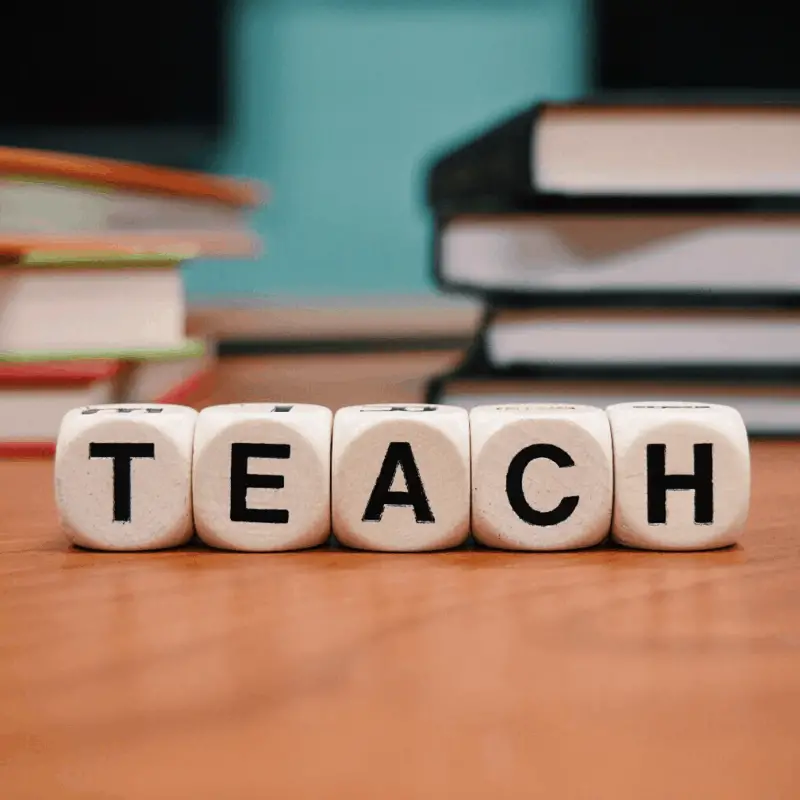 Looking for a way to make money online? There are lots of online teaching jobs out there, but this post highlights THE BEST teach English online company to work for: VIPKID! Learn how you can make $22/hour teaching English online to Chinese students with VIPKID!
Text Overlay: Backpacking Brunette
In December 2016, I was sitting on a hostel bed in Granada, Spain, across from my friend, Heather. The conversation turned to finances–a topic hardly taboo among auxiliares de conversación.
I wasn't strapped for cash, but my recent decision not to renew for a third year in Spain had me thinking about the future. I needed to start saving money for my next venture. But, how?
It was important to me to retain the freedom to travel. I needed a flexible gig. The previous year, I'd upped my income by taking on more private classes but had run myself ragged commuting all over the city. Plus, I was moving back to the United States soon and wanted something I could continue doing there.
I wanted to find a way to make money online. I wanted to work from home. 
Heather, bless her little heart, had the answer: teaching English online with VIPKID.
*Important Note*
Although I'm still technically a VIPKID teacher, I haven't taught a class since Sept. 2019.
Before you apply to teach English online, check out my honest review detailing if VIPKID is worth it for new teachers in 2020.
These days, I'm still making money online but as a freelance writer. Don't miss my practical tips for kickstarting your freelance writing career in 2020.
What is VIPKID?
Founded in 2013 and headquartered in Beijing, China, VIPKID is an online education company. VIPKID offers an American education experience to Chinese students aged 4 to 12.
What do VIPKID teachers do?
I teach English as a second language to children living in China through an online videoconferencing platform devised by the company. It's similar to Skype. The students have varying levels in English. For some children, I'm their first contact with an English teacher. Others are nearly fluent speakers.
How long are VIPKID classes?
Every class is one-on-one and lasts 25 minutes. I utilize prepared lesson plans designed by VIPKID and implemented based on the student's level. Just so this is clear: I don't do any lesson planning!
The lessons are fully immersive (you don't need to speak Chinese) and were designed according to the U.S.'s Common Core State Standards.
Seriously, I LOVE my job with VIPKID! Find out why in this post >>>Why I Love Working For VIPKID
How do I become an online English teacher?
VIPKID employs more than 20,000 teachers and has over 100,000 students. Are you seeing dollar signs yet?!
VIPKID Teacher Requirements
Be a native English speaker from North America.
Have any Bachelor's degree.

Individuals with an associates for early childhood education are also eligible.

Have some teaching experience.

Formal teaching experience is not required. Motherhood, babysitting and camp counseling all count.

Have a reliable internet connection with audio/video capabilities.
Have a passport.

A scan of the first page of the passport as well as a college transcript or diploma must be submitted during the application process.
Do you need a teaching degree for VIPKID?
No!
As long as you meet the above requirements, you're eligible to apply to VIPKID.
Some of my friends who also work for VIPKID studied education, but personally, I studied political science. While some teaching experience is preferred, it could be camp counseling, babysitting or even being a mom! VIPKID wants to know you have experience working with kids.
Before working for VIPKID full-time, I taught English in Spain. Learn more about how to teach English abroad in THIS POST!
How much money do VIPKID teachers make?
Depending on your teaching experience and performance during the application process, you will make between $7-9 per class. Since you teach in 25-minute segments, you can make $16-22 an hour including bonuses.
If you teach at least 45 classes per month (22.5 hours), you receive an extra $1 for every class you teach. For every class you're on time to and teach according to schedule, you receive an extra $1 as well. So, if you earn all the bonuses (which is not hard to do), you'll earn $18-22 per hour.
Of the many teach English online jobs, VIPKID has a very competitive (if not one of the best) teach English online salary.
You can also earn extra money when a student signs up after you teach a trial lesson and for accepting class bookings within 24 hours.
Teachers are paid between the 10th and 15th of every month for the previous month's work. Your VIPKID paycheck is direct deposited into your American bank account.
UPDATE: Now, VIPKID teachers are paid bi-monthly! Yep, you get your VIPKID paycheck twice per month!
How do I become a VIPKID teacher?
To be perfectly honest, VIPKID has a very rigorous application process. But, hey, if it was easy, everyone would do it!
Step #1: Create An Account With VIPKID
You need to create a login using an email address. In making your account, you need to upload your resume. This screens applicants for basic requirements and teaching experience.
Step #2: Record A Demo Lesson For VIPKID
You will be invited to schedule either a 30-minute session with a VIPKID recruiter or record a demo lesson. In either case, this is your opportunity to showcase your teaching abilities using material provided in advance. Generally, only those reapplying are asked to record a demo lesson. First-time applicants interview with a recruiter.
Step #3: Watch A Lot Of Training Videos
You have three days to watch a mountain of training videos regarding the company's technology, standards and curriculum. Take this part seriously, and don't try to watch all the videos in one sitting! This is the bulk of your training and how much you're able to take in will be vital to your success in the mock classes.
Step #4: Dun Dun Dun…The VIPKID Interview
You have six days to complete two mock classes. The mock classes are similar to the initial interview in that the interviewer (this time an actual VIPKID teacher) acts like a student. You will be asked to practice teach a full-length class. This is hands down the most difficult part of the application process.
How To Pass The VIPKID Interview
Preparing with someone who has successfully passed the mock classes is invaluable.
I'm more than happy to guide your through the process. Multiple teachers got jobs with VIPKID thanks to me!
To get started, email me at ealexiswittman (at) gmail dot com.  
Step #5: Sign Your Contract
Once you've passed both mock classes, you'll sign your contract and upload your documents (passport photo page and proof of a Bachelor's degree). Prior to opening yourself up to bookings, you will also need upload a profile picture and make a short (very short) introduction video. Take care because this will be your students (and, more importantly, their parents) first impression of you.
Once You're a VIPKID Teacher
It's time to start teaching! VIPKID provides videos (yes, more videos) to help familiarize you with the booking process. The company asks that you provide a month's worth of availability. However, there is plenty of time to make adjustments. Students are able to begin booking classes every Monday for the following week.
VIPKID's teaching hours are based on Beijing Time. The most popular times, or VIPKID peak times, are Monday through Friday from 6 – 10 p.m. as well as Saturday and Sunday from 9 a.m. – 10 p.m. You will need to calculate those hours in accordance with your own timezone prior to setting your availability.
Get ready for early mornings! Currently, I teach Monday through Friday from 6 – 10 a.m. (EST). At the moment, I'm not willing to get up any earlier, but if I was, there would be lots of opportunities to teach and make money! Occasionally, I will teach Friday or Saturday night from 9 p.m. – 2 a.m.
Why I Love Working for VIPKID
At first, VIPKID sounded too good to be true. However, with no other promising options on the horizon, I thought it wouldn't hurt to check it out.
It didn't take long to recognize VIPKID's legitimacy. Even basketball legend Kobe Bryant is an investor! With serious backers, the company has grown exponentially.
I went through the hiring process at the end of December 2016 but didn't teach my first class until February.
But, when I finally taught that fist class, I LOVED IT!
VIPKID has been everything I was looking for and more. When I was living in Spain, it helped me supplement my pay as an auxiliar without sacrificing travel time. I was able to save money, and the flexible scheduling allowed me to take three consecutive weeks off to travel!
Now that I'm back in the U.S., I'm teaching 25 hours per week and loving every minute of it.
The work is fun and fulfilling! Just today, I taught my 745th class with VIPKID. I feel so fortunate to work for such an innovative company. Furthermore, VIPKID genuinely cares about their teachers. All my questions and concerns are met with timely and thoughtful responses. I don't just feel like part of a team. I feel like part of a family.
UPDATE: I've now taught 2,361 classes with VIPKID. Yep, still going strong!
Apply to VIPKID Today
So, what are you waiting for? If you're looking for a flexible, fun way to make money online, look no further than teaching English online with VIPKID! Click here to apply to VIPKID!
Good luck, and happy teaching!
Got questions about teaching English online with VIPKID? Ask in the comments or feel free to send me an email! 
---
Psst…Don't forget to Pin this post for later!