From increases to financial requirements & digital FMMs to processing times for visas and permit cards, these are the most important updates to the Mexico residency requirements in 2023!
Every year, Mexican consulates make changes to the requirements for applying for a Mexico residency visa & 2023 is no exception.
After reading this post, you will know important Mexico residency updates for 2023 including:
Increases to financial requirements
Applying as a freelancer or self-employed person
Digital FMMs and what that means for the "canje" process
Changing temporary residency renewal timeline
& more!
I'm a firm believer that if you want to live in Mexico, you should follow the steps to do so legally.
It wasn't all that long ago that Mexican immigration "cracked down" on perpetual tourists & you never know when something like that might happen again so I encourage you to do what you need to do to become a legal resident of Mexico.
2023 Mexico Residency Requirements For Specific Mexican Consulates & INM Offices
Because time works differently in Mexico (don't hate me, it's true 🙃), changes to the Mexico residency requirements aren't often clear until a few months into the new year…
On my YouTube channel, I do my best to keep you up to date with the latest consulate and INM happenings in a general sense.
However, since every consulate and INM offices varies slightly with how they operate, it's important to check a specific location (e.g. the Mexican consulate in Detroit or the INM office in Querétaro) for exact requirements and procedures.
In fact, as of March 2023, some Mexican consulates have yet to update their websites to reflect changes to the Mexico residency requirements for 2023.
Similarly, immigration offices in Mexico (INM) take some time to roll out new policies and procedures.
How to Find Out Requirements, Policies & Procedures
The best way to find out the Mexico residency requirements of a particular Mexican consulate is to:
Check the Mexican consulate website

Every consulate has its own unique website.

Contact the Mexican consulate to double-check the requirements listed

Consulates aren't always responsive, but you must try.
Email is your best bet for receiving a response.
Consulates have been known to share additional requirements via email that are not listed on the website—exactly why you need to double-check!
For the "canje" process (procuring your residency card in Mexico), the best way to find out the policies & procedures of a particular INM office is to:
Asking in expat/foreigner Facebook groups for the city where the immigration office is located
Reaching out to an immigration advisor
Changes to Mexico Residency Requirements in 2023
This post originally appeared as a video on my YouTube channel. I've repurposed the script here & added additional information in response to the questions I received in the comments section.
Here's the original video:
Now, let's dive into the updates to the Mexico residency requirements for 2023!
Increases to Financial Requirements for Mexico Residency Visa
There are several different ways to qualify for a Mexico residency visa, but the most common is showing economic solvency. Essentially, the Mexican government wants to see that you can support yourself (and then some 💰) while living in Mexico.
Every year, Mexican consulates recalculate their financial requirements based on Mexico's minimum daily wage & the past two years, the financial requirements for a Mexico residency visa have increased significantly.
For temporary residency, the typical monthly income consulates want to see is $3,275 USD over the last six months (with some consulates requesting to see the last 12 months), according to this article by Mexperience.
That's a more than $500 USD increase to the typical 2022 financial requirements.
To demonstrate economic solvency via savings/investments, temporary residency applicants must show a minimum balance of $54,000 USD over the last 12 months. That's $9,000 more than the Mexico residency visa requirements in 2022.
Permanent residency hopefuls must show, on average, a monthly income of at least $5,460 or savings/investment balance of $218,000 USD.
I want to stress that these financial requirements are averages. Every Mexican consulate has its own specific requirements.
What is the best Mexican consulate for temporary resident visa?
The best consulate is the consulate that:
Has available appointments for visa interviews
Responds to your emails
Has straightforward requirements (that you meet)
Some consulates only accept applicants from their state or region and may ask to see a state-issued id.
If you are willing to travel, many people seem to be having success at the Mexican consulate in McAllen, Texas. The consulate doesn't require applicants be from Texas and (for now) has among the lowest financial requirements in the country.
Furthermore, this particular consulate is open to granting permanent resident visas to applicants younger than typical retirement age as long as they meet the financial requirements (more on this further down in the post).
Some Mexican consulates accept average monthly incomes
When I applied for a temporary residency visa at the Mexican consulate in Detroit, Michigan, back in 2020, the best bet for freelancers and other self-employed individuals was to demonstrate economic solvency via the savings/investments route.
However, due to the increase in popularity of working remotely in Mexico, Mexican consulates are seeing more residency applicants that earn a living either freelancing or working for themselves.
Where Mexican consulates once wanted to see a fixed monthly income for a sole employer, they're now beginning to accept average monthly incomes as proof of economic solvency.
This is great news for freelancers and self-employed people whose incomes can vary greatly from month to month.
I recommend emailing the Mexican consulate where you plan on applying for your temporary residency visa to see if the consulate is willing to calculate your average monthly income over the past six months.
Permanent resident applicants don't necessarily need to be retired
In my 2022 Mexican residency requirements video, I shared that a number of Mexican consulates were requiring applicants to "be retired" to apply for permanent residency in Mexico—even when applicants met the financial requirements.  
In these cases, "retired" really just meant that they were around typical retirement age.
Lately though, I've received a handful of first-person reports of people younger than typical retirement age being granted permanent residency after demonstrating economic solvency. 
The moral of the story here is that it doesn't hurt to ask.
If you meet the financial requirements for permanent residency, I say go for it–UNLESS you're planning to drive a foreign-plated car into Mexico (that you can only do as a temporary resident). Otherwise, permanent residency would be the way to go so you don't need to mess with renewals.
Benefits of Mexican Temporary Resident Visa vs. Permanent Resident Visa
It's important to understand the benefits of both the Mexican temporary resident visa and the Mexican permanent resident visa to decide which visa is right for you.
The benefits of the Mexican temporary resident visa include:
Stay in Mexico longer than 180 days
Open a Mexican bank account (once you have an RFC—Mexican tax ID number)
Get a Mexican driver's license
Register a vehicle in your name
Temporarily bring a foreign-plated car into Mexico
Register to public health option
Buy a house and/or land
Obtain permanent residency after four years
The benefits of the Mexican permanent resident visa include:
All rights of Mexican citizens except voting
No need to renew residency (it's a permanent status)
Maintain legal employment or self-employment (no work permit necessary)
All the same benefits listed above for the Mexican temporary resident visa except "temporarily bring a foreign-plated car into Mexico"
Mexico Temporary Residency Visa Processing Time Varies
Since many people travel for their visa interview, an understandable frequently asked questions is: How long does it take to get temporary residency visa for Mexico?
The first and most time consuming step is making the appointment for your visa interview.
Unless you're applying for residency as the spouse or parent of a Mexican national, you must began the process with an interview at a Mexican consulate which is outside of Mexico.
If you're not sure where to book your visa appointment, just Google the name of your state or country plus "Mexican consulate." You can find a directory of Mexican consulates here.
You won't be able to book your appointment too far in advance, but you also don't want to wait until the last minute. Some consulates only open up time slots for interviews on one specific day each month.
You will either book an appointment via this website or email the consulate directly.
In most cases, if you're approved, the consulate will adhere your Mexico temporary residency visa or permanent residency visa to a page of your passport the same day as your appointment/interview.
However, I have heard of some consulates taking several days to process a visa application. For example, one applicant who went to the Mexican consulate in Chicago was told it would take up to 10 business days (the consulate called and said the visa was ready for pickup after four days).
If you're traveling for your visa interview, I recommend emailing the consulate to inquire about the processing time for your Mexico residency visa in case you need to plan on staying in town a few extra days.
Mexico Residency Card Processing Time in Mexico
The turnaround time on your Mexico residency card will depend on the specific INM office where you submit your documents for the "canje" part of the process.
At busy INM locations, you might be told to come back on a different day to do your fingerprints and/or pickup your residency card. These busy offices also sometimes require people to queue the night before or early in the morning since they only serve a set amount of people each day.
At less trafficked INM locations, you can show up closer to the opening time and not worry about being turned away. Also, you're more likely to do your biometrics the same day & you could even walk out with your card in hand.
Depending on where you go and what time of year (August and December are notoriously busy months for INM), the processing time for your residency card could be anywhere from one day to two weeks (in extreme cases, up to a month).
It's important to remember that you can't leave Mexico while INM is processing your residency card (doing so would forfeit your status).
If you must leave Mexico, in order to preserve your residency status and not have to start the process again from zero, you must go to INM and apply for a permiso de salida y regreso (permission to leave and return).
INM is no longer issuing paper FMMs
Mexican immigration is modernizing! INM has discontinued using paper copies of the FMM (Forma Migratoria Múltiple).
The FMM, which registers foreign nationals in Mexico, is now digital.
If you're traveling to Mexico with your Mexico residency visa to complete the residency process and get your Mexico residency card, you must:
Upon entering Mexico, show the immigration official the visa in your passport.
The immigration official will stamp your entrance date in your passport & write "CANJE."
You will scan a QR code to download & print your FMM to take to INM with you.
In case you don't scan the QR code, here's a link to the online portal where you can create an account and print off your FMM to take with you to INM.
INM Online Appointment System is (likely) gone for good
Once upon a time, Mexican immigration introduced a system for booking appointments online. It was a huge improvement over the previous system which was queuing all night long on the sidewalk outside INM.
Unfortunately, in March 2022, INM suspended its online appointment system. According to Ivonne Pavaan of Host Relocation, the INM online appointment system is likely never to return (due to staff shortages & a variety of other reasons that don't make a whole lot of sense).
What does this mean for temporary and permanent residency applicants arriving to Mexico to complete the "canje" portion of the Mexico residency process?
Upon entering Mexico, you have 30 days to go to INM and submit your remaining documents to get your Mexico residency permit card.
Once you have your documents prepared, you must go to the INM office in the city/where you are located.
At busy locations like the Querétaro INM office, people are lining up from 11 p.m. to get in the following morning. Ask in expat/foreigner Facebook groups in your city/state for what people are doing at your specifc INM location.
If you're doing the "canje" part of the residency process in Querétaro and you don't want to stand in line all night, I recommend reaching out to Ivonne Pavaan of Host Relocation.
Her services include an overnight line placeholder. If you use the code "Alex5", you can get a special reader discount on any services you contract with Ivonne.
The best way to get in touch with Ivonne is sending her a message via WhatsApp: +52 442 364 9402.
New prices for Mexico residency permit cards
Much like the financial requirements for demonstrating economic solvency to get your Mexico residency visa, the cost of getting your Mexico residency card increases every year (I believe it's also tied to the daily minimum wage in Mexico).
INM has released the 2023 prices for temporary and permanent residency cards:
Temporary resident card (one year): $5,108 MXN
Permanent resident card: $6,226 MXN
Pay fees directly at INM
At the end of 2022, INM offices began accepting payment directly at the counter.
Instead of doing a pago de derecho (going to a Mexican bank to transfer payment to INM ahead of time), you can now pay for your residency permit card directly in INM with a credit card.
This is great news for applicants feeling overwhelmed by all the steps for getting your residency in Mexico.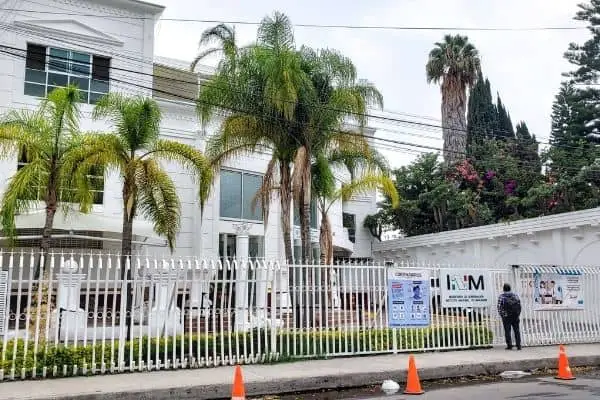 Temporary residency renewal timeline could change
Since 2020, INM offices have applied a special pandemic timeline to renewing your temporary residency in Mexico.
There's been some leeway for people who have been out of Mexico when their temporary residency expires, but Ivonne Pavaan of Host Relocation (my go-to immigration expert) predicts that could change in 2023.
To be on the safe side, you should go to INM to renew your temporary residency within the 30 days prior to the expiration date listed on the residency card.
Ivonne also told me that many INM offices are no longer asking for a recent bank account statement with renewals. In the past, a recent bank statement was required to show that your economic situation was the same or similar as when you first applied for residency in Mexico.
How long does it take to get temporary residency in Mexico?
Since many consulates have limited time slots for visa interviews, checking requirements and booking an appointment at a consulate is generally the most time consuming part of the process.
My recommendation is to start gathering your documents and contacting consulates six months out from the time you plan to travel to Mexico.
Keep in mind that from the day your visa is in your passport, you have six months to enter Mexico. Then, from the time you enter Mexico, you have 30 days to go to INM to get your residency card.
Final Thoughts on Mexico Residency Requirements 2023
If you're DIYer looking for a step-by-step checklist to walk you through the process of getting you residency in Mexico, the Mexico Residency Roadmap is for you. 
An easy-to-follow 10-point checklist with in-depth descriptions of each task so you never have to wonder "what do I do next?" while navigating the temporary or permanent residency process in Mexico.
The Mexico Residency Roadmap has all the links you need for making appointments and downloading forms. 
Plus, there's a translated version of the infamous formato básico that you won't find anywhere else. 
As an added bonus, you'll get a special section with firsthand accounts of what people have experienced at various consulates and INM offices.
The Mexico Residency Roadmap just got a BIG update with all the Mexico residency changes for 2023! Use the code "YOUTUBE10" for $10 off the Mexico Residency Roadmap—the guide that's helped hundreds of people move to Mexico legally.
Click here to get started on your own Mexico residency journey.
Got questions about the 2023 Mexico residency requirements? Ask away in the comments!