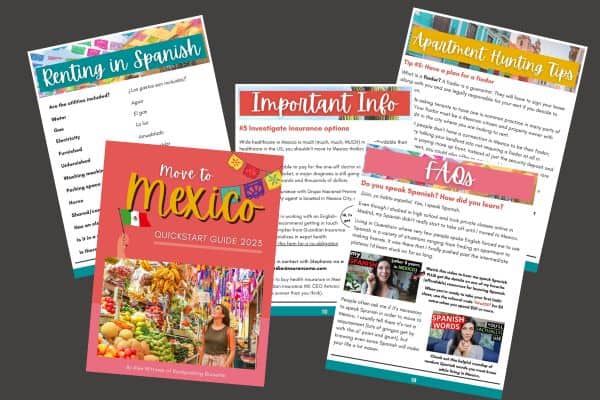 This FREE & value-packed resource includes:
Move to Mexico Checklist

Easy-to-follow 11-point checklist that breaks down your big move into manageable tasks
In-depth instructions detailing exactly what to do leading up to your move to Mexico

Answers to the most frequently asked questions about living in Mexico

What are the best (and most affordable) resources for learning Spanish?
Is Mexico "cheap"?
What do I WISH I'd known before moving to Mexico??

Practical advice for apartment hunting in Mexico

Tip #5 is something way too many people overlook
Helpful websites for starting your search

Renting in Spanish Cheatsheet

Get the exact phrases to send in WhatsApp messages when talking to potential landlords
"I just finished your Move to Mexico Quickstart Guide, and I found it very helpful with some things I had not heard of or thought of, even from other Mexican expat YouTube publishers. Thank you for sharing your real-life common experiences. With this knowledge, you saved me a lot of stress and at least maybe $500 USD or maybe more."

Jon F.
Grab this FREE 32-page resource PDF resource
Get the answers to your most pressing questions about moving to Mexico.
Hit the blue button to get the Move to Mexico Quickstart Guide delivered to your inbox & take your first step toward the life of adventure you've always dreamed of.
"Your videos and newsletters have great content, esp valuable to me since I'm about to move to Mexico. As a content creator, you're extremely good at what you do. Your material is succinct yet not dry. Your videos don't waste my time. They focus on Mexico and aren't all about you. They're not vanity pieces. I think you're super smart and talented. Thank you for the great material you produce and share."

Myra B.
Note: Once you enter your information & hit the blue button to submit, the Move to Mexico Quickstart Guide will be on its way to your inbox. If you don't see it in the next 10 minutes, check your spam folder & if you still can't find it, please send me an email: alex@backpackingbrunette.com