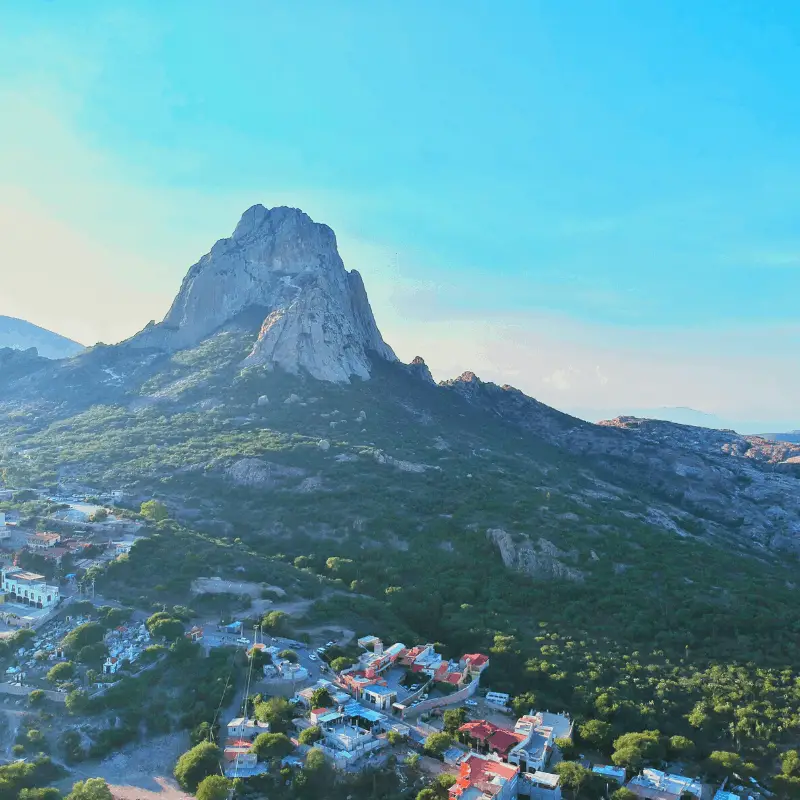 Images & Text Overlay: Backpacking Brunette
Located less than an hour from Querétaro's city center, San Sebastián de Bernal is a small town with one very big thing going for it.  The Peña de Bernal transforms this tiny pueblo into one of Central Mexico's most magical towns! From hiking the Peña to where to drink your celebratory michelada afterward, this complete guide has everything you need to know to plan your Querétaro day trip to Bernal.
How to get there and back
From Querétaro
Without a doubt, the day trip from Querétaro to Bernal should not be missed. Whether spending just 2 days in Querétaro or more, it's one of the best things to do.
Buses leave at regular intervals from the city's Central Caminoera. Rather than buying your ticket from the Flecha Azul counter, I recommend going directly to the platform and purchasing your ticket from the plainclothes attendant in front of the bus.
Enter Terminal B, walk up the ramp to the right of the Flecha Azul counter, and turn left once you're on the platform. Continue walking and keep an eye on the numbered lanes. In the 50s, you will see a bus with "Bernal" written on the windshield.
A one-way ticket costs less than $50 MXN ($2 USD). I've never been offered a round-trip ticket but probably wouldn't buy one anyway since the flimsy little papers are so easy to lose.
My first trip to Bernal, I dropped my ticket somewhere in the two-minute walk from the Flecha Azul counter to the bus and had to buy another.
The trip takes a little under an hour, and you'll know you're close when you start to catch glimpses of the Peña from your window. There's no bus station in Bernal, but the driver will call out the last stop for the town in front of a barbecue stand.
When you're ready to head back to Querétaro, you will wait for the bus on the opposite side of the street. You may need to wait up to an hour for a Flecha Amarilla bus. Again, the ticket, which you will purchase from the driver, costs less than $50 MXN ($2 USD).
You May Also Like: 7 Reasons to Visit Querétaro
Hiking the Peña
The Peña de Bernal towers over this pueblo mágico (magical town) and is impossible to miss. Measuring over 335 meters (1,099 feet), it's one of the world's largest monoliths. What's a monolith? Don't worry. I didn't know either. Monolith is just a fancy word for "rock." Geologists, don't @ me. According to the state's tourism office, only the Rock of Gibraltar and Rio de Janeiro's Sugar Loaf are taller.
From the bus stop, you'll make your way first down then uphill into town. The historic center is definitely worth wandering, but if you're planning on hiking the Peña, I suggest getting at least a somewhat early start. Regardless of the time of year, the sun is intense. Remember to bring (and actually put on) sunscreen. Water is a must as well.
Fill out your Mexico travel itinerary with these guides for Guanajuato, Oaxaca, the Sierra Gorda and the Yucatan!
The walk from town to the base of the monolith takes you past restaurants, hotels and stands selling food and trinkets. Follow the signs that say "A La Peña." If you're short on time or energy, you can take an auto rickshaw from the center to the trail head. From the trail head, it takes about an hour to reach the shoulder of the monolith. For safety reasons, that's as high as hikers are allowed to go. Experienced climbers are permitted to scale the monolith to its peak as long as they first inform the appropriate municipal offices.
Whether climbing or hiking, the Peña is challenging. In addition to sunscreen and water, you'll want to wear comfortable shoes with good traction. Parts of the trail are uneven. Dusty stones and loose rocks add to the difficulty. The higher you go the more frequently you'll need to scramble. The trail offers lots of good views, so don't feel the need to push yourself beyond your comfort level.
Where to eat
El Mezquite
With the view from El Mezquite's patio, you'd expect a bazillion-dollar bill. However, this popular eatery is very budget-friendly. I recommend the gorditas (fried cornmeal discs stuffed with meat, cheese and veggies) and the sopes (thick tortillas served open faced and topped with meat, beans, cheese and veggies). El Mezquite is only open Saturday and Sunday.
Address: Calle Iturbide 1 (the restaurant is off the patio behind the gift shop)
Mesón de la Roca
Mesón de la Roca is another affordable and tasty option in Bernal. In addition to my celebratory michelada (I had, after all, climbed the world's third largest monolith), I also had the enmoladas (simple enchiladas topped with mole sauce). YUM!
Address: Calle Miguel Hidalgo 5 
El Negrito Gorditas y Micheladas
Although I have yet to eat here myself (it was closed for a private party on my most recent trip to Bernal), several locals recommended it. Gorditas? Micheladas? What's not to love?!
Address: Calle Miguel Hidalgo 7
Additional information
Spend the night in Bernal
While you can easily tackle Bernal in a day, you might want to stretch out your trip into a longer getaway. On the weekends, floodlights illuminate the Peña while a canopy of stars shine down overhead. After a day and night in Bernal, you can visit another popular pueblo mágico and head to nearby Tequisquiapan.
Other points of interest
Parroquia de San Sebastián

Constructed in the early 1700s, this church has a small neoclassical facade set against yellow walls and red trim.

El Castillo

While most of the structure was built in the typical Spanish colonial style, the tower is topped with a German-made clock.

Capilla de las Ánimas

Tucked away at the foot of the peña, this small church has a domed ceiling and the three original bells hanging over the entryway.
Leave your recommendations for other Mexico day trips in the comments below!
---
Psst…Don't forget to pin this post for later!