Image Credit: Grégoire Jeanneau (Text Overlay: Backpacking Brunette) 
After college, I desperately wanted to travel around Europe. I'm not sure where exactly this idea came from, but sometime before my senior year, I got it in my head that I wanted to backpack.
I'd never personally known anyone who had backpacked around Europe. But, thanks to the internet, I had no trouble finding a wealth of other people's experiences to draw upon. Thus, my trip planning began.
It became evident early on that the majority of backpackers opted, for one reason or another, to stay in hostels. Many backpackers have limited financial resources, and hostels are budget-friendly accommodation.
As a soon-to-be college graduate with only a couple thousand dollars to spend on five weeks in Europe, budget-friendly sounded right up my alley. So, in May 2014, I booked three nights at one of Amsterdam's most famous hostels: The Flying Pig. I expected to save a few bucks in what I'd read was a fairly expensive city, but other than that, I had no idea what I had in store.
Three years and nearly 100 hostels later, here's what it's really like to stay in a hostel:
Hostels are fun.
Have you seen "Euro Trip"? I haven't, but I think I could argue that I've lived it.
I've eaten space cake in Amsterdam, danced all night in Ibiza, hiked the coastline in San Sebastián, found secret bars in Prague and drank liters of beer in Munich.
I've done all those things and had countless other experiences with people I've met in hostels.
Hostels, generally, attract open-minded travelers a.k.a people who want to make new friends and have a good time. I've had meaningful conversations and established relationships with people I would otherwise never have met all because we decided to stay in the same place.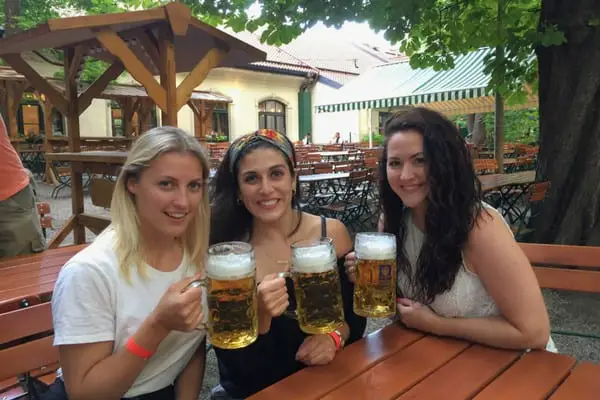 There's something for everyone.
I prefer to stay in hostels that cultivate a fun environment for travelers to interact.
I've stayed in hostels that have organized everything from walking tours to beer pong tournaments. Many hostels have a common area for travelers to hang out. I try to stay in hostels with their own bar, so I can take advantage of happy hour specials.
Even if you're not in the mood to party, you can still stay in a hostel! Pay attention to reviews other travelers have written on sites like Hostelworld.
If I'm not feeling up to a big night out, I look for accommodation in a small hostel. I'll sometimes even spring for a private room. The private room will definitely run you more, but when you compare it to a centrally-located hotel, the hostel wins nine times out of 10.
You absolutely need a lock.
The best hostels feel like home, but don't let that warm, fuzzy feeling lull you into a false sense of security. You're still sleeping next to strangers!
I always travel with a combination code padlock and make a point of only staying in hostels that provide lockers. Every time you leave the room, lock up your belongings. I mean it!
If you don't, it's not a matter of if something will get stolen but, rather, a matter of when. Nothing will ruin your trip faster than getting robbed.
Hostels are clean.
One thing I absolutely refuse to compromise on is cleanliness, and in all the hostels I've ever stayed in, I've never had to.
Hostel staff and guests work together to keep the place fit for human inhabitants. Don't stay in a hostel if you expect other people to pick up after you. Wash your own dishes. Take your hair out of the drain. When everyone does their part, it makes hostel life better (and cleaner) for all.
You can get a good night's sleep.
Like my trusty padlock, I never stay in a hostel without a pair of earplugs and a sleeping mask.
Three years ago, I tossed and turned my first night in a four-bed dormitory. Every little sound, from my roommates unzipping their suitcases to toilets flushing down the hall, seemed magnified to foghorn proportions.
Earlier this summer, I stayed in a 200-bunk circus tent in Munich where I got two excellent nights of sleep. The difference? Cheap drugstore earplugs and the sleeping mask from my airplane amenity kit. You can have your cake and a good night's sleep too!
Have you ever stayed in a hostel? Did you love it? Hate it? How do my observations compare to your experience?
This post originally appeared on Medium.
---