There's no question Southeast Asia is a popular travel destination. From magnificent temples to incredible beaches, Southeast Asia has something for every traveler. But before you pack your bags, check out these five MUST-KNOW Southeast Asia travel tips.
Image Credit: Unsplash (Text Overlay: Backpacking Brunette)
Southeast Asia Guest Post
Hola, Backpacking Brunette readers! It's Alex here. We'll get to the awesome Southeast Asia travels tips in a moment, but first, I wanted to introduce this post's author: Dia Jin.
I met Dia through Instagram earlier this year. Her travel story inspired me, so I asked if she would be interested in sharing some of her Southeast Asia adventures with you.
For more things to do in Asia (and other parts of the world!), check out Dia's blog: Here With Dia.
Take it away, Dia!
Interested in writing a guest post for Backpacking Brunette? Send me an email, and let's chat!
My Southeast Asia Journey
After graduating from college, I decided settling down and searching for a full time job was not in the cards for me just yet. So, I set out with the intention of some much needed solo soul searching.
I chose Southeast Asia because it held mystery and intrigue. At the same time, many solo female travelers have gone and paved the way for us with loads of helpful information. Last but not least, I knew I could conquer it without breaking my bank.
So in the fall of 2017, I left Los Angeles with my backpack and a one-way ticket. I knew that long term travel required me to restrain from over planning and learn to go with the flow, and that's exactly what I did.
Exploring these new countries taught me a lot of things, lessons that no doubt you'll discover for yourself as well.
What is considered Southeast Asia?
Southeast Asia is a sub-region of Asia with beautiful year-round tropical weather, gorgeous islands, and abundantly diverse people, tastes, activities and cultures. It's no wonder folks ranging from budget backpackers to luxury travelers flock to this region!
The countries considered Southeast Asia are:
Indonesia
Vietnam
Thailand
Malaysia
Singapore
Philippines
Cambodia
Laos
Myanmar (Burma)
Brunei
Timor-Leste
Do I need a visa to travel to Southeast Asia?
For U.S. citizens, it's generally easy to travel in and around Southeast Asia. Most countries allow for visa-free entry or make it possible to obtain a visa upon arrival.
The exception is Viettnam, which requires U.S. passport holders to obtain prior visa approval at a Vietnamese Consulate or Embassy.
As always, it's important to check travel requirements prior to leaving home—or even buying a ticket!
What is the best time to backpack Southeast Asia?
Despite being a relatively small geographical area, Southeast Asia features varied terrain and diverse climates. Even within a single country, weather patterns can be insanely different.
When deciding what time of year you're going to backpack Southeast Asia, be sure to take into account rainy season. Maybe getting wet doesn't bother you, but the humidity is no joke.
But, with a little bit of planning, it's easy to make your Southeast Asia travel itinerary around different rainy seasons. For example, Koh Sami and Phuket have opposite rainy seasons which means you can chase the sun from one side of Thailand to the other.
Don't forget about Europe! Check out the best time to visit Madrid, Spain!
What are some places in Southeast Asia?
While traveling in Southeast Asia, you will witness the most beautiful sunrise on the islands of Indonesia and Philippines, magnificent temples in Thailand and Cambodia, and many more countries all with mouth-watering cuisines and friendly locals.
Top sights in Southeast Asia include Ha Long Bay (Vietnam), Angkor Wat (Cambodia) and the Phi Phi Islands (Thailand)—to name a few!
Sold on traveling to Southeast Asia? Let's get a jump start on your trip planning with these five must-know Southeast Asia travel tips!
Southeast Asia Travel Tip #1: Be Aware Of Zeros On The Currencies
In countries such as Indonesia and Vietnam, you're easily a "millionaire". The bills are often large and include many zeros you may not be used to seeing. So when you're paying and receiving change, always pay extra attention to make sure you're using the proper bill.
In Indonesia specifically, the 20,000 and the 2,000 rupiah bills are nearly the same color! In my personal experience, on the couple of instances when I gave the vendor too much money, they were honest and we had a good laugh. However, you may run into people looking for any opportunity to make an extra buck, so use caution when paying and receiving change.
Southeast Asia Travel Tip #2: Take Care When Consuming Water And Ice
While you may have been warned to not drink the tap water in Southeast Asian countries, I let my guard down one night during happy hour. The ice in my mixed cocktail got me good.
I had full blown food poisoning the night before I had to leave Indonesia. The happy hour deals are tempting but try sticking to bottled beers to avoid any unpleasant tummy aches.
Southeast Asia Travel Tip #2: Make The Most Of Your Travel Budget By Bargaining
I wholeheartedly support the tourism industry in each country I visit. But if you're like me and budgeting is a big deal, make sure you take a walk around town and ask multiple merchants before purchasing any items, or book any tours and services.
There's always more options from different companies and individuals, don't let a good salesman trick you into having the 'fear of missing out' mentality and take advantage.
Southeast Asia Travel Tip #4: Spend Time Thinking Out Your Southeast Asia Packing List
Many—if not all—the countries in Southeast Asia are in or near the tropics. So, it will be hot all year round.
When preparing your Southeast Asia packing list, you may want to bring all your minimal coverage clothing items. But, be aware many temples and sacred grounds in Southeast Asia require you to cover your shoulders and knees. You can also buy a cheap sarong once you arrive.
Also, skip packing bug repellent since you can find it for a cheaper price in your destination country.
Southeast Asia Travel Tip #5: Don't Underestimate The Power Of A Smile
This may sound obvious, but I cannot count how many times a kind smile or gesture got me karma points and gained me favors with the locals. Not only in Southeast Asia, but everywhere I've traveled to, being friendly and nice has always landed me in better places.
With these five Southeast Asia travel tips, you should feel more prepared for your adventure! Southeast Asia was the place I chose to begin my indefinitely long soul searching journey, and I am still happily traveling and searching.
***
Meet Your Southeast Asia Guide: Dia Jin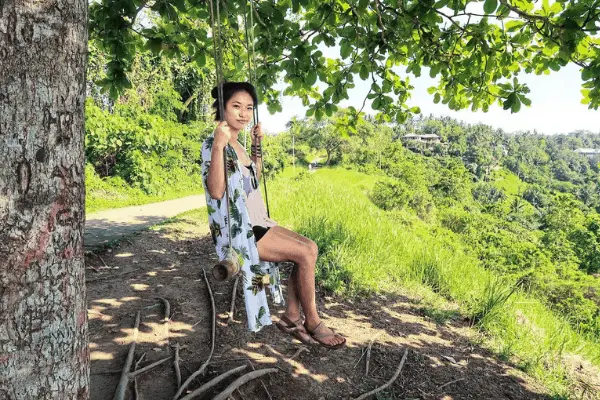 Dia bought a one-way ticket in 2017 and hasn't looked back. Her constant thirst for discovering new places led to the birth of her Travel YouTube Channel and Here With Dia. She aims to share valuable travel content through both videos and writing to inspire and help others get on the road! She is currently living in New Zealand on a working holiday.
Follow Dia's daily adventures on Instagram, Facebook and Twitter. Check her out on Pinterest for all the Southeast Asia travel inspiration you'll ever need.
What questions do you have about backpacking Southeast Asia on a budget? Got Southeast Asia travel tips you'd like to share? Ask away and share your heart out in the comments below!