From the cost of a temporary resident visa for Mexico & the financial requirements for temporary residency in Mexico to how to finalize your temporary residency once you're in Mexico, this guide walks you through the process from start to finish.
After nearly three years of calling Mexico home, I decided it was time to make my situation here more permanent. I'm got my temporary residency in Mexico in Dec. 2020.
Now, I know "temporary" and "permanent" don't generally go together, but applying for temporary residency in Mexico is the first step toward permanent residency.
While I'm not 100% sure just yet that I will want to apply for permanent residency four years from now, I like the idea of keeping my options open. My real motivation for wanting temporary residency is so I can buy and register a car in Mexico.
Recent events have made me realize that I don't want to have to leave the country every six months (#touristvisaprobs), and given the current state of travel, I think road trips will be the best way to explore Mexico for the foreseeable future.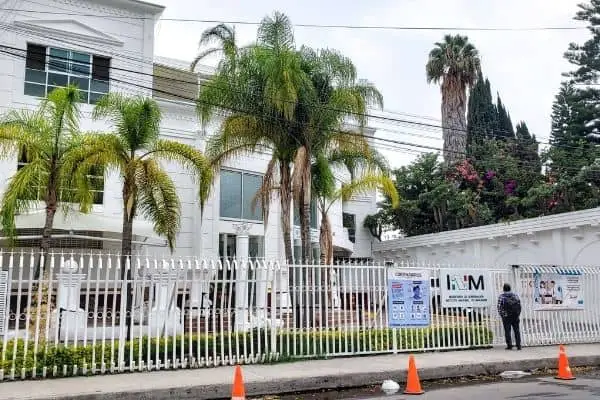 Is applying for temporary residency in Mexico worth it?
Listen, I know firsthand just how confusing visa stuff can be. It's easy to see why so many foreigners live in Mexico on the standard-issue 180-day tourist visa (which resets immediately after you exit the country) rather than applying for temporary residency.
But, if like me you decide that becoming a temporary resident of Mexico is the right next step, then this post will serve as your guide.
After reading this post, you will know:
the benefits of the Mexican temporary resident visa
the cost of the temporary resident visa in Mexico
the financial requirements for temporary residency in Mexico
my tips for how to apply successfully
In Dec. 2020, I received my temporary residency card from the Instituto Nacional de Migración (INM) in Querétaro after starting the process in June 2020 at the Mexican consulate in Detroit, Mich.
At the end of the post, I link a video that explains why the process took abnormally long.
Across Mexico, INM is working to expedite the residency process for foreigners. In some locations, you get your card and do your fingerprints the same day you submit your paperwork.
Benefits of Mexican Temporary Resident Visa
First, what is a temporary residency visa?
The temporary residency visa is for anyone planning on staying in Mexico for more than 180 days, but less than four years. Even if you do plan on staying for more than four years, you usually have to be a temporary resident before applying for permanent residency in Mexico.
Before I dive into all things temporary residency, let me just say this it IS possible to live in Mexico on a tourist visa. I did so for nearly three years.
Now, don't let my use of the word "visa" throw you. The tourist visa ISN'T something you apply for. Rather, it's the 180-stay that is granted to passport holders from countries on Mexico's no visa required list.
On just a tourist visa, I was able to rent an apartment, get health insurance, have a cell phone plan and contract an internet service provider. Having to leave every six months wasn't much of an issue since I wanted to go back to the U.S. to see my family anyway.
But while the tourist visa is very generous, there are still certain thing you can't do with it.
The benefits of a Mexican temporary resident visa include:
Opening a Mexican bank account
Legally registering a vehicle
Freely entering and leaving Mexico (no 180-day limit)
Personally, I'm most looking forward to being able to buy and register a car.
When should I apply for temporary residency in Mexico?
I understand the desire to have all your ducks in a row prior to moving to Mexico, but I strongly encourage you to come to Mexico and give living here a trial run before committing money, time and your sanity to the residency process.
With Mexico's generous 180-day tourist visa, passport holders from the U.S. and Canada (as well as other countries on Mexico's "no visa" list) can stay in Mexico for up to six months without needing to apply for residency.
In fact, Mexico's generous tourist visa one of the top reasons to move to Mexico.
During those six months, you should travel around and check out different places to live in Mexico. You can use this list of the safest cities in Mexico as a starting point.
Most landlords are fine with renting to foreigners living in Mexico on a tourist visa. Get your housing situation settled BEFORE applying for temporary residency so you won't need to do an address change later.
The fewer trips you can make to INM the better. Every interaction with immigration is an opportunity for a mistake to happen and your file to get messed up, misplaced, etc.
Can I work in Mexico with a temporary resident visa?
Having a temporary resident visa doesn't automatically grant you the right to work in Mexico. If you want to work in Mexico, you must apply for a separate work visa.
Since I work online as a freelance writer, I am technically not working IN Mexico. When I met with the immigration official at the Mexican Consulate in Detroit, I explained that I earn money online.
Mexico is open to offering temporary residency to remote workers and digital nomads as long as you're able to prove economic solvency.
Financial Requirements for Temporary Residency in Mexico
According to the Mexican Consulate website, individuals applying for the temporary resident visa must submit proof of economic solvency. You have two options for how to do so:
Unless you have a job lined up in Mexico, an organization or an institution is sponsoring your move there, then this economic solvency portion is very important. The country of Mexico wants to know that you are not going to be a burden to them.
For freelancers, proving economic solvency via #2 (monthly income) can be tricky. If you're earning the $1,634 USD per month but it's coming for various clients, there is a good chance that WON'T meet the financial requirements.
Freelancers: the Mexican Consulate wants to see that you have one solid client who you've worked with for at least six months and is paying you AT LEAST that $1,634 USD per month. Even though you that client isn't your employer per se, you will still need to reach out to them for a letter stating:
How long you've worked together
The type of work you do for them
How much they've paid you per month for the past six months
The official at the Mexican Consulate in Detroit said if a freelancer is earning the required amount on a platform like Upwork that would meet the criteria. In Upwork, you can request a letter stating your earnings.
Since proving economic solvency is the central part of your visa interview, I recommend emailing the Consulate if you have any questions regarding the documents you need. Consulates aren't good about answering the phone, but they generally respond to emails.
If you're traveling a long way to go to the Consulate, it's worth it to check in advance to make sure you have the documents you need in order to prove economic solvency and meet the financial requirements for temporary residency in Mexico.
How do I get a temporary resident visa for Mexico?
Before I explain how to get a temporary resident visa for Mexico, I want to make it clear that I'm NOT an immigration lawyer.
This post and the information in it is based on my experience at the Mexican Consulate in Detroit and the Instituto Nacional de Migración in Querétaro.
How to Make an Appointment at a Mexican Consulate
The first part of the temporary residency process must be done at a Mexican Consulate, which is OUTSIDE of Mexico.
There are some exceptions, including being married to a Mexican citizen or having close family ties to a Mexican citizen, but most people will need to leave Mexico in order to apply for temporary residency.
As soon as you know you meet the financial requirements to apply for the temporary residency visa, I recommend making an appointment.
When I was looking online to book an appointment at the Mexican Consulate in Detroit, I could only see time slots for a few weeks in advance. Everything else was blacked out.
You can't book too far in advance, but you also don't want to wait until the last minute to grab an appointment slot because there aren't many available.
While it is possible (according to the website) to book an appointment over the phone, I recommend doing so online. It's easy and convenient.
You will:
Create a login
Select a time slot
Receive a confirmation email with a PDF attachment
Print the confirmation PDF
Take the confirmation to your visa appointment
Not sure where to book your visa appointment?
Just Google the name of your state plus "Mexico Consulate." In the search results, you'll see which consulate is closest to you.
What to Bring to Your Temporary Resident Visa Appointment
You will need to bring the following to your visa appointment:
Appointment confirmation
Visa form
Passport-sized photograph
Passport (original & photocopy)
Payment method for visa fee ($40 USD)

I paid with a credit card.

Proof of economic solvency

See the above section for details
What to Expect from Your Temporary Resident Visa Interview
I had my temporary resident visa interview at the Mexico Consulate in Detroit, Mich. Well, actually, the Consulate is in Madison Heights which is a 20-minute drive from Downtown Detroit.
For the complete story of how my interview went, check out this YouTube video.
One thing I forgot to mention in this video is that, when I first sat down with the official, she asked me if I spoke Spanish. I answered yes, and from then on, the rest of the interview was conducted in Spanish.
Don't let that freak you out. I'm sure if I'd said no she would have done the interview in English.
But, just a word of warning: If you say you can speak Spanish, you better be ready to prove it.
How long is your temporary resident visa for Mexico valid?
Once you're approved for the temporary resident visa, you have six months to use it. The visa in your passport is good for one entry into Mexico.
When you travel to Mexico, you will fill out an FMM (forma migratoria mútilple) just as you would if you were traveling to Mexico as a tourist.
Instead of writing 180 days on the FMM, the immigration official will write 30 days.
From the day you arrive in Mexico, you have 30 days to go to INM (Instituto Nacional de Migración) to apply for your temporary resident permit card.
How to Apply for Your Temporary Resident Permit Card in Mexico
Many foreigners hire immigration lawyers or consultants to help them finalize their temporary residency once they're in Mexico.
However, it is possible to do the process on your own. I'm proof.
Just know that all the forms are in Spanish and the immigration officials only speak Spanish.
If you have the financial resources to hire a lawyer or consultant and feel more comfortable doing so, go for it. Here are some that expats recommend:
Host Relocation (Querétaro & La Paz)

When you contact co-founder & immigration specialist Ivonne Páavan use the code "Alex5" for 5% off the total price.
E-mail: ivonne.pavaan (@) hostrelocation.com.mx

Yucatan Transitional Services (Mérida)
For other cities, try asking in "Expats in Mexico" Facebook groups.
What You Need to Apply for Your Temporary Resident Permit Card in Mexico
The process of finalizing your temporary residency in Mexico is called "Expedición de documento migratorio por canje." You can find the *mostly complete* list of necessary documents online.
Necessary Documents for Temporary Residency
Trámite

You fill this out online & print it.
It's a document stating why you want to enter the INM building & registering you in the system.

Passport & color copy of photo/signature page
Visa (in your passport) & color copy
FMM & color copy

Since you hand both the original & copy over to the INM official, I recommend making another color copy for your own records.

Formato básico

I filled this out using a black pen.
For the section that says "Activdad en México," don't put anything related to working unless you have a letter of invitation from a Mexican employer.
In this space, I wrote "Hogar/Aprender Español."

Proof of Pago de Derechos & TWO copies

You have to pay for your temporary resident permit at a bank BEFORE going to INM.
Enter your information on this payment page, print out the PDF & take it to a bank.

As of August 2020, the temporary resident permit card costs $4,271 MXN (approx. $197 USD).
The bank will print out a receipt for you. Make TWO COPIES of that, and bring them plus the original to INM.

Three photographs "tipo infantil"

Size 2.5×3 cm
Two photos looking straight at the camera
One photo of your right-side profile
White background
Forehead exposed
No glasses
No earrings
Hair tucked behind your ears
If you're looking for a place to get your photos taken in Querétaro, I recommend going to Foto Estudio Express.
In this YouTube video, I go over all the documents you need to bring to INM & walk you through filling them out.
What to Expect When You Go to INM in Mexico
There are INM (immigration offices) all over Mexico. If you're not sure where to go, just Google the name of your city & "INM" to find the one that is closest to you.
Unlike the Mexican Consulate, you can't make an appointment to go to INM in Mexico. It's a first-come, first-served basis.
When I went in Querétaro (August 2020), I arrived at 6 a.m. and waited in line until the building opened at 9 a.m. I had heard that, because of COVID-19, INM was only letting in 50 people per day.
Even during normal times, it's standard practice for people to line up outside of INM and wait for it to open. Some of the lawyers and consultants will wait in line for you as part of their services.
Once I got into the building, it was only a matter of minutes before I was sitting in front of an INM official. After I handed over my documents, we hardly spoke.
I got into INM at 9 a.m. and was out before 9:30 a.m.
How long does it take to get temporary residency in Mexico?
How long it takes to get your temporary resident permit card will depend on the INM office where you submit your documents. In Querétaro, I've heard that it can take up to two months.
Before I left INM, the official I met with gave me a paper with my NUT (Número Único de Trámite). Using a link and password that I received in an email, I can login using the NUT and check the status of my temporary residency permit.
The next step in the process is to return to INM (wait in line again), get fingerprinted and pick up the card.
If you need to leave Mexico while your temporary residency is pending, you will have to apply for an exit permit. Check out this post by Hippe in Heels to learn more about that process.
More Posts About Moving to Mexico
Final Thought on Temporary Residency in Mexico
I won't lie to you:
Headaches, stress and even the occasional tear of frustration are extremely common when you are applying for residency in Mexico.
That is especially true if you are trying to navigate the process on your own.
Here's what my subscribers have told me keeps them up at night about the residency process in Mexico:
My biggest concerns are not speaking and reading Spanish.
I get stressed at the thought of showing up to an appointment & not having the right documents.
There's so much information online & I have no idea where to start…
If you're planning on applying for residency in Mexico & share those (very reasonable) concerns, then you need a guide that streamlines the residency process and walks you through the most important forms in easy-to-understand language (simple English, not weird & too literal Google Translate).
Introducing the:
An easy-to-follow 10-point checklist with in-depth descriptions of each task so you never have to wonder "what do I do next?" while navigating the temporary or permanent residency process in Mexico.
Plus, there's a translated version of the infamous formato básico that you won't find anywhere else.
As an added bonus, you'll get:
Answers to the 12 most FAQs about residency in Mexico
The handy Residency Phrasebook (tells you exactly what to say in Spanish & who to say it to)
An audio file to listen along and practice the must-know Spanish from the Residency Phrasebook
See what people are saying about the Mexico Residency Roadmap:
You can get access to the translated forms, checklist, detailed task breakdowns, answers to FAQs, Residency Phrasebook & accompanying audio file for just $47 USD.
Not only is that a fraction of what you'd pay for an immigration lawyer, but you can't put a price on the satisfaction you'll feel when you successfully navigate the residency process on your own.
Does the Mexico Residency Roadmap sound like exactly what you need? Slap the blue button below ??
Still not sure if it's right for you? Click here to learn more about the Mexico Residency Roadmap.
Temporary Resident Visa Mexico: Step-by-Step Guide for How to Apply (Without a Lawyer)