Thinking about moving to Mexico from the US? Here are the things you need to know before moving to Mexico.
When I moved to Mexico from the U.S. in 2017, I did so without reading any lists of things you need to know before moving to Mexico.
That was more than three years ago, but I still remember the things that shocked me like it was yesterday.
After this post, you'll know 11 things I wish someone had told me before I moved to Mexico in Oct. 2017 including:
How much money do you need to live comfortably in Mexico?
What is the safest city in Mexico?
Is it worth it to move to Mexico?
In Oct. 2017, my partner, Taylor, and I boarded a one-way flight from Detroit, Mich. to Mexico City with two backpacks and one large suitcase each.
When we touched down in Mexico City four hours later, we had to hurry through customs to catch a bus to Querétaro—a city we'd never visited, only recently learned how to pronounce and fairly randomly decided to try to make our home.
Is it worth it to move to Mexico?
To say the past three years have been an adventure would be an understatement. We've traveled to incredible places, met so many kind people, overcome the challenges of living in Mexico and grown closer as partners.
Of course, we've had our ups and downs, but overall, our time in Mexico has been an overwhelming success. I couldn't be happier with our decision to move here.
I like to think I've done a pretty good job of adjusting to life here, but looking back on that first year especially, there's a lot I wish someone would have told me before I moved to Mexico.
The author originally published this post in Nov. 2018. She updated it in Feb. 2021.
11 Things to Know Before Moving to Mexico
Even though Mexico has been my home for more than three years now, I'm still learning new things on a regular basis. I promise to update this list as I continue to discover new aspects of life in Mexico.
#1. Mexico is MUCH safer than Fox News would have you believe.
When I started to share my news with friends and family that I was moving to Mexico, I knew there would be questions, but I didn't anticipate the sheer volume of people who would tell me I was crazy.
I still get those kind of reactions (and worse) to this day.
While it's certainly tempting to call them crazy right back for their harsh criticism of a country they've never even set foot in, instead, I take a deep breath and remind myself that the news is to blame for why they imagine life here as one very long, very bloody episode of "Narcos."
As in any country, there are places you should avoid, but there are many safe places to live in Mexico.
With its high quality of life and strong economy, Querétaro is one of the safest cities in Mexico. That fact played a huge part in my decision to move here.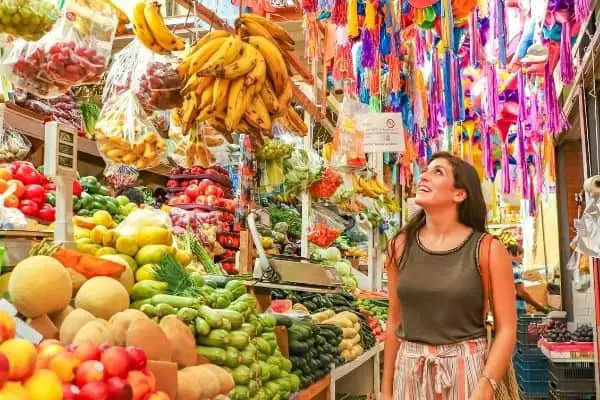 #2: Mexicans are incredibly warm and welcoming.
You know how guidebooks and travel shows are always going on about the *~friendly locals~* in "x" country to the point that (if you're anything like me) you just tune it out?
Well, in Mexico, *~friendly locals~* isn't just tourism propaganda: It's the truth.
While shopping at Mercado La Cruz during my first week in Mexico, one of the vendors asked me where I was visiting Querétaro from. I told him I'd just moved to the city.
The vendor introduced himself as Fernando and said he wanted to give me something to welcome me to Mexico. He put four coffee mugs on the counter and said they were a housewarming gift.
During my time in Mexico, I have experienced more kindness from strangers than I ever did living in Spain or the U.S. I wouldn't fault Mexicans one bit if they were closed off or wary of foreigners, but the opposite is true.
Countless people have gone out of their way to make me feel at home here.
#3: You will gain confidence speaking Spanish.
When I left Madrid, I was feeling really down about my Spanish skills. Even after two years in Spain, my level still wasn't anywhere near where I wanted it to be.
Living in a city filled with foreigners and tourists made organic opportunities to practice Spanish hard to come by. Not to mention, Spanish people's proclivity to correct didn't do much for my confidence.
But, when I moved to Mexico not only did I have opportunities to speak Spanish on a daily basis, but I quickly gained confidence speaking because (unlike in Madrid) people were making an effort to understand me.
The guy at the corner store didn't care if I messed up a conjugation or fumbled my pronunciation. He was pleasant and patient while I got out whatever it was I was trying to say (usually inquiring after fresh papaya).
In Madrid, making a mistake while speaking Spanish frequently felt like the end of the world. In Mexico, I realized mistakes weren't a big deal and being understood is more important than being perfect.
#4: Finding an apartment in Mexico can be tough.
Toward the end of our first week in Querétaro, I struck up a conversation with a bartender about apartment hunting in the city center. He told me it had taken him a YEAR to find his place in the centro histórico.
When I heard that, I almost spit my cerveza out.
Up until that point, I'd been going about apartment hunting in Mexico using the same strategies that I'd used to successfully find an apartment in Madrid: scrolling online listings and walking the streets in search of "for rent" signs.
In Mexico though, landlords don't always list places online and prefer word-of-mouth to find renters. Apartment hunting is especially challenging in a city like Querétaro where many landlords have never rented to foreigners.
You can read this post for the whole crazy story of how I found my apartment in Mexico.
#5: Landlords in Mexico require a "fiador."
If you don't know what a fiador is, don't worry. Neither did I when I first moved down here, and Taylor had to look it up via Google Translate when a landlord mentioned it at the very first apartment that we saw.
In English, a fiador is a guarantor. In other parts of Mexico, people call it an aval.
Basically, your fiador is responsible for paying your rent if you decide to skip town. In Mexico, an eligible fiador is a Mexican citizen and a property owner.
Many landlords require you to have one if you want to sign a lease.
Fortunately, my mom's cousin owns a home in Querétaro and is a Mexican citizen. She graciously agreed to be our fiador, but I know that other expats aren't as lucky.
In the Move to Mexico Quickstart Guide, I cover how to sign a lease in Mexico without a guarantor.
#6: You can furnish an apartment in Mexico on a budget.
When I first got to Querétaro, I focused my apartment search on furnished places. However, since Querétaro isn't a huge expat destination, there aren't a lot of furnished apartments on the market.
I did see a few, and because I feared blowing my budget furnishing an apartment myself, I almost took a place that I hated.
But before settling, I decided to look at one last apartment in a location that I absolutely loved, even though it was unfurnished.
Because I loved the style of the house and the location, I decided to go for it. It fit the vision I had for my life when I decided to move to Mexico.
The day that we moved into the apartment with just our two suitcases and two backpacks, I worried that I'd made a mistake. We were in a huge empty house and didn't even have a mattress to sleep on.
Between Amazon Mexico, Walmart, secondhand stores and the market, furnishing an apartment in Mexico is easy to do on a budget.
Want to see how my apartment turned out? Check out my Mexico apartment tour on YouTube.
#7: Direct deposit isn't popular in Mexico.
Our landlord prefers (insists, really) on us paying the rent in cash.
When we first moved in, we tried to set up a direct deposit with her, and she acquiesced to our request for exactly one month before going back to showing up the first week of every month (never on a set day) to collect the rent.
This used to really irk me because paying via direct deposit just seemed more convenient for everyone involved. But, as I've learned over the years, Mexicans aren't as concerned with efficiency as people from the U.S.
Whatever though: I love my apartment, and if getting out a ridiculous stack of pesos from the ATM each month and stuffing it into an envelope for my landlord means I can live here, then I am happy to do it.
#8: You can't open a Mexican bank account with just a tourist visa.
Apparently, you used to be able to open a bank account in Mexico with just a tourist visa, but in order to help control money laundering and other crazy stuff like that, the law now requires foreigners to have at least a temporary residency card in order to do so.
To combat ATM fees that were just about destroying my soul, I opened a Charles Schwab checking account. Because they reimburse you for any and all ATM fees, I highly suggest getting one if you are moving abroad or travel frequently.
Getting your finances in order one of the most important things to do before moving abroad.
#9: Internet providers will test your desire to live in Mexico.
My best piece of advice for anyone wanting to move to Mexico: Avoid Megacable. During my first year living in Mexico, the internet caused the majority of my stress.
It took a month for someone to finally come to install the WiFi, and when our internet went out, the technicians didn't come to fix it for three days.
Because I work online, the whole internet thing is an issue very near and dear to my heart (and bank account). I'm not kidding when I say that, at various times, I thought we might have to leave Mexico and move back to the U.S. because the internet was so unreliable.
In 2020, we switched to Telmex and are much happier with the service. It's fast, reliable and affordable.
#10: Mexican landlords will raise your rent each year for inflation.
On the initial lease for our apartment in Querétaro, the contract listed our rent at exactly $10,000 MXN per month.
After a year, when the time came for us to resign the lease, our landlord said that she was increasing the rent to accommodate inflation.
At first, I felt shocked. I worried she was trying to rip us off.
But after talking with my Mexican neighbor who has the same landlord, it turns out that rent being adjusted for inflation is actually pretty normal in Mexico.
Here's how much our rent has gone up every year since moving to Mexico:
Year One: $10,000 MXN per month
Year Two: $10,800 MXN per month (+$800 MXN)
Year Three: $11,500 MXN per month (+$700 MXN)
Despite rising rent prices, the cost of living in Querétaro is much more affordable than it is in the U.S. You can read my post detailing how much I spend each month living in Mexico.
I believe you can live comfortably in Mexico for around $1,000 USD per month.
#11: You can easily live on just a tourist visa in Mexico.
Mexico allows U.S. and Canadian passport holders to stay in the country for 180 days on a tourist visa. You can see all the countries on Mexico's "no visa" list here.
After 180 days, you must leave Mexico, but you're eligible for a new tourist visa virtually immediately. 
In comparison to the Schengen Zone visa which only allows visitors to stay for 90 days within a 180-day period, Mexico's tourist visa is incredibly generous.
Before I applied for temporary residency, I lived on the tourist visa for more than two years. During that time I was able to:
Rent an apartment
Contract internet from two different service providers
Get health insurance
Because readers and subscribers often ask me:
I never did a "visa run" to Belize or Guatemala. Some foreigners living in Mexico on tourist visas will leave and re-enter Mexico in a single day.
Until the pandemic hit, it just worked out that I would go back to Michigan at least once every six months to see family and friends.
In July 2020, I decided to apply for Mexico's temporary resident visa. With my temporary residency permit card, I no longer have to leave Mexico every six months.
Other benefits of temporary residency in Mexico include the ability to open a bank account and register a vehicle.
Other Posts About Moving to Mexico
More Things to Know About Moving to Mexico
After more than three years of living in Mexico, I have a lot of advice for people planning their own moves to Mexico.
When you download the free 25-page Move to Mexico Quickstart Guide, you'll get answers to your most burning questions about moving to Mexico such as:
What's the most complicated part of moving to Mexico?
How can Americans earn money while living in Mexico?
Do you need to speak Spanish to live in Mexico?
I also reveal my top tips for apartment hunting in Mexico PLUS a renting in Spanish cheat sheet with the exact phrases you can send a potential landlord when asking about a property.
Nearly 1,000 people have already downloaded the free Move to Mexico Quickstart Guide. See what people are saying about it:
"I just finished your Move to Mexico Quickstart Guide, and I found it very helpful with some things I had not heard of or thought of, even from other Mexican expat YouTube publishers. Thank you for sharing your real-life common experiences. With this knowledge, you saved me a lot of stress and at least maybe $500 USD or maybe more."

Jon F., Downloaded the Move to Mexico Quickstart Guide in Feb. 2021
Click here to get your own FREE copy of the Move to Mexico Quickstart Guide delivered straight to your inbox or scroll down to signup below.
---
11 Important Things to Know Before Moving to Mexico