Fast internet connections, hip coworking spaces & affordable cost of living make working remote in Mexico a top pick among digital nomads.
One of the top destinations for digital nomads and independent contractors, working remote in Mexico has seen a major boom in recent years.
After reading this post, you will know why remote workers are flocking to Mexico, how to move to Mexico to work remotely & important things to consider before you start working remote in Mexico (is it really the best option for YOU?)
At the end of the post, you'll find a rundown of the most popular cities in Mexico for working remotely so you can pick the digital nomad hotspot that's right for you.
Disclosure: This post may contain affiliate links, meaning I earn a small commission if you decide to make a purchase through my links (at not extra cost to you). Please read my disclosure policy for more info.
Why Mexico is a Great Place for Remote Working
Even in the years before the COVID-19 pandemic, Mexico was seeing an increase in digital nomads taking up residence in big Mexican cities as well as smaller towns across the country.
Now, with remote working being more popular than ever, remote workers from the United States, Canada and other parts of the world are leaving their home country behind and making Mexico their new home base.
While digital nomads have the flexibility to live most anywhere in the world, they recognize that Mexico is a great option for a variety of reasons:
Cost of Living
Compared to major cities in the United States such San Francisco, Los Angeles and New York City, the average cost of living is much more affordable in Mexico. The exchange rate is favorable for a remote worker earning USD and spending MXN (pesos).
Of course, Mexico is a big country and cost of living varies from city to city. Digital nomads will likely need to spend more to live in a place like Mexico City than a beach town like Puerto Escondido.
One of the most frequently asked questions I get as a digital nomad working remote in Mexico is if it's possible to live in Mexico for less than $1,000 USD per month.
The short answer is: yes.
Depending on your lifestyle, it's definitely possibly to live in Mexico for less than $1,000 USD per month.
However, it's also very easy to spend more than $1,000 USD per month especially if it's you first time living in Latin American and you're trying to replicate the lifestyle you had in the United States.
Fast Internet
Because digital nomads earn their living online, internet speed is of the upmost importance.
At my house in Querétaro, Mexico, my internet speed is 250 mbps download and 50 mbps upload. It's the fastest internet I've ever had, and it costs around $575 MXN per month ($29 USD).
If reliable internet is a top priority for you, then consider living in bigger Mexican cities like Mexico City, Guadalajara or Puerto Vallarta. Querétaro, where I've lived since 2017, is a mid-sized city located in the central highlands and has dependable infrastructure.
Coworking Spaces
Since the pandemic, remote working has also grown in popularity among the Mexican workforce. Just like in the United States, employees in Mexico value remote work flexibility so employers must accommodate to attract and keep top talent.
There's also a large population of entrepreneurs and independent contractors working in Mexico.
All these individuals plus the influx of foreign digital nomads has upped the demand for coworking spaces & there's no shortage of cool spots around Mexico.
Here in Querétaro, one popular coworking space is Krow. You can purchase a day pass for less than $10 USD.
It's also perfectly acceptable to order a beverage and work from a coffee shop for a few hours. You can check out some of my favorite coffee shops for working remotely in Querétaro:
Montanea
Maco
Capital 93
Tosca
Más Cafe
Work-life Balance
One of the best things about working remotely in Mexico is having work-life balance.
When I lived in the United States, it felt like my whole life revolved around work. I was constantly trying to figure out way to earn more money. It was exhausting.
Since transitioning to working remotely in Mexico, I've been able to develop a healthier relationship to work (thanks in large part to the more affordable cost of living).
I've had the time and space to really think about what it is that I want to do and pursue work that fulfills me.
Additionally, I have more time to spend with loved ones and travel. I also have the bandwidth to prioritize my health.
While there are times that I need to put my nose to the grindstone, on the whole, I feel like I'm working to live instead of living to work.
How Digital Nomads Can Work Remotely From Mexico
Currently, the Mexican government doesn't offer a digital nomad visa.
But, if you have a remote job, there's a good chance you're eligible for a temporary resident visa in Mexico. It's the best way to live in Mexico legally & benefits include not having to leave the country every six months like you must with the tourist visa.
After successfully navigating the Mexico residency process myself, I created the Mexico Residency Roadmap to help other digital nomads get their residency permit for Mexico. You can use the code "YOUTUBE10" for $10 off.
Temporary Resident Visa for Mexico
The first step is making an appointment at a Mexican consulate outside of Mexico.
In order to get your temporary resident visa for Mexico, you will need to prove economic solvency.
For example, a remote worker might show a letter from their US company stating their position and how long they've been an employee. In addition, you would show your pay stubs for the last six months to verify you meet the minimum monthly income requirements.
While the exact amounts vary from consulate to consulate, as of 2022, most Mexican consulates ask to see an income of $2,500 USD per month.
Another option to demonstrate economic solvency is to bring bank account statements to your visa interview showing that you've has the required minimum balance (at least $45,000 USD) in your bank account for the past 12 months.
Sometimes, the bank account option is easier for independent contractors who work for themselves. You can show a combination of savings and investments.
Generous Tourist Visa
If you plan on living in Mexico long term (more than six months), I strongly suggest pursuing temporary residency.
However, for digital nomads spending less than six months in Mexico, the tourist visa is a great option.
The "tourist visa" isn't really a visa—it's not something you apply for. Rather, if you're a US citizen (or from one of these other countries), your passport gets you 180 days in Mexico.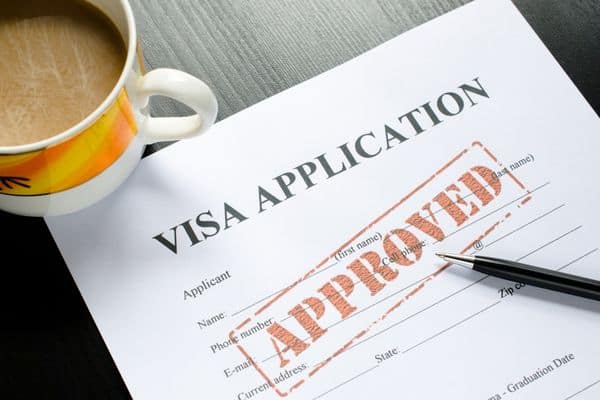 Do I need a work visa for Mexico?
With the temporary resident visa, you don't have permission to work in Mexico.
However, as of now, the Mexican government doesn't view digital nomads or individuals with a remote job as working IN Mexico since they're working online.
In order to work for a Mexican employer, you would need to apply for a work visa. In this post, I explain why I don't think seeking a job in Mexico is the best option for how to make money in Mexico as an Americanhttps://backpackingbrunette.com/make-money-mexico-american/.
Things to Consider Before Working Remotely in Mexico
At this point, you're probably thinking that working remotely in Mexico sounds great.
But, before you book that one-way ticket, there are a few things that you need to know about being a digital nomad in Mexico.
Power Outages
Depending on where you make your home base in Mexico, you may be dealing with power outages from time to time.
The electricity going out is especially common during the hurricane or rainy season.
If you live in the historic or older part of one of the colonial Mexican cities (I live in the centro histórico of Querétaro), the wiring isn't always up to code & a hard rain or strong wind can cause us to lose power.
I recommend having a backup internet source—one option is loading your phone up with extra data. Cell phone plans in Mexico are very affordable.
It's also a good idea to have a portable charger. I purchased this one on Amazon last year & have found it very useful. Just be sure to get a lightning convertor if you have a newer iPhone or MacBook.
Receiving mail from outside of Mexico
I'll be frank: The mail in Mexico is not reliable.
Friends and family have sent me letters and packages that took MONTHS to arrive.
If you need to regularly receive packages or envelopes from the United States or another country for your business, be prepared to spend a lot on tracking with delivery services like FedEx or DHL.
Even then, there's a chance it could get stuck in aduanas (customs) & if you don't speak Spanish, it will likely be a pain to get it out.
Noise
Since many digital nomads will likely live in bigger Mexican cities, it's essential to factor in noise.
For my YouTube video about the best places to live in Mexico, I interviewed travel writer Jenny Hart about the downsides of living in Mexico City.
A native New Yorker, Jenny said the noise in Mexico City is like nothing she's ever experienced & it often makes Zoom calls difficult.
From traffic and cohetes to barking dogs and church bells, the noise in Mexico is next level.
Responsible travel
Some locals in places like Mexico City are pushing back against the influx of digital nomads and remote workers citing increases to cost of living and fewer affordable housing options.
Working remotely in Mexico is a privilege, and we have a responsibility to try to minimize potential negative effects on a city and its inhabitants (like the ones mentioned in this Mexico News Daily article).
Here are a few ideas for how you can be a responsible remote worker:
Find locally-owned accommodation
Learn Spanish (don't expect people to speak English)
Educate yourself on the history & local customs
Spend $$$ in less touristy areas
Break out of the digital nomad/expat bubble
Best Mexican Cities for Remote Working
If this is your first time visiting Mexico, I highly recommend taking full advantage of your digital nomad flexibility and traveling around the country. Mexico is a big place, and there are lots of great options for working remotely.
Here are some of the most popular cities in Mexico for digital nomads:
Mexico City
Home to the largest airport in Latin America, Mexico City is the perfect starting point for digital nomads in Mexico. You have easy access to the rest of the county via affordable domestic flights and bus routes.
One of the best things about Mexico City is the established community of digital nomads and remote workers. It's arguably the fastest-growing remote work hub in the world.
My friend, Steph Kempker, organizes weekly lunches for women looking to meet new friends in CDMX. You can check out her Instagram for more info.
If the massiveness of Mexico City intimidates you but you still want to live in a city, Guadalajara could be what you're looking for. This post has everything you need to know about the cost of living in Guadalajara.
Puerto Vallarta
Mexico is a top pick among digital nomads looking to live on the coast. But, many smaller beach towns don't have the necessary infrastructure to support someone working online.
In addition to miles of gorgeous beaches, Puerto Vallarta offers fast internet, coworking spaces & a wide selection of short-term rental options.
Check out this post for the best time to visit this digital nomad hotspot PLUS what it's really like in Puerto Vallarta during rainy season.
Playa del Carmen
Many first-time visitors to Mexico start somewhere along the Riviera Maya. Playa del Carmen is a popular spot due to its close proximity to Cancun International Airport.
This beach town has boomed in recent years and is now home to a thriving community of remote workers.
Travel content creator Raeah of Fearless Nomad documented her experience as a digital nomad living in Playa del Carmen on her Instagram (@_fearlessnomad).
Puerto Escondido
My favorite beach town in Mexico (I actually got married here in February 2022), Puerto Escondido is becoming a top pick for remote workers.
It's quite a bit smaller than Puerto Vallarta and Playa del Carmen, but there are still large supermarkets, a few coffee shops and a variety of accommodation options. Puerto Escondido also has its own airport.
When I visited Puerto Escondido for the first time back in 2018, I struggled to find fast internet. But, a friend of mine of worked their remotely in Dec. 2021 reported reliable internet especial at coworking spaces like Selina.
Located right on Playa Zicatela, Selina is also a hostel and great place for meeting other digital nomads in Puerto Escondido. It's one of the best places to stay in Puerto Escondido.
Related Articles
Final Thoughts on Working Remotely in Mexico
Whether you're an independent contractor or remote worker for a company based in the United States, Mexico is a great option for setting up a new home base.
Thanks to the affordable cost of living, fast internet and accessible visa options, working remotely in Mexico is a top pick among digital nomads looking to find work-life balance.
However, you set your sights on Mexico, there are important factors to consider such as noise and power outages.
If you do decide that working remotely in Mexico is right for you, please make sure to be a responsible digital nomad & take steps to minimize any potential negative impacts that your presence might have on a destination.
Are you ready ditch your home country and set up a new home base working remote in Mexico?