This adventurous jungle hike is one of the best things to do in Yelapa! Everything you need to know to find the secret Yelapa waterfall.
If you're looking to shake up your Puerto Vallarta vacation (even drinking beer on the most beautiful beach can get boring after awhile), then a day trip to nearby Yelapa could be just what la doctora ordered.
Yelapa is a small fishing village about an hour south of Puerto Vallarta. People often mistake it for an island since the most common way to get there is via boat, but Yelapa is actually part of mainland Mexico.
One of the best things to do in Yelapa is hike to the jungle waterfall located just outside the town. I did this hike in Sept. 2023 & despite some not-so-great instructions, this hike was one of my favorite days of our recent trip to Puerto Vallarta.
I'm not going to call anyone out here, but one of the top Google results ended up getting us lost twice 🙃 I took copious notes on this hike so I could get home and write out BETTER instructions for you, my friend.
After reading this post, you will know:
the Yelapa waterfall hike distance & difficulty
how much the water taxi to Yelapa costs
what to pack for your jungle hike
detailed instructions to get to the Yelapa jungle waterfall
& more!
Disclosure: This post may contain affiliate links, meaning I earn a small commission if you decide to make a purchase through my links (at not extra cost to you). Please read my disclosure policy for more info.
What to Know About Hiking in Yelapa, Mexico
Before we go any further, you need to know that there are TWO waterfalls in Yelapa. If you tell locals about your hike or ask for directions, it's important to specify which waterfall you want to visit:
The Yelapa jungle waterfall (that's the hike this post is about) OR the Yelapa town waterfall
If you start your hike in town or the water taxi drops you off at the Embarcadero de Yelapa, then know that the signs you see that say "cascada" or "waterfall" are pointing you toward the waterfall in town.
If the water taxi drops you off at the beach or once you get out of town, then the "cascada" and "waterfall" signs are pointing you toward the jungle waterfall.
Yes, it's confusing…All the signs look the same, but depending on where they are, they point you to a different waterfall.
Be wary of stopping a local to ask the way to the waterfall. They might not know there are two waterfalls, and unless you speak Spanish well, it could be difficult to clarify which one you're looking for.
Your best bet for successfully hiking to the Yelapa jungle waterfall is to bookmark this post & read through all the directions before setting out so you know what to expect.
Why did we chose to do the Yelapa jungle waterfall instead of the Yelapa town waterfall?
We wanted a longer hike with fewer people.
The waterfall in town is supposed to be very beautiful, but because it's easier to get to, there's a chance you will have to share it with more people. At the jungle waterfall, there was one other group & they only stayed for a bit so we mostly had it all to ourselves.
Next time I visit Puerto Vallarta, I'd love to go back to Yelapa to visit the waterfall in town. When I do that, I will be sure to update this post sharing my experience and comparing the two 🤓
Yelapa Waterfall Hike Difficulty
For reference, I'm in my early 30s, exercise regularly & enjoy a challenge. In my opinion, the hike is not difficult for a person in decent physical condition. We didn't stop for rest until we reached the waterfall, opting instead to drink from our reusable water bottles while walking.
The trail is mostly flat and decently packed down (watch out for tree roots and rocks). There are occasional inclines but nothing too steep, and at the very end just before the waterfall, you have to scramble over some large rocks.
What would make this hike more challenging (or potentially impossible) is poor weather conditions. Cloud cover helped make for a relatively cool day, but during rainy season, the jungle is typically very humid. Because this hike involves multiple river crossings, you might want to ask in town if the water is high or running fast.
What to Bring for the Yelapa Waterfall Hike
Since this is a half-day hike at most, there's not a whole lot you need to pack for the Yelapa waterfall hike. However, based on my experience, bringing the following items will help you to hike safely and enjoy the day:
Water bottle – I filled up my reusable water bottle before leaving our hotel in Puerto Vallarta. For sweaty hikes, I go with stainless steel to keep my water cold. This insulated steel water bottle has a handle that makes it easy to carry. You can also buy water from one of the shops in Boca de Tomatlan or purchase it from a restaurant before hitting the trail in Yelapa.
Sunscreen – The Mexican is no joke & even if you plan to do this hike in the early morning or on an overcast day, you can still get burnt. This sunscreen is one of my favorites for traveling in Mexico because it's water-resistant and reef-safe.
Bug spray wipes – I didn't pack any bug spray for our hike & when we finally exited the jungle, I had several mosquito bites (my husband had even more). Bug spray is especially important if you're hiking during rainy season which runs from June through mid-October. These handy wipes are perfect for travel.
Hat – Much like the bug spray, I didn't pack a hat for this hike and almost immediately regretted it. Within the first 15 minutes of hitting the trail, I was walking under some trees when an iguana peed on me. Even if you're not squeamish about iguana urine in your hair, pack a hat to protect your face from the sun.
Comfortable footwear – Personally, I wouldn't do this hike wearing anything but closed-toed shoes. Both my husband and I decided to wear sneakers & we were glad that did. In many parts, the trail is packed down or cobblestone. In other parts though, you will need to scramble over rocks and navigate tree roots. Comfortable footwear with good traction is a must.
Trail snacks and/or lunch – In hindsight, I wish we'd packed a lunch to enjoy at the waterfall. If we hadn't been starving, we probably would have hung out there a lot longer, but our grumbling stomachs forced us to start the return trip sooner.
Swimsuit – Since it's comfortable, I wore my swimsuit under my clothes. There's nowhere to change at the waterfall, but it's really remote so you could always just step into the jungle to strip down. After the sweaty hike, you'll want to at least put your feet into the water. The closer you get to the waterfall, the stronger the current is, but there are safe places to sit and/or swim.
Towel – This quick-dry towel is big enough to wrap around your body & folds up small to fit in your daypack. It's ideal for hikes like this so you don't have to carry a sopping wet towel back with you.
Daypack – While any small backpack or drawstring bag will do the trick, I'm a big fan of the Osprey Daylite pack. The mesh vents on the back panel allow that sweet air flow to reach your sweaty back.
Want more help packing for your trip to Mexico? This handy Mexico packing guide has you covered!
How to Get to Yelapa From Puerto Vallarta
Since we drove to Puerto Vallarta from our home in Guadalajara, we had our own set of wheels to get to Boca de Tomatlan. The drive from downtown Puerto Vallarta (we stayed in this hotel near the Zona Romantica) took around 30 minutes.
Once in Boca de Tomatlan, we parked our car in an all-day lot. We've parked here on several different occasions & for just $100 MXN, the staff ensures that no one messes with your vehicle. Unlike some paid parking lots in Mexico, this one is big so you don't need to worry about getting trapped in there.
From the car park or the bus stop, it's an easy walk to the beach (Boca is very small). Pretty much as soon as we touched the sand, one of the servers from a beach restaurant asked if we needed a water taxi. He sold us two roundtrip tickets for $200 MXN each.
How to Get to Yelapa From Puerto Vallarta By Bus and By Boat
If you don't have your own vehicle, here are your options to get to Yelapa from Puerto Vallarta using public transportation:
Take a water taxi from Puerto Vallarta's Playa Los Muertos Pier: I recommend heading down to the pier the day before your hike to ask about departure times and prices. The journey takes about an hour and costs around $400 MXN per person.
Take a bus to Boca de Tomatlan & get a water taxi from Boca to Yelapa: It's easy to take the bus from the Zona Romantica in Puerto Vallarta to Boca de Tomatlan. The bus stop is located in front of the Oxxo on Calle Constitución and Calle Basilio Badillo. Buses depart every 15 minutes & will say Boca de Tomatlan on the windshield. The fare is $10 MXN per person, and the journey takes about an hour.

If I didn't have my own vehicle, I would opt to take a taxi or bus to Boca de Tomatlan to catch a water taxi. The water taxis depart much more frequently from Boca than from Playa Los Muertos Pier in Puerto Vallarta so you're less likely to have to wait around a long time.
Roundtrip water taxi tickets from Boca to Yelapa cost $200 MXN each. You can purchase them on the beach near the dock.
We didn't have to wait long for the water taxi to pull up to the dock.. The captain asked us all to put on life jackets since he'd seen the coast guard patrolling and didn't want a ticket. Life jackets are always available but wearing them is generally up to the passenger.
The water ride from Boca de Tomatlan to Yelapa took about 30 minutes. The view of the coastline from the water is incredible, but if you take out your phone for a picture or video, make sure to hold on tight!
On the way to Yelapa, you'll pass Playa Colomitos, Las Animas Beach, Majajuitas & the well-known Caletas snorkel spot.
There are several different drop-off/pick-up points in Yelapa (make sure you specify with the water taxi captain):
Embarcadero de Yelapa: This pier is located on the southern side of the cove. It was the first place the boat docked when we got to Yelapa & passengers with destinations in town disembarked here.
Yelapa Beach: When we told the captain of our water taxi that we wanted to hike to the waterfall in the jungle, he pulled right up onto the beach for us in front of a restaurant called Fanny's. When it was time to head back, the water taxi pulled up onto the sand here as well.
Muelle de Yelapa: This dock is situated on the northern side of the cove. It's the last pick-up point before boats head back toward Boca & Puerto Vallarta. It's a big concrete block with a ladder that passengers climb down to get in the boat.
Where to Join the Trailhead in Yelapa
The captain pulled the boat right up onto the sand, and we jumped off the bow onto the beach. Because we were visiting Yelapa during low season, the restaurants and beach clubs were largely empty.
One of the waiters from Fanny's made a beeline for us and asked if we wanted a table. When we replied that we were looking for the trailhead to the jungle waterfall, he pointed us to the back of the restaurant.
Behind the beach restaurants, you'll find a road leading straight into the jungle. When we did this hike in Sept. 2023, I didn't see a sign marking the start of the trail.
This first part of the hike takes you along a sometimes cobblestone, sometimes dirt (or, in the case of rainy season, mud) path. At times, we had to scoot over to the side to let horses or four-wheelers pass.
After walking for about 15 minutes, you will see a school on your left. Across from the school on the right side of the path, there's a suspension bridge. You made it to your first of three river crossings!
Once you cross the suspension bridge, continue on the path in the direction that takes you deeper into the jungle and away from the coast (follow the path upriver).
Don't do what we did: After we crossed the suspension bridge, we made the mistake of asking someone how to get to the waterfall, and trying to be helpful, they pointed us toward the waterfall in town…
Remember, you're headed to the jungle waterfall!
What to Expect at the River Crossings
Once we got beyond the suspension bridge, we started to see occasional signs for the jungle waterfall. After walking for about 30 minutes, we came to the second river crossing.
Unlike like the first river crossing, this one didn't have a bridge. We took our shoes and socks off before wading into the slow-moving river.
When I took my first step, I was excepting a rocky bottom, but the riverbed is sandy. Just go slow and test for big rocks (I was a little too confident and wound up with a bruised knee).
The deepest part of the second river crossing is when you first wade in. The water was mid-thigh on me (for reference, I'm 5'6), but as I walked toward the middle of the river, the water got shallower and only went up to my knees.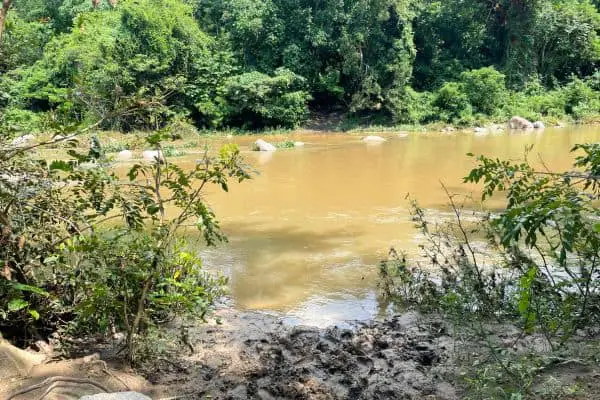 Don't bother putting your shoes and socks back on after the second river crossing. It's about a 90-second walk to the third river crossing, and the path to get there is easily walkable barefoot.
The third river crossing is very similar to the second. The deepest part is when you first wade in, but then, the water gets shallower as you make your way across. At its highest, the water went up to my mid-thighs & at its lowest, it was just below my knees.
The Final Stretch (we almost got lost here)
With the third and final river crossing under your belt, it's only 25 minutes walking to the waterfall. When the path turns into a short set of stairs that curves around a big rock, that's when you should start to keep an eye out for an old gate on the lefthand side of the trail.
After the gate, you will walk for approximately five minutes before coming to a fork in the trail. This spot was really confusing for us because we could hear the waterfall but had no idea how to get to it.
At the fork, follow the trail to the right (I'm not sure where down to the left takes you, but it's not to the waterfall).
When you're about five minutes from the waterfall, you'll have to scramble over some big rocks to get to the stairs that take you to the base of the waterfall.
FAQs about the Yelapa Waterfall Hike
Hopefully after the detailed instructions for how to get to the Yelapa waterfall in the jungle, you're feeling confident to do this trek on your own. In this next section, I will be answering some frequently asked questions about the Yelapa waterfall hike to ensure you have all the info you need.
How long is the hike from Yelapa Beach to the jungle waterfall?
The hike to the jungle waterfall is a little under five miles roundtrip.
On the way to the waterfall, we stopped a lot for pictures (and got lost twice…), but the return trip only took an hour and 15 minutes because we finally knew where we were going!
How long does it take?
I wouldn't give yourself any less than half a day to do this hike. It would be a shame to get out to the waterfall just to turn back immediately…
The ideal day would be to start the hike no latter than mid-morning & enjoy an hour at the waterfall before hiking back to Yelapa for lunch.
Make sure you're back before the last water taxi departs since it's significantly more expensive to hire a private boat.
What's the best time of year to visit Yelapa?
We visited Yelapa in September which is considered low season. It was hot but not unbearable, and thanks to it being rainy season in this part of Mexico, the jungle was very lush.
Personally, I liked doing this hike during low season because I've heard that Yelapa is pretty popular during high season (December through April). We were very lucky though that the rivers were crossable since the heavy precipitation that is common this time of year can result in fast-moving waters.
Check out this post for more info about the best time to visit Puerto Vallarta!
How much will it cost?
Here's exactly how much we spent when we visited Yelapa in Sept. 2023:
Parking in Boca de Tomatlan: $100 MXN
Water taxi tickets roundtrip from Boca to Yelapa: $200 MXN each
Post-hike lunch at Fanny's in Yelapa: $1,000 MXN (two people)
After the hike, we splurged on lunch a bit having two drinks each, two seafood entrees & an order of guacamole. Prices in Yelapa are slightly more expensive since everything is brought in by boat.
If you want to do this hike on a budget, you can take the bus from Puerto Vallarta to Boca de Tomatlan and pack your own lunch/snacks.
Is it safe to hike alone?
Neither of us had cell service in Yelapa. That plus the fact that this trail is fairly remote (we only saw one other group) makes me hesitant to recommend it to solo hikers. If you're traveling on your own, you can join a tour group to visit the waterfall.
Final Thoughts on the Best Yelapa Waterfall Hike
If you're looking to get off the beaten path and enjoy Puerto Vallarta a different way, I highly recommend this hike. In the future, I would like to do the Yelapa town waterfall hike, but my fellow adventurers will likely agree that this is the BEST Yelapa waterfall hike.
I'd love to know if you do this hike following my instructions. If you have any feedback or just want to let me know you had an awesome time, please leave a comment below.
How to Get to Yelapa Waterfall