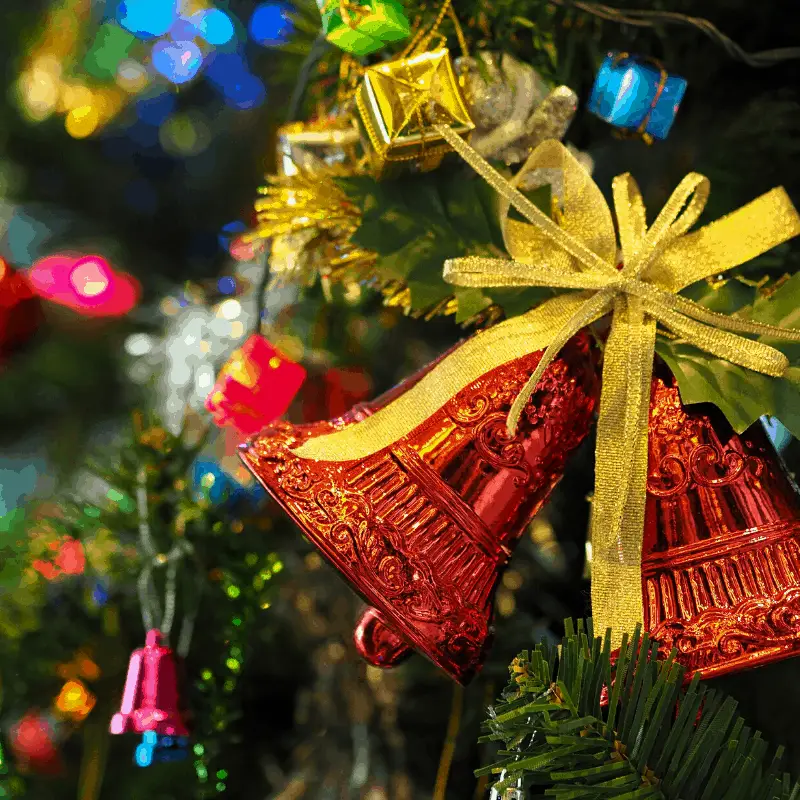 From the best way to enjoy the city's Christmas lights to exploring Madrid's Christmas markets, check out these tips for how to celebrate Christmas in Madrid!
This post was originally published Dec. 13, 2016 and was updated Oct. 16, 2018 . 
Image Credit: Unsplash (Text Overlay: Backpacking Brunette)
Celebrating Christmas in Madrid was one of my fondest memories from my first year as a language assistant, so I highly recommend staying in Spain for the holidays.
Many language assistants choose to go home during winter break, but during your first or second year (or third or fourth…) in Spain, you should consider sticking around. After I spent the holidays in Spain, I had a better understanding of and deeper appreciation for Spanish culture. Oh, and it's super fun to celebrate Christmas in Madrid!
This year, I'm U.S.-bound to spend the holidays in Michigan with my family, but in these next two weeks prior to my departure, I'm planning on doing some early celebrating. Even if you won't be in Madrid on Christmas Day, there's still plenty to see and do during this festive month.
Ready to celebrate Christmas in Madrid?! Get the party started with my suggestions and tips!
Spending Thanksgiving in Madrid? Check out my tips for celebrating Turkey Day in Spain!
Ride the Navibus
You know a city really loves the holidays when it has its own special Christmas bus! From Dec. 1 to Jan. 6, you can ride Madrid's famous Navibus to see the Christmas lights throughout the city. The route starts in Plaza de Neptuno, which is near the Banco de España metro stop. From 6 p.m. to 10 p.m., the double-decker buses run every 20 minutes. The ride takes about one hour. The Navibus is a popular way to celebrate Christmas in Madrid, so I recommend reserving your ticket online if you don't want to wait in line all night!
Ticket prices: For adults, the price is €9. Children, ages 3 to 15 years old, are €7. If you reserve your tickets online, adult tickets are €8,10 each. Tickets for children are €6,30 each.
Run with Santa
If you're anything like me, the holidays mean a few lots of indulgements. I don't even want to tell you how many churros I've eaten in the past few weeks. *insert monkey covering its eyes emoji* I was looking for a healthier way to celebrate Christmas in Madrid and found La Carrera de Papá Noel. It's Spain's version of America's Santa Shuffle, a popular road race in which participants dress like Santa Claus. The course, which traces Paseo de Recoletos and Calle de Villanueva, is between five and six kilometers. Sounds like a fun way to earn your holiday treats!
Race details: The race begins at 9 a.m. Sunday, Dec. 9. Registration is open online until Wednesday, Dec. 5. The entry fee is €12-14 (depending on when you signup) and includes a Santa Claus suit. The race benefits the Madrid Multiple Sclerosis Foundation.
Looking for more to do in Madrid? Don't visit Madrid without first checking out this awesome roundup of 55 non touristy things to do in Madrid!
Explore Madrid's Christmas Markets
European cities are famous for their Christmas markets, and Madrid is no exception.  The Spanish capital boasts markets in plazas all around the city, but the granddaddy of them all is the Christmas market in Plaza Mayor. It's one of the oldest Christmas traditions in Madrid! You can find vendors selling everything from artisan handicrafts and ecological products to holiday decorations and Christmas trees.
Something for everyone: Not in the mood to shop? The Christmas market in Plaza Mayor is still worth visiting! Enjoy some tasty holiday treats, or ride the carousel. I recommend visiting after the sun goes down because the plaza is decorated with festive holiday lights.
Have you ever celebrated Christmas abroad? Where will you be celebrating Christmas this year?
---
Psst…Don't forget to Pin this post for later!