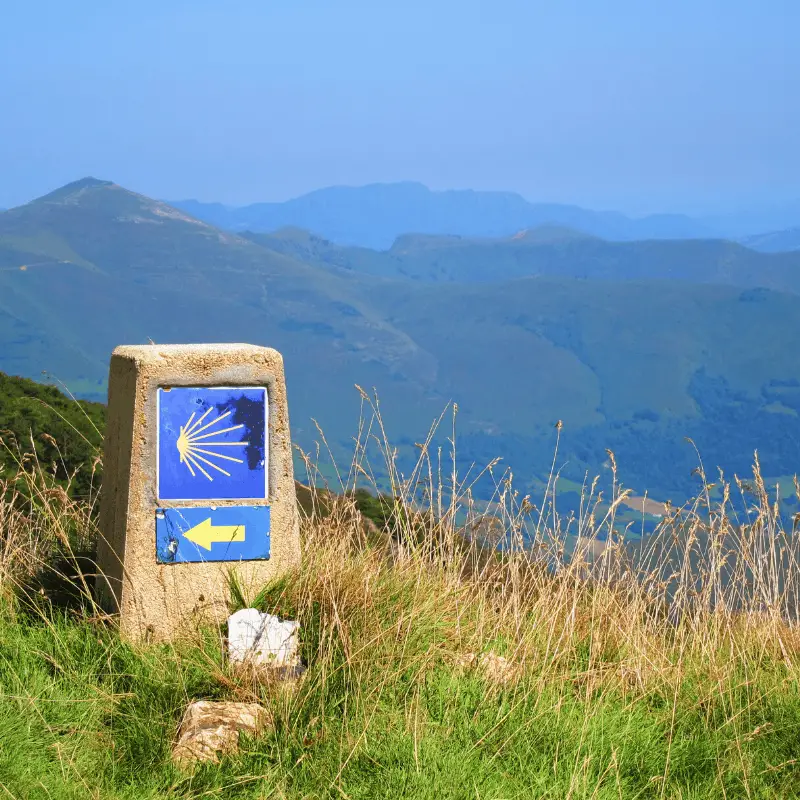 Preparing to hike the Camino de Santiago? Find out what to bring and what to leave at home with this essential Camino packing list for women!
To be honest, I hated my first Camino. But, I think if I'd found a Camino packing list for women as detailed as the one you just clicked on, I'd have felt a lot differently!
The items you do and don't decide to put in your backpack can make or break your Camino. If you're a female pilgrim planning on walking the Camino, keep reading for the ultimate Camino packing list for women!
P.S. Even if you're not a woman, all pilgrims will find these Camino de Santiago packing tips helpful.
P.P.S If you're thinking about walking the Camino de Santiago in 2021, don't miss this post about what it's like to do the Camino during COVID-19. Hear from a pilgrim who walked the Camino in 2020 & get her tips to stay healthy on the trail.
This post may contain affiliate links. That means if you click and buy, I may receive a small commission (at no cost to you). Please see my full disclosure policy for details.
Looking for more about the Camino? Don't miss these posts!
What is the Camino de Santiago?
The Camino de Santiago, or Way of St. James, is a network of pathways across Spain. The Camino begins wherever a pilgrim leaves their doorstep and ends in Santiago de Compostela, where tradition state the first martyred apostle is buried. During the Middle Ages, it became an important pilgrimage for Christians.
Since the mid-1980s, the Camino has experienced a resurgence in popularity. In 2017, over 300,000 pilgrims made their way to Santiago de Compostela. Most travel by foot, but others elect to go by bicycle or on horseback.
What should I pack for the Camino?
In October 2019, I walked from Porto, Portugal, to Santiago de Compostela, Spain, following the Camino Portugués (Portuguese Way). It was my second Camino (having walked the last 100 km of the French Way in September 2016), and I'm proud to say I finally understand what I should pack for the Camino.
Knowing what you need (and, perhaps more importantly, what you DON'T need) for a 200-plus mile hike is vital to your success.
In this post, you'll find a complete Camino de Santiago packing list geared toward female hikers. But, even if you're not a woman, the tips in this post will teach you how to pack light for the Camino.
Best women's backpack for the Camino
I've now walked two Caminos with my trusty Osprey backpack, and I don't think I'll ever trade it in for anything else. Regardless of what season or how long you're walking on the Camino, I see no need for a backpack larger than 36 liters.
Osprey Kyte 36 Women's Hiking Backpack
Packing light on the Camino begins with the right-sized backpack. I think the best women's backpack for the Camino is the Osprey Kyte 36 women's hiking backpack. With anything bigger than 36 liters, you'll be tempted to overpack.
Additional features I love about the Osprey Kyte 36 are:
Padded hip belt with zipper pockets for easy to reach storage
Integrated removable rain cover
Zippered sleeping bag compartment
Do you need a sleeping bag for the Camino?
If you plan on sleeping in albergues (pilgrim hostels), you absolutely need a sleeping bag for the Camino.
However, the type of sleeping bag you choose will depend on the weather forecast. Take a look at the predicted nighttime temperatures and pack the lightest possible sleeping bag.
For example, if you're walking the Camino in the summer, you might be able to get away with just a sleeping sack. But, in the fall or winter, you'll need to pay more attention to the recommended degrees for your sleeping bag.
When I walked the Portuguese Way in October, I was comfortable most nights with a sleeping bag good for 0°C. If anything, I was too warm in some of the larger albergues where packed dormitories meant warmer temperatures.
Clothing Camino de Santiago Packing List Items
Do yourself a favor and abandon any ideas you have about staying clean on the Camino. If you're serious about packing light, then you need to accept the fact you're going to be a little grungy.
Some blogs talk about washing your clothes in the sink or packing a Scrubba bag to help you do laundry each night, but in my experience, I was too exhausted from walking all day to worry about anything beyond a quick shower, a hot meal and falling into bed.
That's not to say I never did laundry on the Camino. When I stayed at an albergue with a washer and dryer, I took advantage of it. Otherwise, I wore the same clothes day after day. I know that sounds gross, but everyone's a little stinky, so no one is going to call you out.
Hiking shoes
I think the main reason I hated my first Camino was because I was wearing the wrong footwear. Learn from my mistakes and DON'T wear hiking boots. Instead, opt for something like what I wore for my second Camino: Altra Women's Torin 4 Road Running Shoe. I loved the zero-drop design, and they kept my feet dry for a lot longer than I thought possible for a sneaker.
You might be tempted to buy "waterproof" footwear but just know nothing (aside from galoshes, I suppose) will keep your feet completely dry when you're walking in a downpour for seven hours. So, don't sacrifice comfort for what are most likely false promises.
Shower sandals
My walking companion, Vanessa, brought these super comfy Birkenstock slip-ons, and I was seriously jealous the entire trip. I recommend slides like these rather than thong flip-flops because they are more comfortable to wear with socks which is much cozier for hanging out in the albergue.
Toe socks (2 pairs)
I didn't have a single blister this Camino, and I'm giving the credit to these Injinji socks. They look a little weird, but your feet will thank you.
Hiking socks (2 pairs)
I'm a big proponent of the two-sock method for preventing blisters and maximizing comfort. Each day, after covering my feet in vaseline, I put on these Balega socks over my Injini toe socks.
Leggings (2 pairs)
I prefer full-length leggings and recommend getting some with side pockets. You can never have too many pockets!
Hiking shirts (2)
There are a lot of options out there, but make sure you get shirts that are comfortable and breathable. Because you're wearing the same clothes day after day, look for something that dries quickly. A little built-in SPF is nice too.
Warm long-sleeve shirt
The key to packing light on the Camino is layering. Waking up at sunrise to walk can mean chilly temperatures to start the day, so having a warm long-sleeve shirt to wear over your t-shirt and under your jacket is important.
Sports bra (1)
I packed one sports bra and hung it up each night to dry out.
Regular bra or bralette (1)
I don't like wearing a sports bra unless I'm doing a sport, so instead of a second sports bra to alternate/wear in the evenings, I packed a regular bra. Since you're mostly just relaxing around the albergue, a bralette could be a good option as well.
Rain jacket with hood
Like with the shoes, no jacket is 100% waterproof, but read reviews to see how long you can reasonably expect something to keep you dry in the rain. I like jackets that can roll up into their own hood for easy packing like this one from North Face.
Hat
Baseball caps or hats with a drawstring are best. A hat that keeps blowing off your head is no good to you.
Evening/sleep clothes
Personally, I don't like sleeping in leggings, so I packed a pair of shorts for sleeping. On top, I'd wear whichever of my hiking shirts was clean. My post-shower/evening clothes doubled as my pajamas.
Toiletries for Female's Camino de Santiago Packing List
For both men and women packing for the Camino de Santiago, your toiletries are an opportunity to lighten your load.
Something I see in a lot of Camino packing lists is the desire to be prepared for anything. While that's a nice sentiment, it often leads to over-packing and, in reality, is unnecessary.
2-in-1 shampoo and conditioner
Soap
Cleansing towelettes

To be honest, you'll usually be too tired to actually wash your face.

Toothbrush & toothpaste
Sunscreen
Deodorant
Diva cup

Because tampons are soooo 2019!

Razor
Vaseline

I attribute my blister-free Camino to covering my feet in Vaseline every morning. You can also apply it anywhere you feel a chafe coming on (sports bra band, should straps, hip belt, etc.).

Hair ties
Brush/comb
Hand sanitizer
Walking the Camino is not backcountry camping. You'll be passing through towns and cities on a daily basis, which means you can pick up anything you've run out of or realize you need.
Instead of trying to bring all the shampoo and soap you think you'll need for the duration of the Camino, pack trial-size products and buy replacements from a pharmacy or grocery store when you run out.
More Essential Items for Your Camino Packing List
Reflective tape
If, like most pilgrims, you're into getting an early start, you'll want something reflective for your backpack. Some sections of the Portuguese Way were straight-up highway, and wearing reflective gear would have made me a lot more comfortable.
Poncho
You'll look ridiculous but so does everyone else. A poncho is, hands down, the most effective rain gear.
Clothespins/safety pins
These two items won't take up a lot of room and have a myriad of uses.
Earplugs & sleeping mask
If you're going to actually sleep in a municipal albergue, these two Camino packing list items are essential. Block out snoring pilgrims and be able to go to sleep even if the dormitory lights are still on.
Quick-dry towel
I like to have a towel big enough that I can actually wrap up in it post-shower.
Medical tape/band-aids/ibuprofen
Don't feel the need to pack an entire first aid kit. Just bring enough supplies to make it until you're able to get to a pharmacy. For blisters, I prefer adhesive tape over traditional band-aids. Compeed is also really popular on the Camino.
Ziploc bags
I stored all my clothes in one giant Ziploc bag and my travel pillow in another. I like to think of them as a broke girl's packing cubes! In addition to keeping me organized, the Ziploc bags kept all my clothes dry despite a torrential downpour that soaked through my backpack's rain cover.
Sunglasses
Shade yo' eyes from the sun.
Adapter
You'll need this to charge your phone!
Things to Consider Packing for the Camino de Santiago
While I won't go as far as to say you absolutely MUST pack the following items, I will say they could prove very helpful should you have the extra room in your backpack.
In my ultimate list of things to know before walking the Camino de Santiago, I talk about the importance of nonessential essentials.
Hairdryer
I know how absolutely ridiculous this sounds, and believe me, I almost laughed out loud when Vanessa told me she'd packed a hairdryer. But, I'm glad I didn't because we ended up using it A TON—specifically to dry our sneakers and other gear. We were the envy of the albergues!
Compression pillow
If you're like me and getting a good night's sleep depends on having a decent pillow, I recommend bringing your own because albergue pillows are—how do I put this?— SHIT! I have my eye on this compression pillow for my next Camino.
Collapsible Tupperware container
Again, this is something I would have never thought to bring, but Vanessa opened my eyes to all its uses. For anyone doing the Camino on a budget, eating leftovers will save you money.
Headlamp
I've done two Caminos now without a headlamp which is why I have it down as an extra. I've gotten by using the flashlight on my phone, but I won't lie: a headlamp would be a whole lot easier.
Journal & pen
Even when you're dog tired, take a few minutes each day to write. The Camino will be one of the greatest adventures of your life, and you'll want to remember it. But, if you really don't want to carry one, you could just make notes in your phone.
Help Me Walk the Camino del Norte ?: If you found this post helpful, please consider making a donation via PayPal to support future content creation. Your contribution will help me reach Santiago de Compostela.
Things You Don't Need to Pack for the Camino de Santiago
If you've made it this far, you know I'm all about packing light on the Camino. In my opinion, there's a direct correlation between how heavy your backpack is and how miserable you are on the Camino.
Understanding I have your best interest in mind, don't be alarmed when I've deliberately left off some items other Camino de Santiago packing lists for females deem essential.
Trekking poles
I'm sure there are people who will want to fight me on this one, but I really don't think they're necessary. I think they can certainly help you, but for the Portuguese Way and the last 100 km of the French Way, the terrain did not require them.
Underwear
That's right I don't wear underwear under my leggings. It's just one more thing to wash, and I am NOT about that.
"Nice" clothes
You may be thinking out want some "nice" clothes for when you're out celebrating in Santiago de Compostela, but they're not worth the weight in your backpack. All the other pilgrims will be wearing their Camino clothes, so just embrace it.
Water sanitizing pills
The water in Spain is fine to drink. The water in Portugal is fine to drink. You will never need to get water from a stream or river.
Camelback bladder
Because you're passing through towns so frequently, a 1-liter water bottle is sufficient. You can bring a reusable bottle from home or just buy a liter of bottled water from the grocery store and keep refilling it the entire trip (that's what I did).
Physical maps or guidebooks
You can get all the information you need from the staff at albergues or other pilgrims. Also…just follow the arrows! If you want your own map or guidebook, download it to your phone.
Makeup
If you really have to, pack a tube of mascara (I did), but leave the rest at home.
Printable Camino de Santiago Packing List for Female Pilgrims
Now, I know that was a lot to throw at you, so to help you prepare and stay organized, I've put together a printable Camino packing list for women.
Just click here to access the printable via Google Drive.
Buen Camino!
The Ultimate Camino Packing List for Women
---
Psst…Don't forget to pin this post for later!