Read how one pilgrim handled the Camino de Santiago and coronavirus plus tips to stay safe walking the Camino de Santiago in 2021.
It broke your heart to postpone your plans to walk the Camino de Santiago in 2020, but the coronavirus pandemic forced your hand. You don't want to put off your hike for another year, but is it realistic to do the Camino de Santiago during COVID?
After this post, you'll know what it's really like to walking the Camino de Santiago during COVID with advice for how to stay safe and healthy from a pilgrim who walked the Camino during the coronavirus pandemic.
This post may contain affiliate links. That means if you click and buy, I may receive a small commission (at no cost to you). Please see my full disclosure policy for details.
Is the Camino de Santiago open during COVID?
Yes, the Camino de Santiago is open during COVID.
However, there are a variety of travel restrictions in place that could make getting to your starting point on the Camino difficult.
As of Feb. 2021:
Travel from the UK to Spain is suspended
All travelers arriving in Spain must provide proof of a negative COVID-19 test within 72 hours
Travelers arriving in Portugal from outside the EU may also need to provide proof of a negative COVID-19 test
France is in a national lockdown
Despite these restrictions, more than 50,000 pilgrims walking the Camino de Santiago in 2020.
If you're thinking about walking the Camino de Santiago in 2021, you should know what it's really like to walk the Camino during COVID-19
What It's Really Like to Walk the Camino de Santiago During Coronavirus
While most of my readers reported that their plans to walk the Camino de Santiago in 2020 were off, Diana Cisneros reached out to me via email to say her Camino plans were still on despite the pandemic.
Diana is a U.S. citizen, but because she lives in Madrid, she didn't have to contend with flight cancellations and border closures. She said she felt "super lucky" that she was able to walk the Camino last year.
For her first Camino, Diana started in Villafranco del Bierzo and walked 10 days on the French Way to Santiago de Compostela. Overall, she said she was very impressed with how organized everything was.
The first few days on the Camino, Diana said the trails were "virtually empty."
"With the exception of some solo pilgrims here and there, it was just my boyfriend and I for miles and miles," she said. "It was actually pretty nice."
According to Diana, every town they passed though had a sign posted reminding pilgrims to wear their masks.
She and her boyfriend kept their masks handy for wearing while walking through the villages, but when they were out on the trail without any people around, they took them off.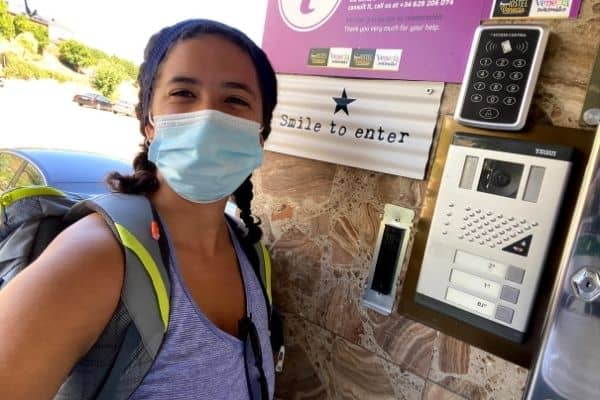 Camino Albergues During COVID-19
At night, Diana and her boyfriend mostly stayed in albergues. Every third night, they splurged on a private room.
Diana said that all the albergues had similar guidelines:
Shared kitchens were closed
Masks required in all shared spaces
No extra blankets provided

A bedbug protector and pillow cover were provided

Only bottom bunks were in use
Due to the pandemic, albergues along the Camino de Santiago were operating at a lower capacity.
In non-pandemic times, many pilgrims don't bother with booking albergues ahead of time. However, with the restrictions in mind, Diana booked all their albergues in advance.
She recommends other pilgrims do the same especially in smaller towns along the Camino such as O Cebreiro.
The Last 100 km from Sarria to Santiago
Diana said the Camino became significantly busier in Sarria. Sarria is the most popular starting point along the French Way since it's 100 km out from Santiago which is the minimum pilgrims need to walk to earn their Compostela.
From Diana's perspective, the Camino seemed crowded with families and big walking groups. However, one of the pilgrims she spoke with said the number of people was nothing compared to when he had walked in previous years.
According to the Pilgrim's Office, 54,129 people collected their Compostela after walking the Camino de Santiago in 2020. That's an 84% decrease in the number of pilgrims who walked in 2019.
While it wasn't a typical year on the Camino, Diana said she nevertheless enjoyed the experience and encourages anyone who is legally able to do the Camino now to go for it.
"It's a really great time to do it," Diana said. "But, it's always a great time to do the Camino."
My 2021 Camino de Santiago Coronavirus Plans
Like many of you, the COVID-19 pandemic forced me to put my plans to walk the Camino de Santiago in 2020 on hold. Even though this setback paled in comparison to the tragedy and loss experienced around the world, it was still disappointing.
When it became clear that the situation wouldn't allow me to walk the Camino in 2020, I turned my eyes to 2021. I'm in the early stages of planning my third Camino.
In Sept. 2016, I walked the last 100 km of the French Way from Sarria to Santiago de Compostela before finishing in Finesterre. Three years later in Oct. 2019, I walked the Portuguese Coastal Way from Porto to Santiago before ending in Muxia.
For my third Camino, my tentative plan is to walk the Camino del Norte in Sept. 2021. The Northern Way route starts in San Sebastián and takes five weeks to complete, according to Camino Ways.
It will be my longest Camino yet.
Hopefully, my mom will join me for at least part of the route. I've also talked to my friend Vanessa, who I met while walking the Camino Portugués, about joining me if she's able to get the time off work.
The first step toward Santiago is getting the vaccine. If all goes well with the rollout in the United States, I will hopefully have it by the end of July.
I will start looking at flights as soon as I have my first dose of the vaccine.
As the tentative date for my 2021 Camino gets closer, I will update this post to reflect the status of my plans.
5 Tips to Safely Walk the Camino de Santiago during COVID
After researching the safety precautions that were in place along the trail, Diana said she felt very safe walking the Camino de Santiago during coronavirus.
Furthermore, reports of far fewer pilgrims than normal gave her confidence that it would be possible to practice social distancing on the Camino and while staying in albergues.
If you're planning on doing the Camino during COVID, here are a few tips to stay safe and healthy:
Tip #1: Choose a Less Popular Route
As Diana noted, the most crowded portion of the Camino is still the last 100 km of the French Way (from Sarria to Santiago de Compostela).
To avoid the masses, opt for a less popular route that doesn't overlap with this particular stretch. For example, I plan to walk the Camino del Norte.
Another solid option is the Portuguese Coastal Way. Here's a 13-day itinerary for the Camino Portugués starting in Porto.
Tip #2: Walk with a Buddy
When it's not a pandemic, one of the most beautiful aspects of the Camino is finding you Camino family.
However, given the current situation, it's a lot more difficult to strike up conversations with other pilgrims.
Usually, I encourage people to start the Camino solo, but if you're thinking about walking during COVID, this might be the year to find a buddy to go with you.
Tip #3: Respect the Albergue Rules
Hopefully, this one is a no-brainer.
Wear your mask in shared spaces
Don't cook in the kitchen
Bring your own sleeping sack
Above all, if you aren't feeling well, get off the trail.
Tip #4: Keep Handy Items on Hip Belt
While it's okay to take off your mask when you're out on the trail and no other pilgrims are around, you need to keep it in an easy-to-reach spot for when you're passing through town or happen upon other people.
The Osprey Kyte 36 has a hip belt with convenient loops for attaching your mask. You should also keep hand sanitizer and disinfectant wipes in the zippered pockets.
Tip #5: Stay Up to Date with the Latest Information
For Camino COVID-19 news updates and information about travel restrictions, bookmark this Camino Ways page.
There is also a smartphone app for EU travel which you can download here.
More Posts for Camino de Santiago and Coronavirus
Final Thoughts on the Camino de Santiago and Coronavirus
For many of you reading this, it will likely make the most sense to postpone your Camino until 2022.
Personally, I won't walk the Camino in 2021 unless I've had both doses of the vaccine.
This post isn't an endorsement to go forth and walk the Camino de Santiago during COVID no matter what, but rather, the purpose is to provide you with the information to stay safe if the stars align and you're in a position to hit the trail.
If you plan on walking the Camino de Santiago in 2021, be sure to read this post next with 25 eye-opening things you need to know before walking the Camino. All the hand sanitizer in the world won't keep you safe if you don't take #4 seriously.
Are you planning on walking the Camino in 2021 or putting your plans on hold until 2022? Let me know in the comments.
Camino de Santiago During Coronavirus: What It's Really Like