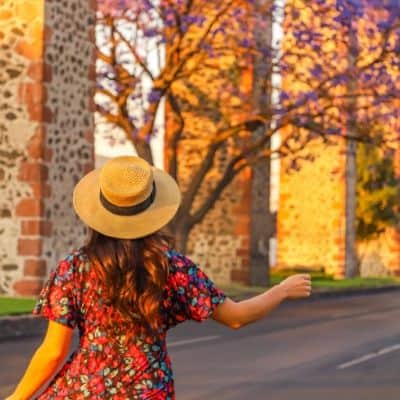 Wondering how to spend 2 days in Querétaro (or more)? Check out the best things to do in Querétaro!
Congratulations! If you're reading this post, you've uncovered one of Mexico's hidden gems: Querétaro.
For years, nearby towns like San Miguel de Allende and Guanajuato have overshadowed Querétaro. But, international travelers looking to experience authentic Mexico are quickly catching on that this colonial city is the place to be.
After reading this post, you will know the best things to do in Querétaro including:
Most visited museums in Querétaro
Where to drink craft beer
How to visit a secret pyramid
Best day trips from Querétaro
& more!
Is Querétaro worth visiting? Keep reading for everything you need to plan the perfect 2 days in Querétaro!
Whether you decide to visit as a day trip, spend two days in Querétaro or begin a life as an expat here, following this comprehensive list of the best things to do in Querétaro will give you an experience you won't soon forget.
Disclosure: This post may contain affiliate links, meaning I earn a small commission if you decide to make a purchase through my links (at not extra cost to you). Please read my disclosure policy for more info.
How to Get From Mexico City Airport to Querétaro
Located in central Mexico, Querétaro is easily accessible. Its UNESCO-listed historic center is worth the small effort it takes to get here.
The Primera Plus bus leaves directly from both terminal 1 & 2 of the Mexico City airport. You can purchase your tickets ahead of time online or directly at the counter.
The journey takes approximately 3 hours and costs $505 MXN (approx. $28 US).
An even more convenient option is flying into Querétaro's small but well-connected airport. From there, it's about a 30-minute Uber ride to the city center which costs approximately $15 USD.
How to Get From San Miguel de Allende to Querétaro
If you're staying in San Miguel de Allende, you can make a day trip to Querétaro. Buses run every 20 minutes or so from 6 a.m. – 10 p.m.
There's no need to book ahead. Just buy your ticket at the bus station from either Herradura de Plata or Flecha Amarilla.
From Querétaro's Central de Autobuses, you can take an authorized taxi to the city center. The journey takes around 15 minutes and costs around $4 US.
When is the best time to visit Querétaro?
The best time to visit Querétaro is from October to March. This part of the year is the dry season, so clear skies & sunny days are likely.
It's ideal to visit Querétaro from October to March because the temperatures are less extreme. You can expect highs around 78 degrees Fahrenheit (26 C) and lows around 50 degrees Fahrenheit (10 C).
Because Querétaro is a semi-desert, it gets cold at night and stays chilly through the early morning so be sure to bring a jacket or coat if visiting in December or January.
The hottest months of the year in Querétaro are April and May. Temperatures in the upper 80s F (30 C) are quite draining for tourist unaccustomed to the heat and intense sun.
The rainy season in Querétaro starts in June and runs through October. It's normal to see daily rainfall during this time of year.
Perhaps the best time to visit Querétaro is December. Not only is it a good time of year weather-wise (just be sure to bring a jacket for cold nights), but the city is decorated beautifully with lights and poinsettias for the Christmas season.
Is Querétaro, Mexico, safe for travel?
Before you dive into this list of things to do in Querétaro, let me take a quick second to discuss safety. I understand it's a concern of many travelers visiting Mexico.
While I would never suggest completely throwing caution to the wind (awareness is key wherever you are in the world), you can take comfort in the knowledge that Querétaro is one of the safest cities in Mexico.
In fact, according to Wikipedia, multiple sources have ranked Querétaro as "one of the safest cities to live in with the highest quality of life in Mexico."
I called Querétaro home for five years (from 2017-2022), and in all that time, I've never once felt in danger or, even, uncomfortable.
I feel confident recommending Querétaro as a safe destination for all travelers including solo female travelers.
For more about how to stay safe while traveling, check out this post with 35 do's and don'ts for your first time in Mexico.
How do you get around Querétaro?
Querétaro's city center is very walkable, so it's easy to explore most of the city's top attractions on foot.
For longer trips, you can utilize a ride share app like DiDi or Uber (just use it the same way you do in your home country).
Another budget-friendly option is Querétaro's public bus system which runs all over the city. The route is often listed on the front windshield.
Where to Stay in Querétaro
If you're planning your first visit to Querétaro, I highly recommend staying in the historic city center so you're close to the top attractions and can experience the best the city has to offer.
One of the best hotels in Querétaro city center is El Serafin Hotel Boutique. Breakfast is included and the friendly staff brings it right to your door.
#1: Wander the Historic Center (an UNESCO World Heritage Site!)
From antique doors and colorful buildings to funky fountains and flower-covered houses, Querétaro's centro histórico is the destination your Instagram grid has been waiting for.
In addition to being incredibly picturesque, Querétaro's historic center is very clean. The city's motto is "Orgullo de Mexico," and based on the constant presence of street sweepers and lack of litter, Querétaro takes great pride in being the "Pride of Mexico."
It's no wonder the historic center of Querétaro is an an UNESCO World Heritage Site.
Many of my favorite streets in the city center are pedestrian-only. In fact, the calle I call home is actually an andador. Querétaro's historic center is a walker's paradise, and here are a few places you'll want to stroll:
Andador Libertad
Andador Matamoros
Calle Franciso I. Madero
Calle Cinco de Mayo
Calle José Maria Pino Suarez
#2 Take a Guided Tour in a Classic Model T
This has got to be one of the coolest ways to see Santiago de Querétaro: Cruising the city center in a Classic Model T.
During the one-hour guided tour, you'll learn about the rich history and legends of Querétaro plus see many of the city's top attractions like temples, churches & the 18th-century aqueduct.
This tour is available in English. You can book your tour here.
If you're looking for a more traditional walking guided tour, you can finding daily tours leaving from in front of the government palace (Palacio de Gobierno). Most of these tour guides only speak Spanish.
#3 People watch in Jardin Guerrero
As you're wandering the city, stop for a michelada and some casual people watching at one of the cafes that line Jardin Guerrero or one of these other beautiful plazas:
Plaza Fundadores
Plaza de Armas
Jardín Zenea
The beautiful plazas of Querétaro give the city a charming European vibe. It's lovely to see families gathered and enjoying the public spaces.
Just on the other side of Zaragoza from the city center, you can visit Alameda Hidalgo. During the pandemic, this park underwent major renovations & it's the perfect place for a stroll.
#4: Have a Scavenger Hunt for the Most Notable Querétaro Monuments
The historic city center of Querétaro is very walkable (although, you should watch out for uneven cobblestones and random holes in the sidewalk).
Santiago de Querétaro is home to more that 1,400 monuments & one of the best things to do while visiting Querétaro is to make a game out of finding the most important ones.
These are some of the most notable Querétaro monuments in the historic center of the city:
Fuente de los Perritos

Dog lovers won't want to miss this fun fountain in Plaza de Armas.

Monument of La Corregidora

A feminist icon, Josefa Ortiz was one of the heroes of the Mexican fight for independence from Spain.

Fuente de Neptuno

Switch your iPhone camera to the wide angle lens to get the impressive church in the background.

El Danzante Conchero

Another picturesque spot, this monument is right next to Templo de San Franciso which also houses the Querétaro Regional Museum.
#5: Drink Wine and Eat Cheese
Chances are you're visiting Mexico for the cerveza, tequila and mezcal. But, did you know that Querétaro produces some pretty good wine?
When you're the country's second-biggest wine region (right after Baja), it only makes sense to have a dedicated Wine & Cheese Route.
This guided tour is the best option for exploring the Wine & Cheese Route if you don't have your own vehicle. In addition to roundtrip transportation from Querétaro, the tour includes wine tastings at Vino del Marques and Haciende Atongo plus time spent in Tequisquiapan and San Sebastián de Bernal.
Click here to learn more about the highly-rated Haciendas, Wineries and Magical Towns tour.
If someone is willing to be the designated driver, you can follow the Wine & Cheese Route on your own.
Check out Finca Sala Vivé by Freixnet is one of Querétaro's most popular wineries & offers English-speaking tours. Their specialty is sparkling wine.
Bodegas de Cote is another fabulous winery to add to your Querétaro itinerary, and Cava de Queseos Bocanegra is a cheese cave. Both offer tours.
#6: Seek Shade in One of Querétaro's Most Visited Museums
Looking to get out of the hot Mexican sun for an hour or two? Pop into one of Querétaro's many museums.
While this list is by no means exhaustive, here are a few of my favorites:
Museo del Calendario – MUCAL Calendar Museum
Perhaps one of the most unique museums in Querétaro, the calendar museum is a lot more interesting than it sounds. Arrive early and have breakfast in the lovely garden cafe as part of your visit.
Calle Franciso I. Madero 91
Open Tuesday – Sunday; 10 a.m. – 6 p.m.
Closed Monday
Cost: $30 pesos
Museo de Arte de Querétaro – Art Museum of Querétaro
Housed in a former monastery, the Museum of Art is one of the most impressive buildings in Querétaro. The carved archways are reason enough to visit.
Calle Ignacio Allende Sur 14
Open Tuesday – Sunday; 10 a.m. – 6 p.m.
Closed Monday
Cost: $30 pesos
Museo Regional de Querétaro – INAH Querétaro Regional Museum
Once Querétaro's cathedral, this building is now home to the state's regional museum. While most of the text in the museum is in Spanish, you can still enjoy the collection of pre-Columbian ceramics and sculptures.
Coregidora s/n
Open Tuesday – Sunday; 9 a.m. – 6 p.m.
Closed Monday
Cost: $60 pesos
Museo de Arte Contemporáneo – Museum of Contemporary Art
One of the newer museums in Querétaro, the contemporary art museum opened in Nov. 2018. The building, which houses works from local and national artists as well as international exhibitions, was formerly a convent.
Manuel Acuna s/n
Open Tuesday – Sunday; 10 a.m. – 6 p.m.
Closed Monday
Museo de la Casa Zacatecana
See how the wealthy lived during the 19th-century in Querétaro. If period furnishings don't intrigue you, perhaps this mansion's tale of murder will.
Calle Independencia 59
Open Tuesday – Sunday; 10 a.m. – 6 p.m.
Closed Monday
Cost: $60 pesos
#7: Spend a Quiet Moment in One of Querétaro's Churches
If you're feeling museumed-out (it happens to the best of us) & want a quiet place to escape the sign, one of Querétaro's many churches will provide the perfect refuge.
Santiago de Querétaro is home to dozens of churches, temples and convents. Even for Mexico, Querétaro has quite the collection of religious sites.
Templo de Santa Rosa de Viterbo

Step inside to marvel at the 18th-century baroque architecture.
At nighttime on the weekend, the fountain out front is all lit up.

Templo de San Francisco

Snap a photo with el Danzante Conchero or get a wide-angle shot from Jardin Zenea just across the street.

Templo de Santa Clara

With its floor to ceiling gold interior, this temple's interior is certainly something to see.

Templo y ex-convento de la Santa Cruz

See the famous "tree of the cross" with thorns that grow in the shape of crosses.
#8: Eat Enchiladas Queretanas at One of the Best Restaurants in Querétaro
With all this sightseeing, you're sure to work up an appetite. One of the best things to do in Querétaro is try enchiladas queretanas—the city's own twist on this popular Mexican dish
Served with salsa verde, enchiladas queretarnas are filled with chicken, potatoes and carrots. If you're lactose intolerant, be sure to ask for them sin crema (without sour cream).
One of the best places to try typical regional food as well as classic dishes from all over Mexico is Chucho El Roto.
This restaurant is located right in Plaza de Armas, and since it's popular with tourists and locals alike, be sure to make a reservation.
#9: Marvel at an Ancient Pyramid in Querétaro
Teotihuacán and Chichén Itzá aren't the only pyramids in Mexico (far from it, actually). Thanks to the Chichimecas, Querétaro has one of its own: El Cerrito.
You won't be able to climb the pyramid, but you can admire it from multiple sides. There's even a Spanish-language museum to learn about this long-buried pyramid which was once an important place of worship in Querétaro state.
El Cerrito is a 20-minute Uber ride from the city center. If you prefer public transportation, you can catch the bus from Avenida Zaragoza.
Open Wednesday – Friday from 9 a.m. – 4:30 p.m.
Closed Monday & Tuesday
#10: Stand in the (Literal) Shadow of a Political Giant at Cerro de las Campanas
One of the most important historical sites in Querétaro, "The Hill of the Bells" is where Mexico officially took the country back from France. In 1867, Habsburg Emperor Maximilian was executed by firing squad.
It's not the most cheerful bit of history, but the surrounding grounds are quite beautiful. Cerro de las Campanas is one of two national parks in Querétaro (scroll down to #11 for how to visit the other national park).
At the center of the park, you'll find a gigantic statue of Benito Juárez, who was president of Mexico both before and after Habsburg rule.
Cerro de las Campanas is located on the eastern edge of the city center, so depending on where you're staying it could be a bit of a trek. Personally, I enjoy the hour-long walk and think it's a nice way to get to know Querétaro.
Open Tuesday – Sunday; 9 a.m. to 5 p.m.
Closed Monday
Small entrance fee ($5 pesos or $15 pesos with museum entry)
#11: Take a Spooky Stroll & Hear Scary Stories
Get to know the spooky side of Querétaro with a nighttime walking tour around the city center.
During the guided tour, you'll learn about the myths and legends associated with the city. Accompanied by live music, enthusiastic actors take you to historic buildings and retell scary stories.
The group tour (learn more here) is only available in Spanish, but private tours are sometimes available in English.
#12: Sip Craft Beer in an Old Textile Factory
If after visiting Querétaro's traditional cantinas (La Selva Taurina is one of my favorites) you decide you want to grab a pinta somewhere with a more hipster vibe, hop in an Uber to Jardín de Cerveza Hércules.
Formerly a textile factory, this beer garden is undoubtedly one of the coolest places in the city. I recommend ordering a pint of the República or the Ráfaga, and you can't go wrong with a pizza.
Avenida Hércules Ote 1
Open every day; 10 a.m. – 10 p.m. (midnight on the weekends)
If you're looking for craft beer closer to Querétaro city center, check out Almacén Hércules (Avenida Universidad Oriente 156) which offers all the same beers as the main brewery. On the weekends, there are often interesting local events such as artisan markets.
#13: Experience Local Culture at Mercado La Cruz
One of the best things to do in Querétaro is visit Mercado La Cruz.
From the brightly colored piñatas hanging from the rafters and the whir of blenders mixing up fresh jugos (juices) to the slight softness of an almost ripe avocado and the delicious smells wafting from the food vendors, Mercado La Cruz is a delight for all your senses.
Keep the sensory stimulation going and join the locals to eat a meal in Mercado La Cruz.
One of the most popular places to eat is Gorditas El Güero y Lupita. The "mixta" comes with cheese and migajas (crumbled meat) as is topped with lettuce—don't forget to top it with some salsa.
After gorging myself on gorditas, I like to grab a fresh juice. There are lots of different vendors, but I like depresión from La Güera which is made with beet, apple, spinach and carrot.
Mercado La Cruz is open daily from 7 a.m. to 7 p.m. To see the market at its busiest and best, plan your visit for Sunday.
Please be respectful about taking photos. Be sure you buy something from the vendor first.
#14: Admire the Impressive Querétaro Aqueduct
Erected in the early 1700s, Querétaro's impressive 75-arched aqueduct is impossible to miss.
For the best view, stroll up to the Mirador de los Arcos just beyond Plaza Fundadores. At night, it's especially spectacular as the arches are all lit up.
For the perfect Instagram snapshot of you in front of Los Arcos, you better wake up early. The road that runs parallel to the aqueduct is one of the busiest in Querétaro.
Position yourself near a streetlight and take advantage of stopped traffic to get your photo.
#15: Enjoy the Nature at El Cimatorio National Park
If you're looking escape the city and relax in nature, Parque Cimatorio is one of the best things in Querétaro.
This national park is located a 10-minute drive from Querétaro city center. Don't have your own set of wheels? You can get out there and back using Uber or a regular taxi.
My favorite time of day to visit El Cimatorio is during the morning. There's not much shade out there (the majority of vegetation are cactuses), so it's a good idea to plan your hike, run or mountain bike ride for before the hottest part of the day.
Be sure to pack your own water & a snack. You should wear a hat & plenty of sunscreen.
Hours of operation: Thursday-Sunday from 7 a.m. – 1:30 p.m. Closed Monday-Wednesday
#16: Hike Up Peña de Bernal (One of the World's Largest Monoliths)
You can't visit Querétaro and NOT make the trip out to see the world's THIRD-LARGEST monolith.
Even if you're not a geologist, I still highly recommend setting aside a half-day (at least) to check out Querétaro state's most magical pueblo mágico. The small town of San Sebastián de Bernal and its giant rock won't disappoint.
Get all the details about how to get there and what to expect for hiking up the Peña in this blog post about planning a Bernal day trip from Querétaro.
#17: Choose One of These Amazing Day Trips from Querétaro
Because I like hiking, Bernal is my favorite day trip from Querétaro. However, it's not the only one.
Here are some more of the best day trips from Querétaro that would make great additions to your itinerary if you have the time:
Tequisquiapan
Don't worry, you can just call it "Tequis" for short.
If your idea of the perfect day trip involves wine and cheese, this is the getaway for you. Check the local calendar to see if your visit coincides with one of the almost-monthly wine festivals.
Amealco
Looking for the perfect souvenir to remember your time in Querétaro? Plan a day trip to Amealco to visit the birthplace of the Muñeca Queretana.
Indigenous women make and sell these beautiful dolls. The town even has an entire museum dedicated to the handicraft.
Dolores Hidalgo
Located in neighboring Guanajuato state, Dolores Hidalgo is known as the birthplace of Mexican Independence.
After soaking up the history, enjoy some of the town's famous artisanal ice cream while browsing the shops filled with colorful Talavera ceramics.
#18: Shop for the Perfect Souvenir (Best Things to Buy in Querétaro)
Even if you're not usually a souvenir person, the street vendors in Querétaro have some incredibly beautiful wares.
In additional to the typical magnets and t-shirts, you can shop gorgeous handicrafts. Local artisans from the indigenous communities surrounding Querétaro travel to the city center to sell their traditional crafts.
One of the best things to buy in Querétaro is the Muñeca Queretana. This handcrafted doll is named Lele, and she's one of the symbols of the city—you can even find her likeness on the crosswalk lights.
#19: Escape to the Sierra Gorda Biosphere Reserve
After a few days in Querétaro, you might feel the urge to escape the city center and explore more of the state.
The Sierra Gorda Biosphere Reserve is the center of ecotourism in the state. It's a popular place for camping, hiking, bird watching, mountain biking and other outdoor activities.
Buses leave daily from Querétaro, and it's best to make either Pinal de Amoles or Jalpan de Serra your base for exploring the region.
Learn more about planning your own trip to the Sierra Gorda in this post.
How to Spend 2 Days in Querétaro
While many people opt to visit Querétaro as a day trip, I think it's best enjoyed when you have at least one night to spend here.
With 2 days in Querétaro, you can start with breakfast in Plaza Fundadores. There are several cafes facing the plaza
After breakfast, make your way from one side of the city center to the other with a leisurely stroll over to Cerro de las Campanas. On the way, hit as many of the streets, plazas and churches I mentioned at the start of this post.
When you pass through Plaza de Armas, make a dinner reservation at Chucho El Roto. It's on the pricier side, but the quality, ambiance and service is more than worth the extra pesos.
From Cerro de las Campanas, order an Uber to take you to Jardín de Cerveza Hércules for lunch. But, don't indulge too much since you still have a pyramid to see.
Order another Uber to take you from Jardín de Cerveza Hércules to El Cerrito. Make sure you have your sunscreen!
You'll likely have made an early dinner reservation in order to finish before the Leyendas y Mitos Tour.
If the myths and legends of Querétaro haven't made you too afraid of the dark, finish your evening with a walk up to the Mirador de los Arcos to see the aqueduct in all its glory.
For a nightcap, I recommend grabbing a drink at either La Selva Taurina (a traditional cantina) or Dodo Cafe (a cocktail bar). Both are located on Calle Independencia as you follow it back from the Mirador toward the city center.
It would be wise to call it a somewhat early night since the next morning you have an early bus to catch to Bernal. Beat the crowds and hike up the Peña first thing.
Your reward for making it to the top (and back down) is Bernal's famous gorditas.
With 2 days in Querétaro, you can get a taste for what the city has to offer. If you have more time, try to squeeze in the Wine & Cheese Route tour which takes you to both Bernal and Tequisquiapan.
More Posts About Things to Do in Querétaro
Is Querétaro Worth Visiting?
Yes, Querétaro is absolutely worth visiting. Querétaro's historic city center is a UNESCO World Heritage Site and one of the great hidden gems of Mexico.
While the suggestions in this post will help you figure out how to spend 2 days in Querétaro (or more), tours, historical sites and craft beer aren't the only reasons to visit Querétaro.
If you're the type of traveler who enjoys getting off the beaten path and is interested in experiencing the true essence of Mexico for yourself, you will love Querétaro. A visit here is an opportunity to immerse yourself in authentic Mexico.
Who knows, after you visit, you might even want to move here. Many foreigners, myself included, think living in Querétaro is one of the best places for expats in Mexico.
At the very least, you should plan a visit to Querétaro and see this underrated city for yourself. If you have any questions about things to do in Querétaro, leave a comment below.
Best Things to Do in Querétaro, Mexico